Brooklyn Nets Finish 1-4 on West Coast Trip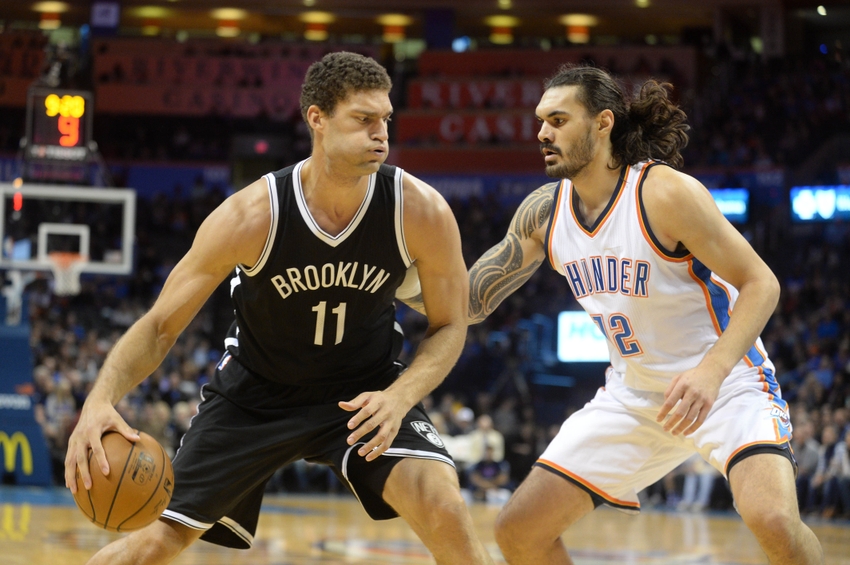 105

124
The Brooklyn Nets lost in Oklahoma City after a hot start, as Russell Westbrook recorded his fourth triple-double of the season with 30 points, 13 assists and 11 rebounds.
Brook Lopez led the Brooklyn Nets in scoring with 22 points on 8-of-16 shooting. Lopez and the Nets started off hot in the first quarter, Lopez shot 4-of-5 from the three point line and the Nets shot 8-of-10 as a team from beyond the arc. Lopez looked very comfortable from deep and confident in his offense overall, constantly calling for the ball early on in the game which resulted in a 40-34 Nets lead to end the first quarter.  A total of nine Nets scored in the first on 59 percent shooting.
Want your voice heard? Join the Nothin' But Nets team!
Kenny Atkinson continued to experiment with the rotation, as starting point guard Jeremy Lin missed his seventh game of the season, giving Randy Foye the start at point guard against Westbrook and the Thunder. Atkinson described Foye's start and his on court presence as a "calming force." Sean Kilpatrick returned to the bench after scoring in single digits in two of his four starts.
More from Nothin' But Nets
The largest lead the Nets had during the game was 10 points in the second quarter. Yogi Ferrell got the start at point guard at the beginning of the second and fourth quarters. Ferrell attempted to lead the Nets in a fast-paced, aggressive offense which lost some of its momentum as the first half winded down and the Thunder went on a 21-to-8 run.
Oklahoma City led 64-61 at halftime, as Ferrell missed a three to tie it at the buzzer. Westbrook was the only Thunder player to score double digits before halftime, he ended the first half with 20 points, eight assists and six rebounds.
The Nets scored 42 points combined in the second and third quarter after scoring 40 in the first. They also struggled to find their shot, going 3-of-19 on 15 percent shooting after going 8-of-10 in the first quarter. The Nets struggled defensively in the second half which effected the offense. The Thunder led by as much as 18 in the fourth while the Nets struggles continued.
Westbrook finished the game with his fourth triple-double of the season, and the 41st of his career.
The Nets end their west coast trip 1-4, and fall to 4-8 on the season. Brooklyn will return home to play the Portland Trail Blazers on Sunday.
This article originally appeared on