Brooklyn Nets: Did Justin Hamilton Do Enough to Make the Team?
With the preseason winding down, the Brooklyn Nets have already begun making roster cuts. Justin Hamilton is among the players still fighting for a roster spot.
Justin Hamilton is entering yet another new environment, with just two years of NBA experience under his belt. The Brooklyn Nets are his fourth team since the 2013-14 season, and the 26-year-old has spent time in the NBA, D-League, and overseas. Needless to say, Hamilton has been part of just about every possible environment. The Nets signing him to a multi-year contract has been the most stability Hamilton has seen in a while.
Want your voice heard? Join the Nothin' But Nets team!
However, Hamilton is still one of the players who's on the rocks to making the Nets' final roster. Hamilton, with not many years of experience and not many positive signs in his NBA career as a whole, will have to make a strong case for himself to not be the last player the Nets have to waive.
More from Nothin' But Nets
Hamilton is an interesting case — a 7-footer who can play at the four and the five. Not only that, he can shoot. He is still far from becoming reliable at the five, but has shown some promising aspects to his game during the preseason. With just one more preseason contest to go, he'll have to show the Nets why they should give him another chance at an NBA stint.
The journeyman will not be used in the Nets' main rotation, but could still find a spot in their second or third units.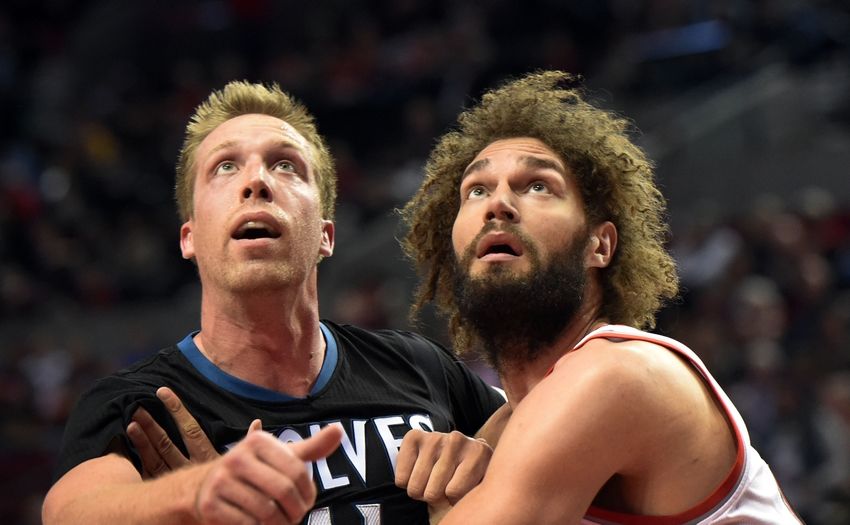 A Big Man Who Can Shoot
Three-point shooting has been a common trend for the Nets this preseason. Nets head coach Kenny Atkinson has indicated that it won't be any different during the regular season. Hamilton is among the Nets who have been tossing shots from long range this preseason. He has only recently added three-point shooting to his repertoire. While starting for the Sioux Falls Skyforce in the D-League, he upped his three-point clip to 37.8 percent. Last year, Hamilton spent a year in Valencia, and increased his hot hand even more, to 40.1 percent.
During the preseason, he hasn't been any less impressive. Through four preseason games, Hamilton is shooting at 55.8 percent from behind the arc. Just to put this into perspective with another big man, Brook Lopez's three-point clip is 41 percent in the four preseason games he attempted a trey.
Hamilton has shown that he's more of a player the Nets can rely on offensively. With his height, a shooting touch will give him and Brooklyn an advantage.
We've seen big men who can shoot in the NBA (sorry Nets fans, Lopez is still not one of them, no matter how many threes he's attempted in the preseason). It started with Dirk Nowitzki, but athletes including Anthony Davis, Josh Smith, and even Blake Griffin have begun developing a knack from long range. With the league converting to small ball lineups and the clear, dire necessity for teams to have long-distance shooters (disregarding height), Hamilton could fit the bill as a long-distance shooting big man for Brooklyn.
Lack of Rebounding Abilities
The Nets have shown major issues on the boards in the preseason. Unfortunately, Hamilton has not been too helpful to Brooklyn in this category. He had a couple of games where he grabbed five and seven boards, respectively. However, in the 21-point loss to the Miami Heat when Brook Lopez was absent, he only had three rebounds.
Hamilton has not been known as a talented rebounder. He averages 2.9 boards per game for his entire NBA career, though that is likely attributed to lack of opportunities. In the D-League, he posted 9.3 rebounds per game for the Sioux Falls Skyforce, a stunning mark for someone who wasn't particularly known for this skill. Still, his most recent stint in Valencia resulted in just 5.2 rebounds per game, and his preseason performance has only continued on that path.
Although he will be more reliable on offense, he will need to hone his rebounding skills. Brooklyn's lack of rebounding big men will hurt them in the long run. Hamilton, alongside Lopez, is the only other 7-footer on the team.
Lopez isn't known too much as a rebounding center either; he's offensive-minded. Still, Lopez averages 7.4 boards per game for his career, and has at least been one of the Nets' top-two rebounders for the past four seasons. Oddly enough, Thaddeus Young led Brooklyn last year with nine rebounds per game. The Nets won't have Young at the four anymore and with Hamilton playing mainly at power forward, the Nets will certainly need him to step up on the boards. Having Hamilton at the four and Lopez at the five on the court at the same time will be beneficial if both of them can rack up a substantial amount of rebounds.
Verdict
The Nets cut four players on Tuesday, and only have to cut one more player to hit the maximum amount their roster can hold. Hamilton has a chance of making the final cut, mainly because Brooklyn does not have a center on their roster besides Brook Lopez.
The Nets waiving Egidijus Mockevicius was some indication that there is still a vacancy at the big man slot. Mockevicius is similar to Hamilton in the respect that he plays mainly at the four, but can also play as a stretch five. Versatility seems to be a common trend in the Nets' offseason acquisitions, with many players being able to play at multiple positions.
Where Mockevicius and Hamilton differ is the amount of playing time they received during the preseason. Mockevicius, along with Beau Beech, only saw minutes sparingly in the Nets' most recent game. This was only likely due to Brooklyn being pulverized by the Boston Celtics. Both Mockevicius and Beech were waived, to no one's surprise. Hamilton, on the other hand, has averaged 20 minutes per game in four preseason contests.
Kenny Atkinson has even noted Hamilton's advantage as a shooter with such a great height. "I think he'll be a great complement to Brook [Lopez], he's a stretch five and can extend the floor from 3-point range," Atkinson said. "He's more than a stretch five because he's a tough guy, he knows how to play inside and finish."
It may only be the preseason, but Hamilton had an impressive one. Despite the Nets' preseason woes, Hamilton has shown positive signs of offensive capabilities. This could seal the deal in landing him a roster spot.
This article originally appeared on