Brooklyn Nets: Brooklyn Loses Second Staples Center Match-Up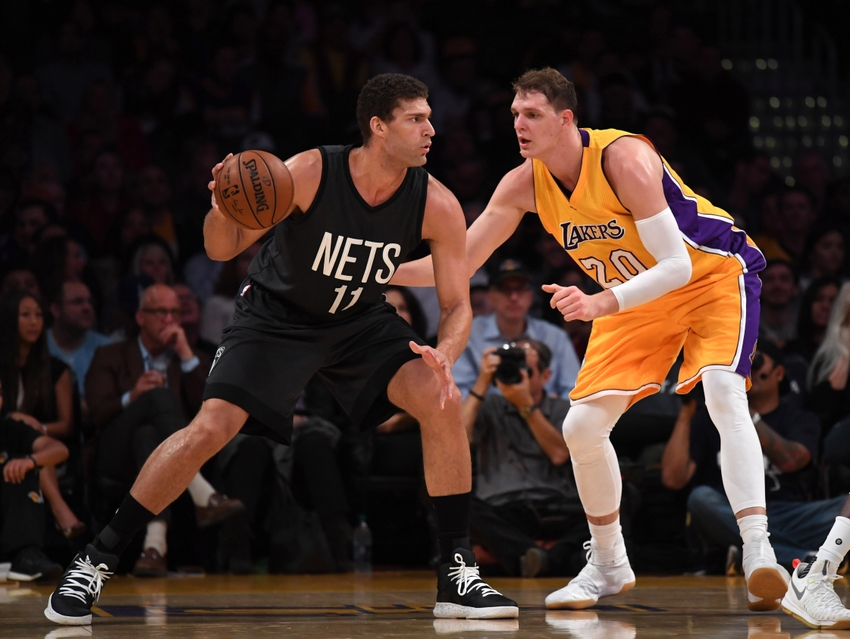 118

125
The Brooklyn Nets lost the second half of a back-to-back at the Staples Center against the Los Angeles Lakers 125-118. Brooklyn has two days off before taking on Russell Westbrook and the Thunder.
At least this one was not as bad as last night. The Brooklyn Nets kept the game close the entire way. Down early, Brooklyn went on a 10-0 run to get themselves back into the game and even led by two at the end of one. Unfortunately, the Lakers outscored Brooklyn 29-22 in the second quarter and never looked back.
Want your voice heard? Join the Nothin' But Nets team!
With a five point lead at half, the Lakers outscored Brooklyn by three in the third and held on in the fourth en route to their victory. D'Angelo Russell was absolutely on fire tonight. Russell went 7-of-13 from long range and scored a total of 32 points to lead Los Angeles.
Brook Lopez had himself a game tonight, too. Lopez scored 30 points on 10-of-25 shooting and 4-of-11 from long range. It is clear the big man has found his long-range stroke. Bojan Bogdanovic also had a fun night driving to the basket and slamming home a couple of baskets while scoring 29 points.
More from Nothin' But Nets
Lopez, with his three blocks, moved into first all-time in Nets history in blocked shots. He keeps moving up the Nets' record books.
Brooklyn, yet again, took a multitude of three-point shots. They took 41 tonight and made a dismal 12 of them. The three got them back into the game, but it also helped take them out of it down the stretch when they went cold.
The big killer in this game for the Nets was free throws. Brooklyn only attempted 20 and made 16. Los Angeles, meanwhile, attempted 43 and made 34.
Isaiah Whitehead made his return tonight after suffering a concussion. Whitehead did not see too much action as he only played nine minutes. In those minutes he scored only four points. Yogi Ferrell, though, is getting better and better. Ferrell made a couple of really nice shots on his way to 11 points.
Brooklyn played hard tonight despite the loss. This was a game that they could have won, but, unfortunately, it came on the back end of a back-to-back. If Brooklyn was a little more rested, it is fair to say they could have emerged victorious tonight.
Brooklyn now sits at 4-7 and heads to Oklahoma City Friday night for a really tough test. The Lakers sit at 7-5, to many people's surprise, and await the Spurs who come to Los Angeles Friday night.
This article originally appeared on