Brooklyn Nets: Brook-Lin's chemistry is present but not evident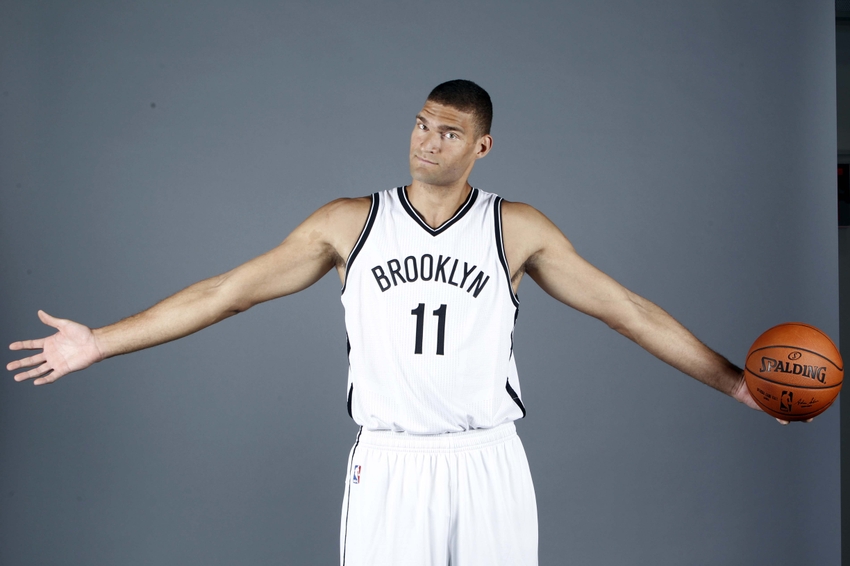 When the Brooklyn Nets signed Jeremy Lin this previous offseason, many felt the pick-and-roll would be their specialty and the pair would display great chemistry. Now that the preseason has concluded, where is that chemistry?
Jeremy Lin has yet to hit the floor as a member of the Nets in a regular season game, but that doesn't mean he hasn't already made an impact on this new-look Nets team. His comedic and charismatic personality has already shown and many people will tell you that. Comedy and charisma do not win basketball games, however. Lin is going to have to bring chemistry to this Nets team if he wants to help them win basketball games this season.
Want your voice heard? Join the Nothin' But Nets team!
The Nets, who are predicted to be the worst team in the NBA this season, will need Lin to create a strong relationship with one of the franchise's all-time best players and centerpieces, Brook Lopez. Lin and Lopez have seemed to already develop a great relationship off the court and you can bet that the coaching staff and front office are looking at that and smiling. That isn't the whole picture though, "Brook-Lin," is going to need to be able to find and develop that same chemistry on the court, as well.
"He makes everybody better," Lopez said of Lin, via the New York Post. That's a positive. Knowing that one of the longest tenured Nets players of all time is pleased with his new sidekick definitely is something positive for Brooklyn going forward.
More from Nothin' But Nets
Kenny Atkinson was presented with plenty of opportunities to run the pick-and-roll with "Brook-Lin," in the preseason yet we didn't see much of the play that many assumed would be the Nets bread and butter offensively. Sure, you can argue it was only the preseason and that coach Atkinson wanted to try out some new things, but then again you have to think, why wouldn't they at least test the waters more and see how the tandem would fare running the pick-and-roll?
Lopez and Lin both had one of the best seasons in their respective careers last season and the stats show it. Lopez had the second highest scoring output of his career and grabbed the third most rebounds of any season in his career. Very solid stuff for a guy entering his 9th season in the NBA. Lin didn't average any career highs, except for in one strange category, rebounding. Yes, Lin averaged 3.2 rebounds per game, the highest of his 6-year career in the NBA. Lin also had his second lowest amount of turnovers per game since his rookie season, understandable and very positive as he saw only 9.8 minutes per game compared to seeing 26.3 last season.
So why wouldn't Brooklyn's new duo, who has already developed a well-noted relationship off the floor, not be running the pick-and-roll and punishing opposing teams? The answer may lie in Lopez. Yes, surprisingly enough, Lopez may be the reason the duo is not doing what many thought that they would.
When asked about adjusting to Brooklyn's up-tempo offense, Lopez had this to say:
"It is definitely something that I'm not used to. This preseason had been a great advantage and tool, and we had been scrimmaging in practice as well so it is something I have been seeing every day now so I am definitely getting more and more comfortable with it."
Although it has been tough for Lopez to fit in with the new offense, it's not totally a bad thing. Lopez admitted of his struggles but also said it would take time and believes after seeing it day in and day out he will get used to it. For a player who's played for nine different head coaches in his career, it isn't hard to believe he'll find a way to adjust to this new offense.
Lopez struggled in the preseason, averaging only 7 points per game and shooting 40 percent from the field. Lopez will most definitely return to form come the regular season but showing signs of chemistry during the preseason would have been encouraging for a Nets team not projected to win more than 30 games this upcoming season.
So with chemistry lacking during the preseason, it will be interesting to see what happens come Tuesday night when the Brooklyn Nets begin their season in a matchup with the Boston Celtics at TD Garden. The pair of Lin and Lopez is definitely one that should be exciting to watch but at the same time, it will be interesting to see how these guys will play together. The fact of the matter is, the chemistry between the two is there, just not evident. So if these two can show off a bit of that chemistry come Tuesday night, there will be a sigh of relief for Nets fans who are holding their breath, even if they don't win Tuesday night's contest.
This article originally appeared on