Brooklyn Nets: Anthony Bennett Taking Advantage of Garbage Minutes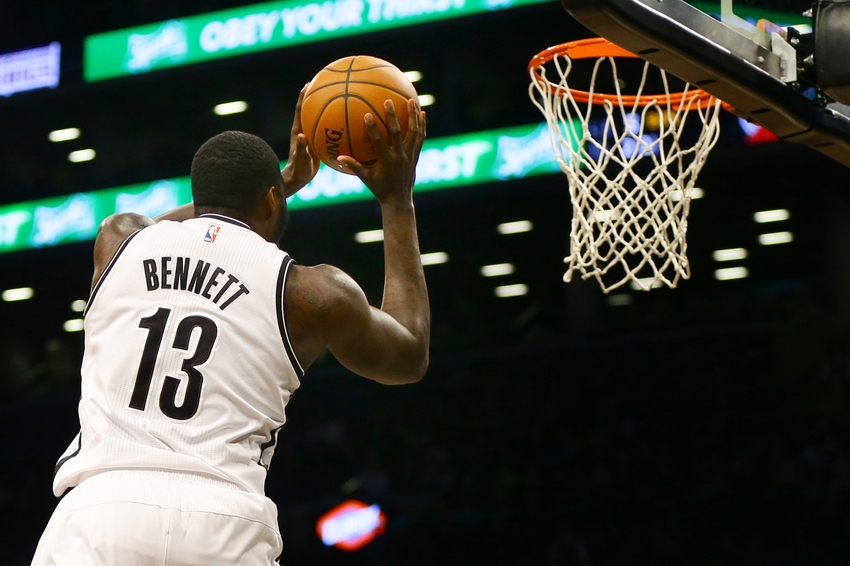 Brooklyn Nets forward Anthony Bennett hasn't played a whole lot this season, but he is showing improvement. Despite mainly being used down the stretch in blowout losses, Bennett has made the most of every second on the court.
The Brooklyn Nets are struggling, but that doesn't mean that the team solely has negative energy. No one expected this season to be all rainbows and unicorns for Brooklyn, but the team is still performing better than expected.
Want your voice heard? Join the Nothin' But Nets team!
Nets general manager Sean Marks and head coach Kenny Atkinson have emphasized again and again that this year is all about developing youth. It's a bit strange to put Anthony Bennett in this category of "youth," but he is only 23 years old. After all, Bennett was only drafted three seasons ago. And though he still has a lot of areas to improve in, it appears he is making progress.
So far in the season, Bennett has not received a significant amount of playing time. Atkinson has mostly placed Bennett in his rotations late into blowout losses. Luckily, the former No. 1 draft pick seems to be taking advantage of every minute.
The Canadian is already producing more than he has in his entire career. It's sad to say that a number like 5.6 points per game is his career-high, but that is the case. Hopefully, his first year in Brooklyn will be like the anticipated rookie season he never had.
Brooklyn has used Bennett in eight of their 13 games so far. He is only averaging 11.4 minutes per game, but is showing some signs of life to revive his NBA career.
In Sunday's loss to the Portland Trail Blazers, Bennett displayed aggressiveness, driving into the paint to draw foul after foul. Bennett is beginning to gain confidence, which he never seemed to have in his short NBA career. This is partly the reason he was never able to live up to expectations as a No. 1 draft pick — the 6-foot-8 forward was just never able to adjust to the NBA.
More from Nothin' But Nets
Still, the Nets should hope that this is far from Bennett at his full potential, because there is still lots of room for improvement.
Free throw shooting has never been his specialty, and it still certainly isn't. While he may have drawn a lot of fouls on Sunday, it's evident that he's unable to knock them down consistently. Bennett went 3-of-7 (42.9 percent) from the charity stripe against the Blazers and has only been a 65.8 percent career free throw shooter. This is definitely an area he needs to continue working on.
Rebounding and ball handling are two other categories Bennett needs to work on. Bennett is the same height as Trevor Booker (6-foot-8), but the difference in their style of play is extremely evident. While Bennett stays far on the outside to shoot jumpers (more or less from behind the arc), Booker is filling in the rebounding void left by the departure of Thaddeus Young. I won't discount the two treys Booker knocked down on Sunday, but they were accompanied by four rebounds, and the six-year veteran is posting 7.8 rebounds per game this season.
Bennett does not spend a lot of time in the paint, but after Sunday's game, it seems like he is trying to do so more often. His difficulties handling the ball also play a part in this. If Bennett stays on the outside, he doesn't have to worry so much about dribbling the ball and just waits for his teammates to feed him the ball for a wide-open jump shot. Still, while it's beneficial to have a big man who can shoot, it's just as important to have a big man who can crash the boards.
With Brooklyn's rebounding woes, the Nets could really use another solid rebounder next to Booker, and this player should be Bennett. But it still isn't, and that's what he needs to develop into.
This article originally appeared on