Brooklyn Nets: 2016-17 Season Outlook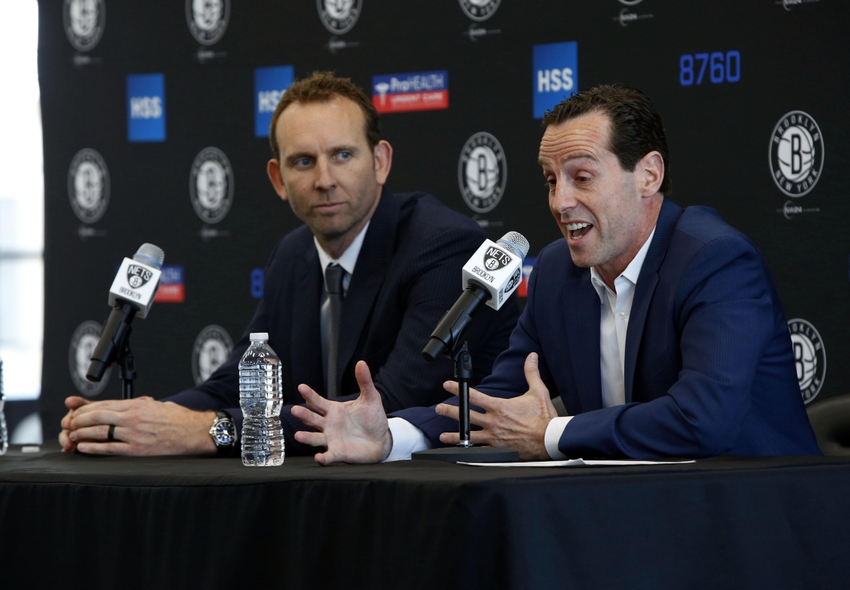 With the 2016-17 season slowly approaching, it is time to take a look at what looms ahead. The Brooklyn Nets have been spiraling out of control the last few seasons. The reality is that things will not be much better this year.
The Nets franchise has its history of ups and downs, but currently the team is in a down period. This time though, the rise to contention will take much longer than fans would like to hear. Last year, the team finished the season with a 21-61 record. That is the sixth worst record since the franchise was established in 1967. It was also the Nets' 30th losing season in franchise history.
More from Nothin' But Nets
Considering this team has a history of losing, it is safe to say next season will hold much of the same fate. The team lost its second best player, Thaddeus Young, and waived their third best player, Joe Johnson, right before the All-Star break. To top it all off, the Nets waived Jarrett Jack in July after he missed about one third of the season due to a torn ACL.
That does not mean there is nothing to look forward to. In fact, there are multiple young players to watch this season. To go along with them, Brook Lopez and Bojan Bogdanovic are returning for another season. Considering Bogdanovic's play in the Olympics, he should be exciting to watch this coming season. Also, the Nets have a new owner, Sean Marks, and new head coach, Kenny Atkinson. The team is really trying to rebuild itself in preparation for the future.
As of right now though, the team will not be much better than last year. In fact, they might be on par to finish with about the same record as last year. The Nets will have a draft pick in next year's draft, but it most likely will not be their own. The Boston Celtics have the right to swap picks with the Nets in next year's lottery. The pick the Nets have is unprotected, so even if they win the lottery, the Celtics have a right to take the pick. Therefore, if Boston finishes where they are projected to, the Nets will have a late first round pick. Any pick for this team is better than no pick though. And this upcoming season, the team will know what their needs are.
2015-16 Vitals
21-61, 4th in Atlantic Division, 14th in Eastern Conference
98.6 PPG (26th)/106 OPP PPG (24th)
103.2 Offensive Rating (27th)/110.9 Defensive Rating (29th)
Team Leaders
Scoring: Brook Lopez, 20.6 PPG
Rebounding: Thaddeus Young, 9.0 RPG
Assists: Jarrett Jack, 7.4 APG
Steals: Thaddeus Young, 1.5 SPG
Blocks: Brook Lopez, 1.7 BPG
2016-17 Roster
Bojan Bodganovic, G
Brook Lopez, C
Jeremy Lin, G
Luis Scola, F
Randy Foye, G
Caris LeVert, G
Joe Harris, G
Yogi Ferrell, G
Beau Beech, G
Offseason Additions
Jeremy Lin (Free agent, Charlotte Hornets), Trevor Booker (Free agent, Utah Jazz), Isaiah Whitehead (No. 42 overall draft pick, Seton Hall University), Luis Scola (Free Agent, Toronto Raptors), Greivis Vasquez (Free agent, Milwaukee Bucks), Justin Hamilton (Free agent, Europe), Randy Foye (Free Agent, Oklahoma City Thunder), Caris LeVert (No. 20th overall draft pick, University of Michigan), Anthony Bennett (Free Agent, Toronto Raptors), Joe Harris (Free Agent, Orlando Magic), Yogi Ferrell (Undrafted free agent, Indiana University), Beau Beech (Undrafted free agent, University of North Florida), Egidijus Mockevicius (Undrafted free agent, University of Evansville)
Offseason Subtractions
Wayne Ellington (Free agent, Miami Heat), Jarrett Jack (Free Agent, Atlanta Hawks), Shane Larkin (Free agent, Spain), Sergey Karasev (Free Agent, Russia), Donald Sloan (Free agent, China), Markel Brown (Free Agent, Cavaliers camp invite), Thaddeus Young (Trade, Indiana Pacers), Willie Reed (Free Agent, Miami Heat), Thomas Robinson (Unsigned), Henry Sims (Unsigned)
Quick Thoughts
It is clear what direction the Nets are heading in. After a disappointing 2016 campaign, the team is in a full rebuild effort. This was most evident after Brooklyn traded Thaddeus Young to Indiana for a first round draft pick (Caris LeVert) in return.
With that said, the Nets will be entering training camp with 11 players with three seasons or less of experience. The goal with this roster is to find the diamond in the rough. Each player on the team has the potential to be good, but it will be a process to find that special player the Nets are in need of. All eyes will be on Bojan Bogdanvic, Sean Kilpatrick, Rondae Hollis-Jefferson, Caris LeVert, Chris McCullough, Isaiah Whitehead, and even Anthony Bennett. Without a doubt, each player will be given their opportunity to shine. The real mystery is, who will seize the moment?
As for the veterans on the team, the Nets still have their foundation piece, Brook Lopez. They also brought in Jeremy Lin to fill the void left by Jarrett Jack. Luis Scola and Randy Foye were brought in to provide veteran leadership. As for Greivis Vasquez and Trever Booker, they will provide the Nets with depth and experience at their respective positions.
Considering all the extra money the Nets had this offseason, signing veterans just for locker room presence was a smart move. But in doing so, they created another problem. Due to all the guards drafted and signed this offseason, the Nets now have a crowded back court. This will force players like Isaiah Whitehead, Joe Harris, and Yogi Ferrell to spend time in the D-League. Even with those players in the D-League, Brooklyn still has to split up time between Lin, Vasquez, Foye, Bogdanovic, Kilpatrick, and LeVert.
2016-17 Expectations
Considering how much the East has continued to improve, it is hard to see the Nets doing better than last year. Due to the youth and lesser talent on the roster, Brooklyn will find themselves near the bottom of the Eastern Conference for a second straight year.
After averaging 20.6 points, 7.8 rebounds, and 1.7 blocks per game last season, Lopez should follow up with similar numbers this year. Lopez is always considered injury prone, but after two seasons of 72 plus games, his injuries may finally be behind him. With the way Lopez plays, there should be no concern about his health since his game is very grounded.
Another player to look forward to this season is Bogdanovic. After having a terrific offseason with the Croatian Olympic team, he looks poised for an even better NBA season. To put it in perspective, Bogdanovic averaged 25.3 points per game in this years Olympics. Thus, over the course of six games, Bogdanovic managed to put up 25 points each night. He should easily pass the 11.2 points he averaged last season, especially if Atkinson finds a way to utilize him.
After Lopez and Bogdanovic, all eyes will be on Lin. Just his name alone carries a lot of weight. Lin should have an increase in production considering he is probably the Nets' best point guard. Do not expect a return to Linsanity though. That is just unreasonable to think Lin will ever produce like that again. What should be expected is that he will control the tempo of the team when he is on the court.
Youth Development
As mentioned earlier, the Nets are getting younger and younger each season. Despite that, none of the players under 26 are expected to compete for Rookie of the Year or an All-NBA team spot. However, what the Nets are looking for is someone who has the potential to be a starting player in this league. Last season, Kilpatrick and Hollis-Jefferson showed glimpses of being good players down the road. The Nets also picked up LeVert in this year's NBA draft.
Still, the Nets have to find someone to fill the hole left at the power forward position with the departure of Young. This is where either McCullough or Bennett can shine.
Here is what to look for with each player mentioned in this slide.
Sean Kilpatrick
Sean Kilpatrick showed he can score the ball if he is given more minutes. Kilpatrick could be a valuable sixth man for the Nets, providing a spark off the bench. In the 23 games he played for the Nets last season, he averaged 13.8 points per game on true shooting percentage of 58 percent (true shooting percentage takes into account field goals, three point field goals, and free throws). For comparison, last year's Sixth Man of the Year Jamal Crawford had a shooting percentage of 53 percent. Take it a step further and per 36 minutes, Kilpatrick averaged 21.4 points per game. Crawford, on the other hand, averaged 19 points per game.
Kilpatrick will never be the same player as Crawford, but looking at his game and the stats he achieved, he has the capability of being Brooklyn's sixth man. For now, we have only received a small sample of what he can do. Whether or not he will become a scoring threat in this league will be determined this year.
Rondae Hollis-Jefferson
Hollis-Jefferson will be entering his second season in the NBA. The Nets traded for him in 2015 because they saw potential. At 21 years old, he stands 6-foot-7, weighs 220 pounds, and has a 7-foot-2 wingspan. For a comparison of his size, take a look at Kawhi Leonard. Leonard is 6-foot-7, weighs 230 pounds, and has a wingspan of 7-foot-3.
Jefferson's game is similar to Leonard's in that he is a defensive-minded small forward that is not only big, but also athletic. Jefferson is good at rebounding and passing as well. The area of his game that he struggles in is his shooting ability. In college, he was not known for shooting and last season, he did not demonstrate having a shot either. Hollis-Jefferson has a lot of potential and a high ceiling. Unfortunately, last season he injured his ankle and was limited to only 29 games. If healthy this season, he could become one of the league's better defenders.
Caris LeVert
Fans mainy only know Caris LeVert as the-man-we-traded-Thaddeus-Young-for. It is hard to trade a respectable power forward for an unproven rookie, but LeVert could end up being worth the risk. LeVert spent four seasons at the University of Michigan. During his four seasons, he showed the ability to shoot and pass the ball. The problem is he has a very narrow frame and does not like contact. Another issue that kept LeVert from being a lottery pick is his health. He has had three left foot injuries in his career so far. If he is able to stay healthy, he could develop into an offensive threat in the NBA.
 Anthony Bennett
Anthony Bennett and Chris McCullough are both players that the Nets are taking a chance on. Neither player will be the starting power forward at the beginning of the season. That spot belongs to Luis Scola for now and rightfully so. Each of these players will have to earn that starting spot if they want it.
Bennett, mostly known for being a draft bust, is only 23 years old and is entering his fourth season in the NBA. He is a guy looking for a fresh start and an opportunity to prove himself. With the Nets, he will be given his fair share of minutes at the power forward position and will take advantage of every second he is on the floor. However, this truly is Bennett's last life line for an NBA career. The Nets are not loaded at the power forward position. This means that it should not be hard for Bennett to slowly work his way into a role player position. If he fails to produce at least decent numbers and become a role player for Brooklyn, he might have to start looking overseas for work.
Chris McCullough
Chris McCullough is an interesting player. The Nets drafted McCullough 29th overall in last year's NBA draft. Considered a lottery pick for his draft class, McCullough slipped to a late first round pick after he tore his ACL at Syracuse. He returned late last season for Brooklyn, and averaged 15.1 minutes per game in the 24 games he played. It was a very small sample of McCullough. At 21 years old and a full offseason to rest his body, McCullough could have a breakout year. McCullough was picked by the Nets because of the potential he had. This season, we will get to see just how much he has to offer.
The Need For Cultural Change
The Nets have a reputation as a losing franchise. The team has really only seen consistent success in the early to mid 2000s when Jason Kidd was the leader of the team. Other than that, the franchise has been on a roller coaster ride for much of its existence. However, the Nets are trying to change that. And it will all start with Sean Marks and Kenny Atkinson.
This will be Atkinson's first season as an NBA head coach. Luckily for Atkinson, he is going to an environment with low expectations. This will put less pressure on Atkinson to win games. In fact, he has the opportunity to overachieve with this team. This could be a blessing and a curse. It is great that Atkinson can look successful in his first season. It is bad that he could set the bar too high for himself to repeat next season.
How many games Atkinson wins this season should not be the primary focus for fans or management. What Brooklyn should be doing is establishing a new culture. Marks and Atkinson should be working together to establish a different atmosphere around the Nets as an organization. This is very important for recruiting players in the future. It is also important for retaining players.
With Sean Marks leaving the San Antonio Spurs, he brings everything needed for a culture change. He was involved with the Spurs for four years and has learned a lot during his time there. He got to see how the team operated and saw how everything runs behind the scenes in San Antonio. Marks will not make the Nets contenders over night, but hopefully he can start to right the ship in Brooklyn.
This article originally appeared on