Brett Brown Shines Light on Winless Start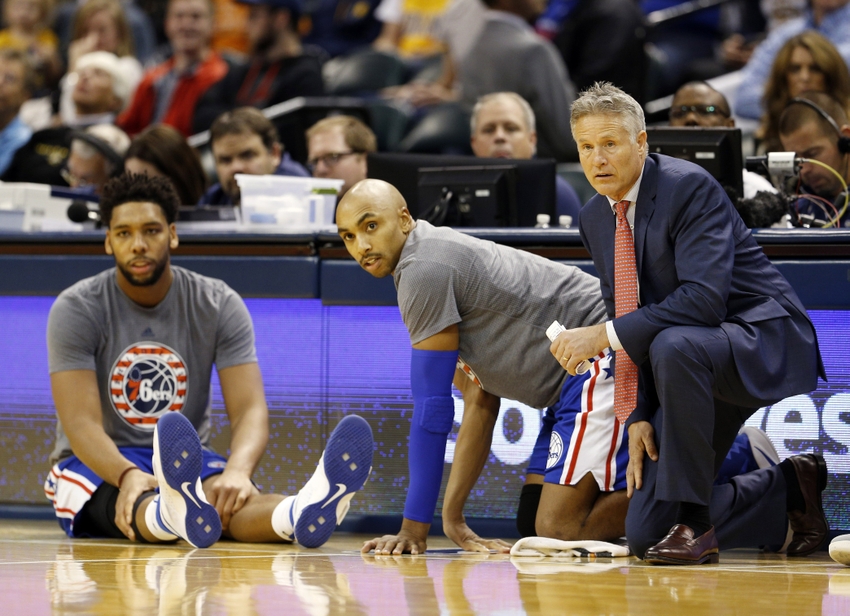 The Philadelphia 76ers head coach Brett Brown doesn't seem to care a whole lot about a win-loss record, despite being the worst Sixers coach of all time by record.
With the Philadelphia 76ers overtime loss to the Indiana Pacer on Wednesday night, head coach Brett Brown set a record for the most all-time Sixers losses. It was his 253rd loss in his head coaching career.
Of course, context is everything here. Brown has won 47 games over the last three seasons, arguable 10 or 20 more than he should have won with the pitiful rosters he was given. The Sixers were regularly running four or five guys in their starting lineups that would have been riding the bench on any other team.
Many have complained even through just the first seven games this season about Brown. There have been complaints in the previous seasons about Brown, but usually it was from people who didn't quite understand the entire rebuilding process that Brown was working under.
More from The Sixer Sense
In a quick transition this year, however, it seems like many more people, even those who have realized that the rosters he has had are bad, are turning on Brown. Sure, some of his late-game substitutions and drawn up plays have been odd, but overall, he has played with the cards he was dealt fairly well. Who knew coming into this year that he would be starting the bulk of the season without his first overall pick? Who knew that Jerryd Bayless, the team's best free agent signing, would start injured?
Brown even said after the team's loss on Wednesday that he and the rest of the team often think about those injury issues.
Brown is still seeing his role as the coach more than just a man who needs to get a positive win-loss record going, at least at this point in the team's process. Speaking to Keith Pompey and the media, he said:
"The position I have is so much more than that… We are trying to grow a program with a bunch of 20-year-olds. I don't even care about [the record] nor think about it."
Brown points to the age of his team and looks at what is important for these players. They need to be developed more than they need to win. Of course, I'm sure he's not ignoring winning completely. The record may not be important, but going into every game, the Sixers certainly want to win. The overall record shouldn't be looked at as a huge factor.
In addition to all of that, the Sixers should be remembering that they are getting closer and closer to a win. Just last night, the Sixers found themselves not trailing at the end of the fourth quarter for the first time this season. It's clear that the wins are coming.
This article originally appeared on