Brett Brown Not to Blame for Philadelphia 76ers' Woes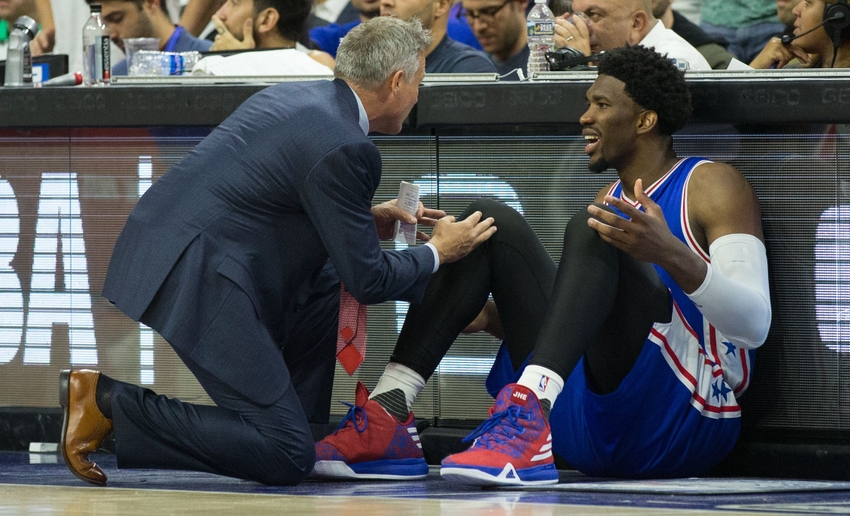 Philadelphia 76ers' head coach Brett Brown is facing criticism for his team's 0-6 start, but the former San Antonio Spurs assistant is not to blame for the Sixers' early-season woes.
When a professional sports team loses its first six games of the season, it's easy to point fingers at the coach. It's easy to say that the coach should be doing a better job and deserves blame for the team's slow start.
While the Philadelphia 76ers are 0-6 to start the season, and many are putting the blame on coach Brett Brown, the negativity toward the fourth-year head coach isn't justified.
Simply put, Brown doesn't deserve the blame for the Sixers' early season struggles.
Let's take a look at some of the facts before we proceed:
The above bullet points are mere facts – nothing more, nothing less.
Even with Simmons, Noel and Bayless not yet playing, along with Embiid and Okafor being on minutes restrictions, Brown is still keeping the Sixers competitive against some of the best teams in the NBA.
Much of the criticism comes the three close-losses that the Sixers have had (the Nov. 5 loss to the Cleveland Cavaliers, the Nov. 1 loss to the Orlando Magic and the Oct. 26 loss to the Oklahoma City Thunder).
Although it's fair to say Brown could have drawn up better plays to have his team execute better down the stretch, it's hard to imagine they would have been in those situations to win without him at the helm.
More from The Sixer Sense
Instead of being ridiculed for losing a one-point game to the reigning NBA Champions and being defeated in the final minute by MVP-candidate Russell Westbrook, why not praise Brown for allowing his team to still have a chance down the stretch?
Sure, the losses against the Atlanta Hawks and Utah Jazz were blowouts, as was the one against the Charlotte Hornets (without Embiid), but that's going to happen from time to time.
Don't forget, the Sixers won just 10 games last year. No matter what roster changes they made this offseason, the transformation into a winning organization is still going to be a process, and you can't expect the victories to start piling up overnight.
This team simply has too much inexperience to compete so soon after a 10-win season, yet it's exactly what Philadelphia is doing: competing.
And they have Brown to thank for that.
This article originally appeared on