Brett Brown Has 3-to-1 Odds to be First NBA Coach Fired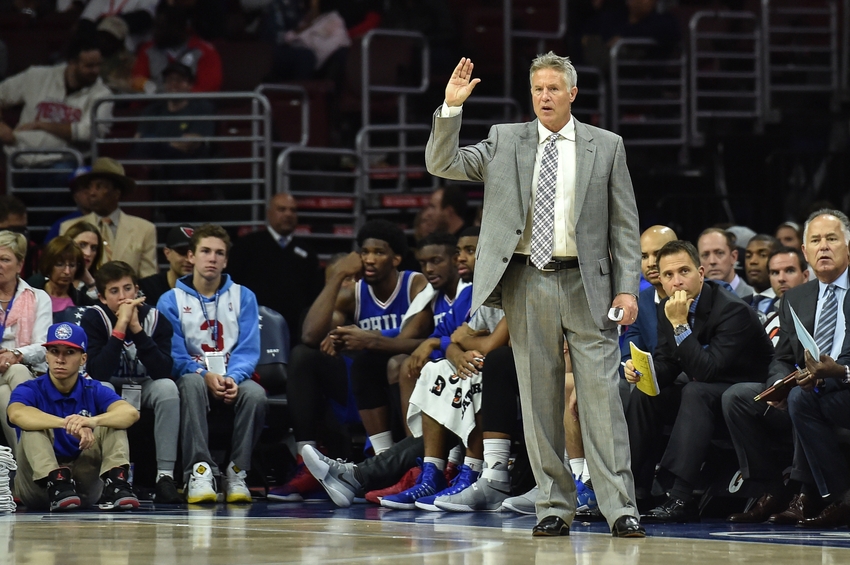 The Philadelphia 76ers head coach Brett Brown has the third best (or worst) odds at being the first NBA coach fired this season.
The Philadelphia 76ers have started the year with pretty terrible offensive showings, and some fans are attributing that to the head coach, Brett Brown, early on in the year. While Brett Brown has not really gotten a chance to prove what he can be with a solid team yet in his young NBA head coaching career, some are predicting his time with the Sixers will come to an end soon.
According to Bovada online betting, Brown has 3-to-1 odds to be the first NBA head coach fired this season, the third best (or worst, depending on how you look at it) odds around the league.
The only two coaches with worse odds than Brown according to Bovada are Fred Hoidberg (Chicago Bulls, with 2-1 odds), and Alvin Gentry (New Orleans Pelicans, 9-4 odds). Other notable names high up on the list are Jason Kidd and Dwane Casey.
While the bet may be a somewhat safe one given that this is the first full season with president Bryan Colangelo, who had no part in hiring Brown, one would think that the Sixers are going to give Brown a little time before parting ways with him. Brown has been given rosters that need lots of experimentation, and rosters that were built to lose. In all reality, he has not been set up to succeed.
We'll see how the season plays out, but with all of the injuries and uncontrollable things that have happened to the Sixers, I wouldn't expect the Sixers to make a drastic move and fire Brown or anyone on the coaching staff just yet. Yes, he has some strange lineups and strange tendencies late in games at times, but let's give him a roster that is capable of winning games and see what he can do with it before we fire the man.
All in all, picking the Sixers head coach with your money for the first head coach fired seems all to obvious. Your money is better spent elsewhere.
More from The Sixer Sense
This article originally appeared on