Breaking the Warriors Down by Play Type: Hand Offs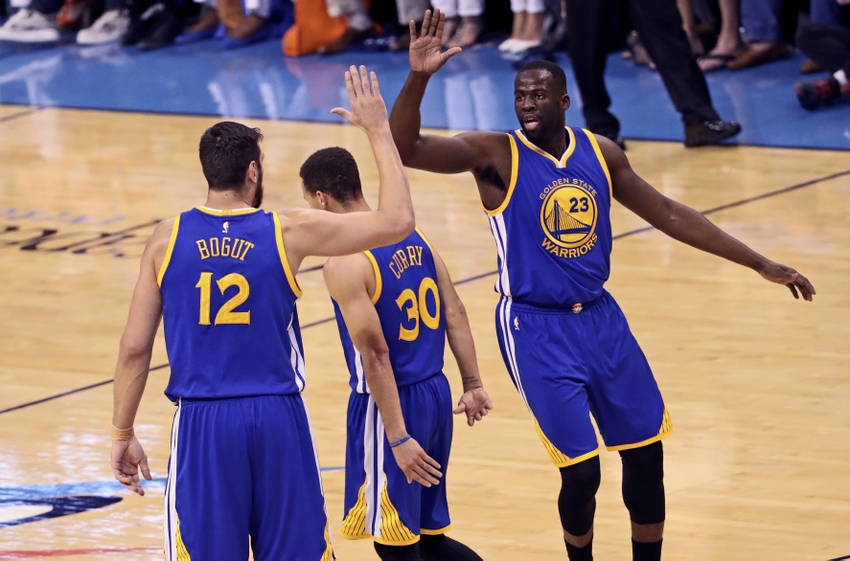 In this series, we'll break the Warriors down on offense by play type, and look at how they will change next year. This time, we look at shot attempts from Hand Offs.
Hand off offense represents one of the finer distinctions in basketball. Easy to mix up with shots off screens, the key is who holds the ball prior to the shot. In an attempt off of a screen, the ball handler comes around and shoots. In a hand off shot, the screen or pindown setter holds the ball. The off-ball player then drags their player over the pick and immediately shoots or drives in the created space. One easy example is Klay Thompson "curl" plays. Bogut held the ball at the elbow, while Thompson broke away from his defender down low or received a pindown. Thompson then broke vertically to Bogut, took the handoff running tightly around the screen, and drove or shot immediately after from about 12 feet out.
Like some others, this playtype lends itself particularly to teams with good screeners and shooters. Any team can execute a cut well; hand offs are particularly good for teams that can capitalize on high screens for long twos and threes. The most important component tends to be a big man with above-average (at least) ball skills and excellent screening ability. While not a high-frequency play type, it can generate space and points in tight spots due to versatility. Hand off shots can be drives or jumpers. Luckily, fine-tuned efficiency play was a strong point for Golden State last season. Thus, the Warriors used hand offs to great success. Let's take a closer look at how it played out last season.
Breaking Down the Warriors' Hand Offs in 2015-16
Last year, the Warriors used hand off offense at a very low frequency clip at only 2.8%, good for 28th in the league. Granted, hand offs saw low usage from everyone. The highest was the Utah Jazz, at 7.7%. However, that's the last time they appear in the bottom ten with this play type. They scored 276 total points from hand offs, 19th in the NBA. When we take efficiency into account, the team really shined.
Golden State scored on hand off plays at a points per possession (PPP) value of 1.07, good for first in the league. The closest after clocked in at .95 PPP. It doesn't stop there, either. They shot hand offs at a field goal percentage of 47.1%. Rank? First. Their effective field goal percentage cranks up to a devastating 57.0%. First again. When you look at how their personnel performed on these plays, it's easy to see why.
Leandro Barbosa logged the highest frequency rate for hand offs at 5.3% with an excellent .96 PPP. Fans probably remember the plays, involving a high pick where the big man held the ball. Barbosa would break around the pick and burst to the rim for an open layup, using his patented speed. The next-highest usage at 4.7% came from Stephen Curry, who sported 1.18 PPP on hand offs. He did the burst plays too, but with the added ability to pull an immediate shot if defenders went over the screen to counter the drive. Klay Thompson logged a frequency rating of 3.6%, with a lot of the same tendencies as Curry (see the example given in the first section).
Finally, Andre Iguodala deserves a mention here. He only took hand off possessions at a clip of 2.3%, but he shot an absolutely ridiculous 1.45 PPP on them. He didn't do it much, but he made sure they counted. Of those four players, every single one had an effective field goal percentage over 55% on hand offs.
Now, as with the other breakdowns, we ask: how did the Warriors do generating fouls and protecting the ball here?
Generating Fouls
The Warriors have been a turnover-prone team for a few years now, and it continually presents as a weak point, as seen in these breakdowns so far. In hand offs, however, they actually do alright. Golden State turned the ball over 12.2% of the time last year. That ranks at 13th in the league, so above-average. Note that that's still a pretty large difference from the first place team, though. The Cleveland Cavaliers protected the ball best in hand offs last season, turning it over only 7.2% of the time.
Part of what helps the Warriors here is that hand offs naturally put the ball in the secure hands of Andrew Bogut. Bogut's efficient and precise passing from the high post and elbow gave Golden State a ton of plays that involve heavy off-ball movement.
In terms of generating fouls, the Warriors again exceed their usual tendencies in hand offs. The highlights are, once again, Barbosa and Thompson. The former went to the line on 12.5% of hand off shots. The latter got charity shots on 12.1% of his. All in all, it just adds up to more evidence of Golden State's efficiency in this play type. Low usage and high effectiveness remain hallmarks.
Finally, how does the outlook fare in hand offs?
Outlook and Predictions
By now, we know that Kevin Durant provides net positives in every offensive category. Historic shooter, he's a giant, he passes well, all that. It's still fun to look at the numbers though. Durant was excellent in low usage with hand off possessions last year. His points per possession value sits at 1.25, with an effective field goal percentage of 59.7%. He also drew free throws on 15.0% of those possessions and turned it over only 10% of the time. Again, small usage at 2.2%, but effective. Plus, every player who shot well in hand offs remains with the team. The problem is, that's not the most important factor to Golden State's hand off offense outlook.
Like cuts, the effectiveness of hand offs is more dependent on the ball skills of the handler than the shooter, which is harder to measure. The eye test tells us that the most important screen and passers in these situations were Draymond Green and Andrew Bogut. Green will need to take on a larger role to remain efficient here, which means he needs to work on tightening up passes. He's excellent at it, but he's also prone to turnovers and gambles in a way that Bogut wasn't. Again, like cuts, this playtype is another pressure point where losing Bogut hurts the team.
Zaza Pachulia, the de facto Bogut replacement, passes well but not as well. Nor does he screen as well. The best argument for a wash here is that Zaza's greater range on offense comparatively allows more space, which compensates for looser screening and passing. Only time will tell, but in all honesty, I don't see improvement here. Breaking even could happen, but the burden rests on Pachulia and Green, since Durant probably won't play a huge role as a screener.
This article originally appeared on