Breaking Down Where the Thunder Rank Across the NBA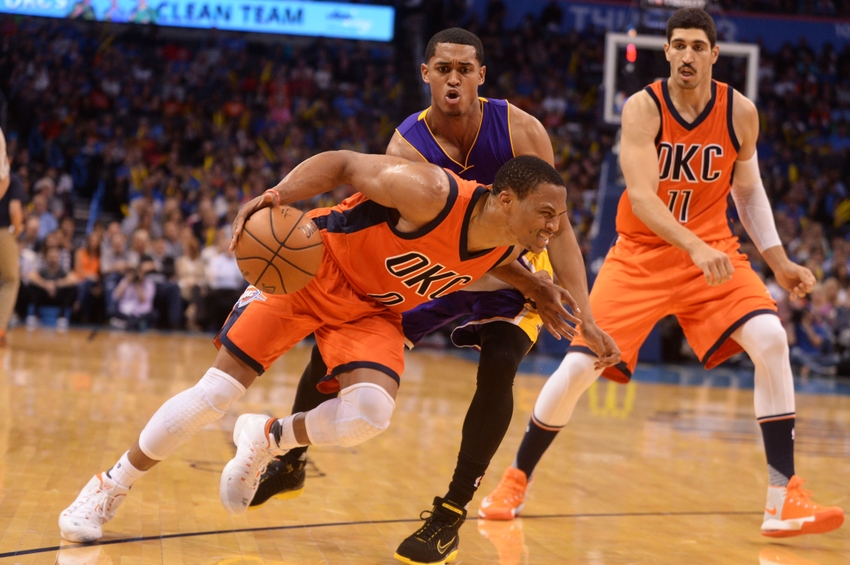 The Thunder finished Week One with a record of 3-0. Their schedule gets tougher this week, which could give them a chance to move up the rankings.
The first week of the NBA season is over and we have Power Rankings based on actual basketball! Oklahoma City made it through their easy start to the season, with three victories. They have a tougher week ahead of them that includes a back-to-back against the Clippers and the Warriors. That makes for an interesting week in Thunder basketball.
The first ranking for OKC, from Matt Moore at CBS Sports, moves OKC down two spots to 15th.
Call the Marines, because that's the only thing that's going to stop Russell Westbrook.
John Schuhmann of NBA.com moves Oklahoma City up one spot in his rankings to number 11.
Pace: 106.8 (2) OffRtg: 98.3 (21) DefRtg: 92.2 (3) NetRtg:+6.1 (8)

Russell Westbrook is not only putting up crazy boxscore numbers (38.7 points, 12.3 rebounds and 11.7 assists per game), he's also playing efficiently. His true shooting percentage of 56.7 percent is the highest mark of his career and his turnover rate of 9.3 per 100 possessions is his lowest. You can only play who's in front of you, but the Thunder's three wins have come against three of last season's four worst teams (Philly, Phoenix and the Lakers) and all three games were within five points in the last five minutes.
Marc Stein of ESPN.com keeps OKC at number 7 in his rankings.
The Thunder (and the whole league) couldn't have asked any more from Russell Westbrook in Week 1. He totaled 116 points, 35 assists and 37 rebounds in the Thunder's 3-0 start, put himself on pace for a tidy 55 triple-doubles for the season and thus did his part to ratchet up the hype — if that's even possible — for Thursday night's maiden installment of Thunder at Warriors. The truth is OKC will undoubtedly need better balance to get through 82 games, but there's time for that later.
ESPN's Basketball Power Index (BPI), a ranking developed by the ESPN Analytics team has OKC at 10th.
The consensus seems to put Oklahoma CIty around 10th in the NBA. They are off to a nice start, but they had an easy start and it's a long season. We will know quite a bit more about this team after next week.
More from Thunderous Intentions
This article originally appeared on