Breaking Down the Salt Lake City Stars Training Camp Roster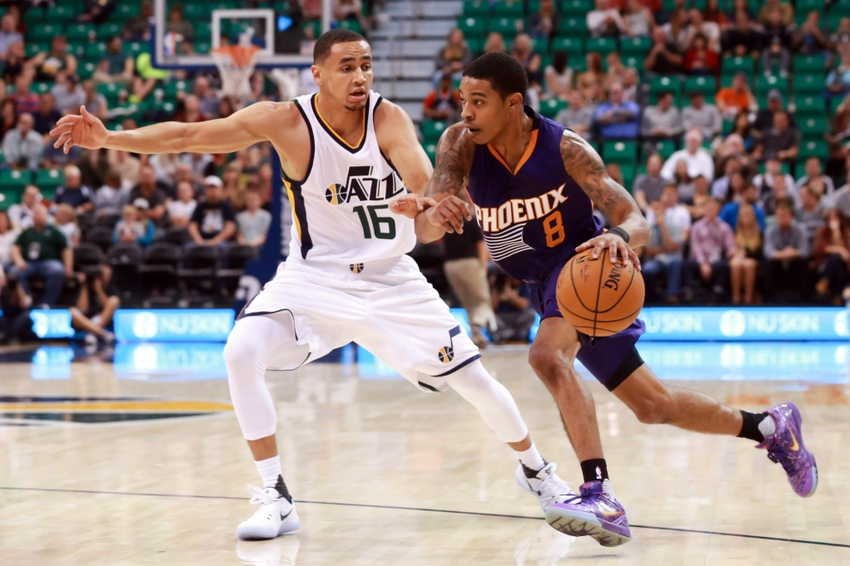 The Utah Jazz's D-League affiliate, the Salt Lake City Stars, boasts a roster stocked with interesting prospects including 2016 draft pick Marcus Paige.
The D-League has become an excellent NBA proving ground that each team takes advantage of in today's league. In fact, 30 percent of NBA players on opening night rosters have had D-League experience. The Utah Jazz's D-League affiliate, the Salt Lake City Stars, has some guys that I believe will likely have NBA futures, including Marcus Paige, Quincy Ford and Tyrone Wallace, among others.
Here's a breakdown of the entire Stars roster:
Marcus Paige (North Carolina)
This past summer, Paige was selected 55th overall in the 2016 NBA Draft. He had a great college career at North Carolina and the Jazz like what he can do on the court. For starters, he's a great shooter. He's got a great floater and has improved defensively over the years.
Paige was with the Jazz for training camp and preseason, appearing in two games. His chances of making the opening night roster were never realistic, especially with the Jazz having four point guards already on the roster. However, I do think that Paige has a future in the NBA.
Whether that is with the Jazz, or another team however, remains to be seen.
Tyrone Wallace (California)
Wallace was the 60th pick during the 2016 NBA Draft. He's a tall guard that can play either the one or the two position. Tyrone had some good moments in Summer League, averaging 5.4 points per game. He's not much of a shooter yet and is more comfortable slashing to the rim.
Wallace falling all the way to the 60th pick in the draft was surprising to me as I expected him to be off the board in the middle of the second round.
Quincy Ford (Northeastern)
I love Ford's game. This is someone who I absolutely think has a future in the NBA. He's got great size and length, good shooting ability and natural defensive instincts. Ford, like Paige, was with the Jazz for training camp and preseason. We saw Quincy get into one game against Phoenix on October 12th. He was waived by the Jazz the next day, but signed on with the Pelicans for a short stint.
After being waived by New Orleans, he will begin the season with the Stars.
Henry Sims (Georgetown)
Sims has had NBA experience in the past, playing for New Orleans, Cleveland, Philadelphia and Brooklyn. He averaged 11.8 PPG and 7.0 RPG in 26 games for the 76ers back in 2014. He's always been productive, no matter where he has been. Sims was one of the final cuts the Jazz had to make before the season began.
Eric Dawson (Midwestern State)
Dawson was also with the Jazz for training camp and preseason. He has some NBA experience, playing four games with the Spurs in 2012 and has played basketball internationally. He also played under Snyder previously with San Antonio's D-League affiliate in Austin.
He is now 32 years old, but he has always been known as a hard worker.
J.J. O'Brien (San Diego State)
J.J. had a short stint with the Jazz last season, signing a 10-day contract in January of this year. He was with the Bucks for training camp this season, but didn't make the opening night roster. He's a versatile player, and excels in several different areas.
His former coach at San Diego State raved incessantly that J.J. was one of the most high IQ players he had ever coached.
Jarelle Reischel (Eastern Kentucky)
The Stars selected Reischel with the 5th pick in the second round of the D-League Draft.  He had a great college career at Eastern Kentucky, and certainly has some game. Jarelle averaged 17.9 PPG during his senior year.
Evrik Gary (Francis Marion)
Gary was selected by the Raptors 905, but was traded to the Stars along with Michale Kyser. Gary has some experience playing overseas. He gives the Stars another guard that excels at simply putting the ball in the basket.
Jaylen Bland (Cal-Riverside)
Bland was the Stars' top pick during the draft, going 15th overall. He's only 23 years old and has great size for his position. He averaged 16.1 PPG last season at Cal-Riverside. He's got potential, and will look to showcase his talents in Salt Lake City.
Michale Kyser (Louisiana Tech)
Kyser was a part of the deal that sent Goodluck Okonoboh to the Raptors 905. He averaged 3.9 PPG and 3.5 RPG with the 905 last season. This year, Kyser was with the Pelicans during Summer League. He has potential, but he'll have a lot to prove during his time in Salt Lake City.
Carl Ona-Embo (France)
Ona-Embo was the 49th overall pick in the D-League draft. He's bounced around and has played for multiple different teams throughout his career. Most recently, he was with JL Bourg-en-Bresse. He will bring experience and leadership to the Stars roster.
Da'Shonte Riley (Eastern Michigan)
This 25-year-old seven-footer played for the Idaho Stampede last season, the Jazz's former D-League affiliate. He went undrafted in 2014 after two good seasons at Eastern Michigan but averaged just 3.2 PPG and 3.2 RPG with the Stampede last season.
Patrick Simon (Seattle Pacific University)
During his senior year at Seattle Pacific, Simon averaged 16.2 PPG and 5.1 RPG. He's a 6-foot-8 forward that can also knock down the three-ball.
Jermaine Taylor (Central Florida)
Taylor is trying to make an NBA comeback. He has NBA experience with the Rockets and Kings. He averaged 7.1 PPG throughout 26 games with the Kings in 2011. Taylor is only 29 years old, and is in great shape.
Dakarai Tucker (Utah)
Tucker spent four years at Utah where he averaged 5.4 PPG and 2.4 RPG during his senior year. He had a tryout for the Stars and now has a chance to make the roster.
Jeremy Williams (Texas-El Paso)
Williams was with the Idaho Stampede last season. He had some good games and put up averages of 8.9 PPG and 4.4 RPG. Jeremy went undrafted in 2011 after two solid seasons with UTEP.
Zane Knowles (Texas A&M-CC)
After going undrafted in 2014, Knowles has been playing overseas. He will now look to make the Stars roster. He has good size at 6-foot-10, and is a great rebounder.
Jalil Abdul-Bassit (Oregon)
Abdul-Bassit was with the Stampede last season where he averaged 5.5 PPG. He averaged 6.6 MPG during his junior year at Oregon, but earned a big increase in minutes as a senior as he saw his playing time jump to 20 MPG. He's only 23 years old and still has a lot of potential to improve.
In addition to these players who are currently on the Stars training camp roster, head coach Dean Cooper will also likely see a lot of Utah Jazz second round draft pick Joel Bolomboy, who qualified for the Jazz's final 15-man roster.
Now that the Jazz's D-League affiliate is located in Salt Lake City, it's going to be a much shorter commute for players when they're sent to and recalled from the team. Bolomboy will certainly be assigned to the Stars quite often throughout the course of the year and that will be great for his development. He's got potential to be an awesome NBA player with his athleticism and rebounding ability.
Hopefully his time with the Stars will help him become a key piece for the Jazz in the future and several other diamonds in the rough will be discovered from the Stars' roster in years to come due to their new close proximity to the Utah Jazz.
This article originally appeared on