Brandon Lights Up the Knight as Suns Swoop Past Hawks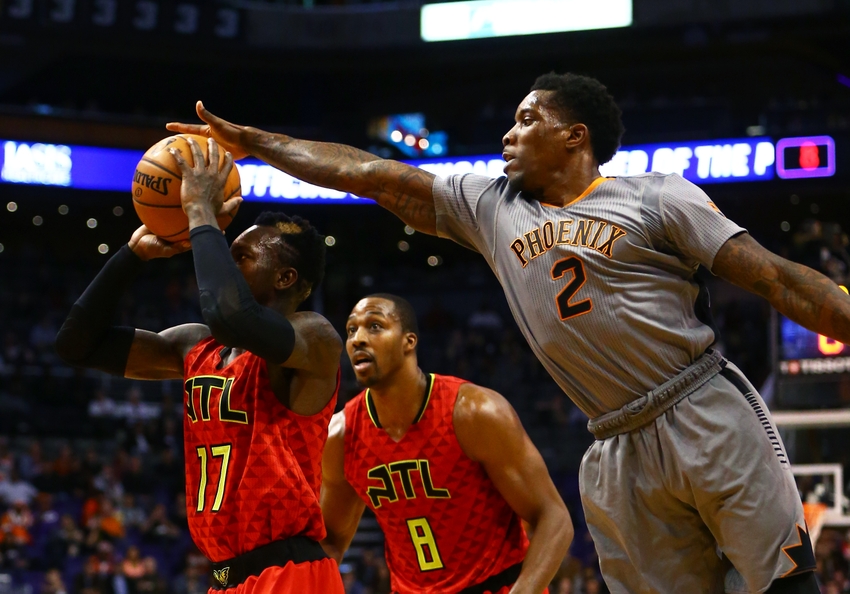 VS.
| | | | | | |
| --- | --- | --- | --- | --- | --- |
| | 1 | 2 | 3 | 4 | T |
| Suns | 36 | 14 | 27 | 32 | 109 |
| Hawks | 27 | 21 | 27 | 32 | 107 |
Thoughts from the Valley of the Suns
Boy is it great to watch and write about a Suns win.
The Hawks, who have now lost 7 of 9 following tonight are a solid, Eastern Conference team, with a lot of talent, especially up front. But with out Paul Milsap tonight suffering from a left hip injury, the normally formidable due of Dwight Howard and Milsap was cut in half, and the Suns were able to take advantage.
Breaking with their seasonal habit of a first quarter scoring malaise, the Suns jumped out on the Hawks quick in the first quarter, scoring 36, leading by nine, a welcome sign from a team needing to take the lead early so that they can hopefully build upon it in the third quarter, generally the period that they own.
Unfortunately, while the Suns led by as many as fourteen before half, the inconsistent play of Eric Bledsoe and Devin Booker helped to pull the Suns down, and at half, they held a paltry two point lead.
I hate to continue to bring this up. It would be so much more fun to talk about the two guards' 20 points each at half, every once in a while. Instead, by my count, they were a combined 2-14, and totally ineffective on offense.
If it weren't for Brandon Knight's 16 points at the half, the Suns would have had almost zero offense from their backcourt, and unfortunately, especially without the services of T.J. Warren, the Suns rely on the backcourt for the majority of their scoring.
By the way, the Suns went scoreless in the final 3:50 of the half, with four turnovers…
It has become almost commonplace to expect a big scoring third quarter for Phoenix, and they did score 27 points, only they gave up 27 as well keeping the slim two-point lead they enjoyed at half intact heading into the final period.
Bledsoe and Booker continued their poor shooting as they were a combined 5-23 after three. Also, only minutes into the second half, and Marquese Chriss had missed two three-pointers. That in it of itself is nothing to blush at. However, Chriss never returned to the game and following it's conclusion, Head Coach Earl Watson stated that it was because Chriss shot, and missed, one of the three's from the wrong spot. Um… Okay.
The two sides did go back and forth a with Atlanta taking slim, one-point leads four times, but while they were never able to pull the game away, the Suns never gave it away, setting up the crucial fourth quarter.
Needing scoring from somewhere to keep the Hawks at bay, Leandro Barbosa looked like the Blur from the past, at least for a few minutes in the fourth, anyway. Barbosa scored all eight of his points in a 3:09 window midway through the quarter. Coupled with four turnovers in the period, and the two teams, playing even while scoring 32 points apiece (although the Hawks' final three came with .1 of a second less in a meaningless bucket) and the Suns held on to a slim, though satisfying, 109-107 win.
Brandon Knight finished with a team high 23 points, with P.J. Tucker and Jared Dudley chipping in 17 points each. Between the three of them, they finished 8-11 from beyond the arc, a +14 although Tucker was a 7 himself, and 4 steals.
Games like these are what will keep both Knight and Tucker's trade value relatively fair. Both players can play well when called upon, especially now that Tucker is healthy, and Knight can shoot and score with ease.
Unfortunately, their stats would be far less consequential in games like this if Bledsoe and Booker could play like their Atlanta backcourt counterparts.
Granted starter Kyle Korver is not the player he was only two short seasons ago, Dennis Schroder and Tim Hardaway Jr. finished with a combined 52 points on 21-40 shooting, 4-13 from three, and 12 assists. Receiving 22 points from Kent Bazemore and 17 points and 14 rebounds from Dwight Howard, and the Hawks had a fairly even night, all things considered.
I know this team is "young," but I expect, as I believe all Suns fans should expect, greater consistency from the Suns' best players. I cannot tell why the Suns starters struggle to score so regularly, especially Booker and Bledsoe, but if the starters played to their potential every night, and the bench played as they so often do: well, than the Suns could win a lot more games like these, and certainly could beat the teams that, on paper, they should be beating.
Up next: Golden State. Gulp…
Follow Valley of the Suns on Twitter at @ValleyOfTheSuns and on Facebook at facebook.com/PhoenixSunsBlog
Want your voice heard? Join the Valley of the Suns team!
Phoenix Suns Question
Last season, on January 23, 2016, against the Atlanta Hawks, Tyson Chandler tied a franchise record with 27 rebounds in a game.
Who's record did he tie?
Follow Valley of the Suns on Twitter at @ValleyOfTheSuns and on Facebook at facebook.com/PhoenixSunsBlog
Want your voice heard? Join the Valley of the Suns team!
Phoenix Suns Trivia Answer:
Paul Silas
On January 18, 1971, Silas grabbed 27 rebounds, in route to a Phoenix 118-99 victory over the Cincinnati Royals, in front of 3,149 fans in Omaha, Nebraska.
Silas' 27 rebounds – also a career high – were part of a near record night for rebounds, as the Suns finished with 75 (including 12 from Neal Walk and 11 from Mel Counts), two off of the franchise record 77 set at Baltimore on December 10, 1969, a record that still stands.
Follow Valley of the Suns on Twitter at @ValleyOfTheSuns and on Facebook at facebook.com/PhoenixSunsBlog
Want your voice heard? Join the Valley of the Suns team!
More from Valley of the Suns
This article originally appeared on