Brandon Knight is on the Verge of Being Traded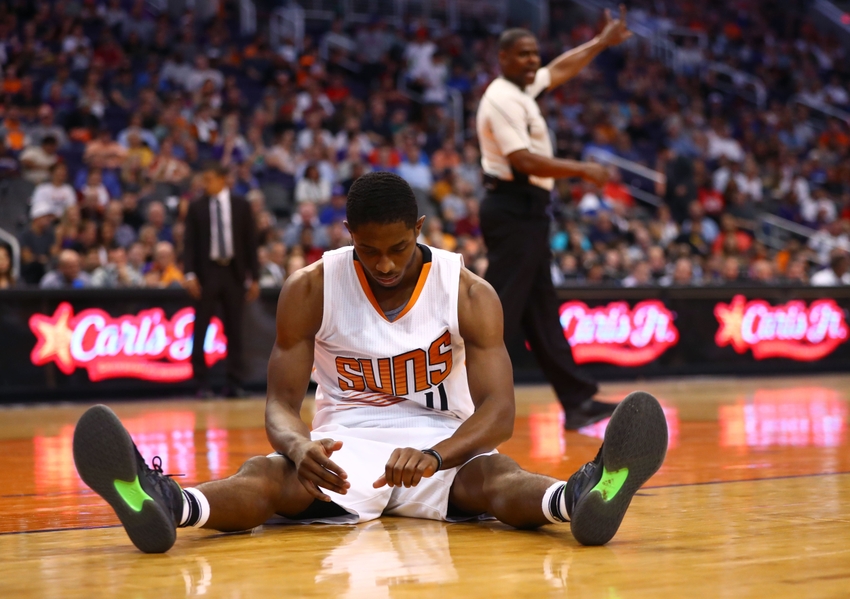 There is much speculation that the Phoenix Suns have begun testing the market with the intention of trading guard Brandon Knight.
How soon Knight will be moved remains to be seen. However, most fans and media have speculated that with the emergence of Devin Booker in the second half of last season, and the announcement early in training camp this season that Booker would be the Suns' starting shooting guard, Knight quickly became redundant and expendable, meaning that his countdown clock with the Suns was slowly ticking.
The NBA's trade deadline is February 23, 2017.
Since game seven of his NBA career, Brandon Knight has been a starter. That was of course the case too when the Suns traded for him in the winter of 2015. If you recall, the Suns made a series of blockbuster trades on February 19, 2015. Knight was acquired with Kendall Marshall from the Milwaukee Bucks, and the Suns shipped off Tyler Ennis and Miles Plumlee to the Bucks, as well as a future Los Angeles Lakers first round pick, to the Philadelphia 76ers. (That pick is currently in the last year of it lottery protection and is only protected top-3. The Lakers are currently in the middle of a very early playoff race and will probably finish well outside of the top-3. If that is the case Philadelphia is most likely going to be able to use that pick in this upcoming draft.)
However, following injuries to himself and backcourt-mate Eric Bledsoe last season, rookie Devin Booker was forced into the starting lineup. It was Booker's emergence as a high-powered scorer and future star that kept him in the starting lineup this year and relegated Knight to the bench.
While having three, young, guards of their skill-sets is a luxury, it is not one that a rebuilding team in need of further depth or improvement at other positions and who also wishes to stockpile future draft picks, needs.
Thus, the writing is on the wall: Brandon Knight wants to be a starter; the Suns do not need three similar guards; a trade is only an eventuality.
With most rumors at the moment pointing to the Brooklyn Nets, San Antonio Spurs, Dallas Mavericks, Philadelphia 76ers, and Washington Wizards reportedly as the Suns' most likely trade partners, let's look at one potential trade scenario with each team.
*Note – I will not be designing blockbusters. The more complicated a trade scenario, the less likely. I will aim to only shoot for Knight as the only Sun to be shipped off. If another player makes sense, then I will discuss it, but only sparingly.
Follow Valley of the Suns on Twitter at @ValleyOfTheSuns and on Facebook at Facebook.com/PhoenixSunsBlog.
 Brooklyn Nets
In some of the circulated trade rumors, the Nets want to acquire Knight to pair up with Jeremy Lin. If this is the case, than shooting guard Bojan Bogdanovic becomes expendable. The Nets have tons of cap space – who doesn't – and can afford a very one-sided contract swap – Knight's $12.6M for Bogdanovic's $3.5M. Therefore, a one-for-one would be plausible.
In this case the Suns would get a 6'7″ SG/SF in the last year of his contract opening up free agent options this summer.
Although, he could even be worth a contract extension as he might actually fit the rebuilding process for two reasons:
He is a scorer and could backup both Devin Booker and T.J. Warren. Plus Bojan is a good 5-6″ taller than Knight so defensively he is far more advantageous.
Bagdanovic is from Bosnia and Herzegovina, just as Dragan Bender is. A leadership role could emerge with Bojan for Dragan which could help to hasten Bender's development in the league.
If the Suns want a draft pick in the deal, they may be forced to take on the contract of a player such as power forward Luis Scola whose $5.5M contract will be off this books this summer anyway, although he would not be eligible for trade until mid-December. If other pieces are involved, trading Scola would help free Brooklyn even up even further in other trades this season.
Secondarily, the Suns could further swap P.J. Tucker for Scola. P.J. would become expendable with Bojan on the roster, and from the Nets' perspective, P.J. would probably garner a little more in return than Scola if they wish to flip him right away.
Follow Valley of the Suns on Twitter at @ValleyOfTheSuns and on Facebook at Facebook.com/PhoenixSunsBlog.
 San Antonio Spurs
I tried with San Antonio. I really did. Outside of LaMarcus Aldridge, I just do not know who else the Suns would want from the Spurs' roster that San Antonio would be willing to part with. The Suns could hypothetically trade for Manu Ginobili in mid-December, a $14M expiring contract, but I do not see the Spurs ever dealing him. He will retire a Spur.
The same with Tony Parker. The Suns could absorb his $14.4M contract right way. But not only do I not seeing the Spurs ever trading him, he has an additional year left on his contract, and with Bledsoe still on the roster, I can't see the Suns wanting Parker at all.
So, Brandon Knight for LaMarcus Aldridge, as humorously unrealistic as that is, is the best I could come up with without getting too complicated.
The only realism that I derive from this possibility is that, as I have discussed before, the Spurs may be willing to trade Aldridge, and the Suns might be a possible suitor. However, since a one-for-one trade is almost undoubtedly out of the question from San Antonio's perspective, here is an additional, complicated trade, that just Might be plausible.
Follow Valley of the Suns on Twitter at @ValleyOfTheSuns and on Facebook at Facebook.com/PhoenixSunsBlog.
Dallas Mavericks
Dallas was almost as tricky as San Antonio in that the several players that might be palatable from the Suns' perspective over the long-term, just do not seem likely to be traded this season.
Dirk is out of the question, obviously. Harrison Barnes is an over-priced – and year older – T.J. Warren, so unless the Suns believed that taking on Barnes' contract now and moving Warren makes them better, I don't see that happening. And then Wesley Mathews would be a really nice addition, but his acquisition in a trade for Knight would be redundant and unnecessary.
Which leaves another expiring contract acquisition option in Andrew Bogut.
Bogut would be plausible because it would open cap space for the Suns this coming offseason, as well as give the Suns the opportunity to trade Tyson Chandler during the season if they felt so inclined. While I personally would prefer to see Chandler play out his contract in Phoenix, replacing Knight with Bogut and then flipping Chandler would still leave the roster with two centers for the rest of the year, as well as whatever they acquire in the Chandler trade.
Plus, unless the pieces they acquire in the hypothetical Chandler deal aren't cost effective, the amount of cap space available by losing both Knight and Chandler's contracts would be astronomical in this new age of expanded caps – especially given that the cap is expected to take another significant leap this offseason.
So, if General Manager Ryan McDonough believes that he can be in the running for at least one max player either via free agency or through trade for a disgruntled player, then having both players off the books by acquiring Bogut would prove to be financially brilliant.
Follow Valley of the Suns on Twitter at @ValleyOfTheSuns and on Facebook at Facebook.com/PhoenixSunsBlog.
Philadelphia 76ers
Let's go ahead and shoot for the moon here and make a trade for the single young player in the NBA that I have been calling for the Suns to trade for for some time: Jahlil Okafor and his $16M bargain-basement ultra-value contract over the next three years.
A one-for-one trade works in this situation, though it is unlikely that the Suns would only be able to give up Knight for Jahlil. Either a 2016 rookie would have to be shipped off as well, at least one first round pick, or some combination of the two.
Either way I say make the move.
Okafor has the talent to be a once in a generation center in the NBA at best, and a dominant center at least. Imagining him in a lineup with Devin Booker and T.J. Warren for a decade (and if either Marquese Chriss or Dragan Bender pan out to the higher levels of expectations) makes me salivate.
A trade for Okafor also opens up several other major moves for the Suns.
If they again decide to flip Tyson Chandler, the Suns will likely open up additional cap space for this offseason's free agency or to re-sign Alex Len. However, they could also turn and flip Len (or just include him in this trade, which also works) and allow Chandler to help coach up Okafor for the next few years, a move that would still save money since the Suns would not have to pay Len his expectedly large contract extension.
This is not the first time that I have called for the Suns to make a move for Okafor and it will not be the last. Until I see absolute certainty that he is either coming here, staying there, or going somewhere else, I will continue to pound the pavement campaigning for the Suns to make this move.
If Okafor is off the table or impossible to obtain, then the Suns could look to trade for Joel Embiid or Nerlens Noel.
Embiid has a similarly high ceiling as Okafor, but since he currently has the starting role in Philadelphia, he is likely entrenched in that spot moving forward. Noel on the other hand may be the most expendable as he is appears to be the lesser of the three talents. He is also the most flexible.
Noel is very similar in statistical output to Alex Len, so the Suns could maintain the status quo if Noel was brought in to replace Len. However, he is also capable of playing the power forward position, so if he were traded for without Len being attached, Noel could play alongside Len or Chandler, presenting a very formidable defensive wall.
The initial downside to Noel at power forward is that he would block Chriss and Bender, so he may be the least palatable for the Suns anyway.
*Note, there are a lot of rumors floating around about Noel on the trading block already, although none appear to have him tied to the Suns at the moment.
Follow Valley of the Suns on Twitter at @ValleyOfTheSuns and on Facebook at Facebook.com/PhoenixSunsBlog.
Washington Wizards
There is no one, and I mean no one, on the Washington Wizards roster that the Wizards would want to trade and that the Suns would want in return.
Would the Suns love to find a way to trade for Bradley Beal or John Wall? Sure! But would Washington want to trade them? Nope.
Would the Wizards be willing to trade Ian Mahinmi, Marcin Gortat, Markieff Morris, Andrew Nicholson, or Otto Porter Jr.? Yup! Would the Suns want to trade for any of them? Nnnnoooooope!
Why Washington would want Brandon Knight is beyond me anyway. With Beal and Wall
More from Valley of the Suns
performing solidly in the backcourt already Knight wouldn't start so both he and the Wizards would be in the exact same situation as the Suns and Knight are in right now.
That being said, if the Wizards desperately wanted Brandon Knight, the way to make it happen would be by trading Markieff Morris back to the Suns. And since there is not a snowball's chance in hell of that happening, then it would have to be in a three-team swap. And since I do not know who would want to acquire the existing $24M mess that is Markieff and his contract, I don't even know where to start with that, so I won't even touch it.
What trade would YOU like the Suns to make with Brandon Knight?
Please comment! Let us know which of these trades you would be happy with the Suns making, or come up with your own, and submit it in the comments.
Follow Valley of the Suns on Twitter at @ValleyOfTheSuns and on Facebook at Facebook.com/PhoenixSunsBlog.
This article originally appeared on