Bradley Beal Seals Suns Road Trip Losing Record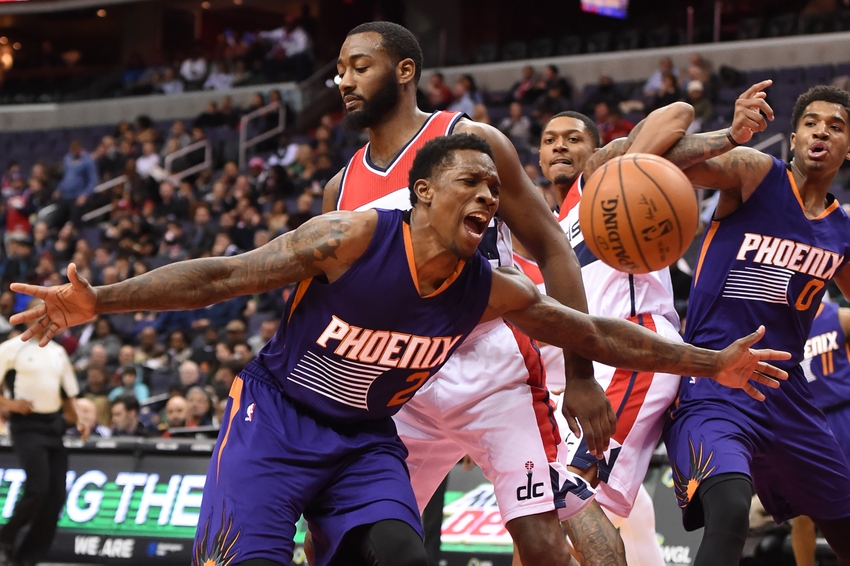 Another night, another Suns opponent setting a career high.
VS.
| | | | | | |
| --- | --- | --- | --- | --- | --- |
| | 1 | 2 | 3 | 4 | T |
| Wizards | 26 | 24 | 25 | 31 | 106 |
| Suns | 20 | 26 | 34 | 21 | 101 |
For the second game in a row the Suns have allowed an opponent to set a career-high in scoring. First was two nights ago when rookie Joel Embiid set is personal best with 26 points in a 105-120 loss to the lowly Philadelphia 76ers. Then tonight, against the mediocre Washington Wizards, Bradley Beal dropped in 42 points in rout to a hard fought 106-101 victory over the road-weary Phoenix Suns.
The Suns hung tough tonight, holding an eleven point lead late in the third quarter, but could never be the dominant team on the court. Their 21 turnovers combined with 3 steals was too much to overcome when the team needed to buckle down and protect the ball at all costs.
Unfortunately, the Wizards dominated the ball, turning it over only 11 times, and stealing it from the Suns 8 times, including a season-high tying 4 from John Wall.
Aside from Beal's career-high 42, John Wall scored18 and dished out 15 assists, also a season high. Former Sun Markieff Morris was a pleasant dud with only 5 points and 5 rebounds, however, Marcin Gortat grabbed his eighth double-double on the year with 11 points and 13 rebounds.
The Suns backcourt countered with 30 points on 6 of 9 from three from Devin Booker, his highest scoring game since dropping 39 in a loss to the Los Angeles Lakers . Eric Bledsoe also dominated with 29 points, 9 rebounds, and 6 assists.
Alex Len countered Marcin Gortat's double-double with one of his own racking up 11 points and 10 rebounds, his fifth on the year. Len additionally recorded 3 blocks, tying his season high.
Sheriff Alan Williams continues to impress in a limited roll of the bench. He played 16 minutes but scoring 5 points and grabbed 8 boards, while holding a +8, the highest +/- on the team against Washington.
The Suns are now 1-4 on the six game road trip, and will finish it up in Orlando against the Magic on Wednesday, November 23rd – Thanksgiving Eve.
Follow Valley of the Suns on Twitter at @ValleyOfTheSuns and on Facebook at facebook.com/PhoenixSunsBlog
More from Valley of the Suns
Thoughts From the Valley of the Suns
Adam Maynes
The conversation around the Suns these days is consistency. It is that the team, the coaching staff, and the fans, never know going in game which Eric Bledsoe is going to show up. Is it the Bledsoe that flirts with triple-doubles? Or is it the Bledsoe that disappears on offense.
Is Devin Booker going to flirt with 30+ points? Or is he going to be ice cold from the field and barely break double digits.
Is Alex Len going to be a force down low and record the 14 point,14 rebound, and 3 block game that we all know he can and should do on a nightly basis? The guy is an athletic freak of nature for his height, and yet he is regularly forced out of position, or out-muscled or out-worked for a rebound from players that are shorter and less athletic than he.
I could go on and on. I just hate to do it.
I have no idea what needs to be fixed. I understand that the Suns are rebuilding. I understand that the Suns are incredibly young. I just don't understand how players, almost all who have experience in this league, can't string together a few solid games in a row against teams with records similar to their own. The Suns aren't playing world beaters every night. But sometimes, even against the other bad teams in the NBA, they sure do look like it…
Kory Miller
I thought tonight was a tough loss for the Suns. They're approaching the end of a tough road trip and rebounding from the disappointing 76ers game with a W would have been huge. Bledsoe had
a great game, I liked how aggressive he was down the stretch. Phoenix needs more of that from him. Alan Williams may be the surprise of the year so far for me. He's played really solid and has a nose for offense rebounding, a valuable skill. It's obvious that the Suns have some talent on this team, if they can perform a bit more consistently, they can outperform expectations for the rest of the year.
Fans, what are you thoughts on tonight's game?
Follow Valley of the Suns on Twitter at @ValleyOfTheSuns and on Facebook at facebook.com/PhoenixSunsBlog
Suns Trivia Question
The Washington Wizards have had four team names in their franchise's history: Baltimore Bullets, Capital Bullets, Washington Bullets, and Washington Wizards.
What is the Suns' record against the Capital Bullets?
Follow Valley of the Suns on Twitter at @ValleyOfTheSuns and on Facebook at facebook.com/PhoenixSunsBlog
Suns Trivia Answer:
2-2
The 1973-74 Bullets played under the name Capital Bullets, the only season in which 'Capital' was in their name.
The Suns and Bullets played four games against each other that year, splitting the set.
November 4, 1973 – The Capital Bullets defeated the Phoenix Suns 102-99 in Washington D.C.
December 7, 1973 – The Phoenix Suns defeated the Capital Bullets 114-92 in Phoenix, AZ
January 27, 1974 – The Phoenix Suns defeated the Capital Bullets 127-107 in Phoenix, AZ
February 6, 1974 – Capital Bullets defeated the Phoenix Suns 109-101 in Washington D.C.
Follow Valley of the Suns on Twitter at @ValleyOfTheSuns and on Facebook at facebook.com/PhoenixSunsBlog
This article originally appeared on