Boston Celtics: The Rise Of Isaiah Thomas
Ryan Jackson/FanSided via Sir Charles In Charge

Fansided
Boston Celtics point guard Isaiah Thomas is playing at an absurd level, something that many didn't quite expect from him when he was selected 60th overall
For the duration of his basketball career, Boston Celtics point guard Isaiah Thomas has always played with a chip on his shoulder. Like he had something to prove. And that's because throughout his life, Thomas has had something to prove. He does have a chip on his shoulder.
The now 5-foot-9 point guard from Washington was always undersized, even as a youth. So, despite his insurmountable talent, any dream of playing hoops professionally was often scoffed and snickered at.
But despite the height deficiencies, Thomas was labeled as a 4-star recruit out of high school, and signed with Washington University. Though not typically thought of as a basketball powerhouse, Washington would provide a unique platform for Isaiah to showcase his talents.
And the impact of Thomas was felt immediately. Isaiah took home Pac-10 Freshman of the Year honors as a true freshman after posting an impressive 16 points, three rebounds and three assists.
He built on the success in the following season, improving in all almost aspects to post a 17 point, 3 assists and 4 rebound line, and was named to the first team All-Pac-10. But it wasn't until his junior year that he established himself as one of college basketball's elite.
That season, Thomas took strides towards being a true floor general, maintaining his 17 point and 4 rebound averages, while doubling his assist average, which ballooned to over 6 per night. He was once again named to the first team All-Pac-10, and was a finalist for the Bob Cousey Award, given to the best point guard in college basketball.
The Draft
With nothing left to prove in college, he declared for the draft that spring.
He possessed the quickness and scoring ability not frequently seen in such capable passers. And although he lacked some in the awareness and vision categories, the main weakness brought up by most scouts was his size.
And so on draft night, Isaiah Thomas had to painfully listen to 59 names be called ahead of his, until with the 60th and final selection of 2011 Draft, the Sacramento Kings picked him. One of college basketball's best taken last.
But Thomas took it all in stride. He'd been doubted all of his life. In AAU, high school, and into college. But now he'd be getting his chance at the pro level, something never thought possible.
And he made an immediate impact in the association by playing the same way he always had. Once again, he had something to prove, a chip on his shoulder, and played like it.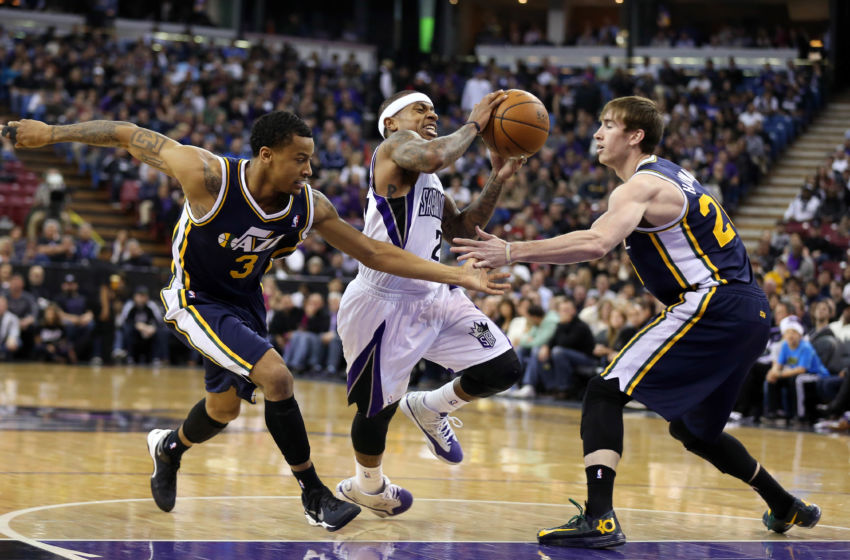 Early Career
Thomas was named to NBA All-Rookie second team, and finished in the top-10 in Rookie of the Year voting. And by his 3rd season, Thomas had become a 20-point scorer, the benchmark for all top scorers in the league.
But, again, due the a combination of his size, and his team's record, he still was getting the national recognition he deserved. His name wasn't being mentioned in the upper echelon of point guards, though every statistical measure proved that he was right at the top.
His numbers took a slight dip in the following season, however, as a change of scenery didn't fit his skill set. Phoenix didn't run the offensive system, nor have the necessary supporting cast, to maximize Isaiah's production.
The brief stint with the Suns came to end in the star-studded summer of 2014, where he found himself in big-market Boston. The Celtics were an up-and-coming team, and needed a proven scorer to counteract the dry spells of their young players.
And it was a match made in heaven.
Boston Beginnings
Isaiah Thomas immediately became the to go-to in Boston's top-5 offense. He averaged over 22 points and six rebounds, and was finally named to his first All-Star team.
On top of everything, the young Boston Celtics had qualified for the playoffs for the second consecutive season, finishing 14 games over .500, good for 5th in the conference.
The C's were bounced in the first round at the hands of the Hawks, but this was the series that Thomas had his coming out party on the national stage, averaging almost 25 points throughout the series, including an epic 42-point showing in Game 3.
And he's taken the leap of faith towards superstardom this season. Taking the league by storm in a way not seen since Iverson, Thomas is putting up very similar numbers to Iverson's.
And with Iverson-type numbers comes recognition. He's finally being regarded as a top point guard in the league, frequently being the subject of comparison to the likes of Curry, Westbrook, Paul and Irving, and rightfully so. But despite the success, he still plays with the tenacity and ferocity that got him here.
Now all that remains is a deep postseason run, and given the Boston Celtics' current play, that's quite a distinct possibility.
This article originally appeared on