Boston Celtics: Thank You, Kevin Garnett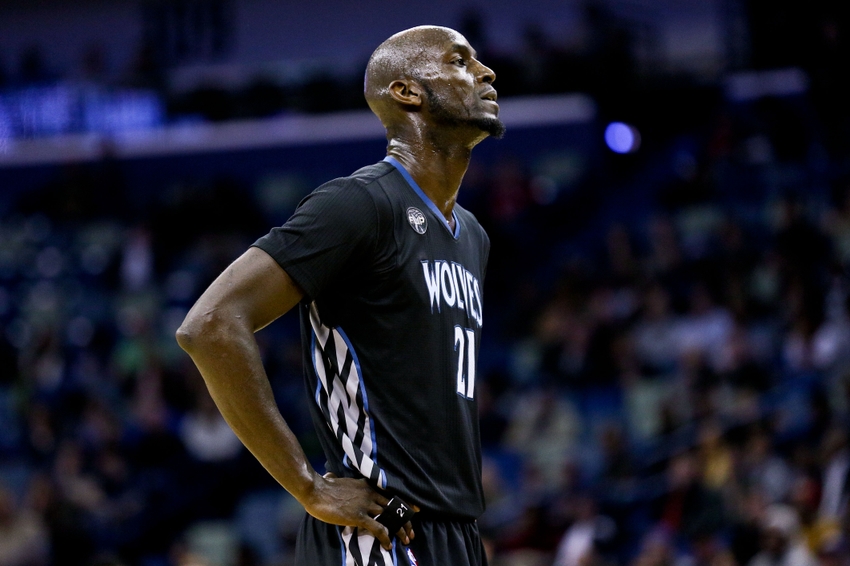 Kevin Garnett has reportedly retired from the NBA after 21 years in the NBA
News broke that future Hall of Famer Kevin Garnett will announce his retirement from the NBA after he and the Minnesota Timberwolves agreed to a buyout on the second year of his two-year, $16.5 million deal, per The Star Tribune.
In the same year that featured legends such as Kobe Bryant and Tim Duncan also retiring, this ends the mark of an era. Garnett spent 21 illustrious years in the NBA that included stints with the Minnesota Timberwolves, Boston Celtics and Brooklyn Nets.
Garnett is so much more than the 15 All-Star appearances he made, or being named the 2003-04 league MVP, or being an anchor for the Celtics 2008 NBA Championship. Garnett is an icon, and someone who will always be remembered for the passion he played with, rather than the gaudy numbers and numerous awards he took home throughout the years.
In an era that many people consider soft, Garnett was one of the few lasting members of the late 1990s and early 2000s. The passion he played with will never be matched. From banging his head on the post of the hoop before a game, to pounding on his chest and screaming with an intensity unmatched by anyone after a big play, there has never been another player like him.
As we watched Garnett's quick decline over the past couple of years that resulted in just 38 appearances last season, it was heart-wrenching and tough to get through. We're talking about a guy who once averaged 24.2 points and 13.9 rebounds per game during an MVP season, who ended his career as a mere non-factor on the court.
Throughout his decline, though, Garnett still proved to be a focal point of the Timberwolves. Sure, Karl-Anthony Towns, Zach LaVine and others received most of the media attention, however no one forgot about Garnett, even if he played in fewer than half the games. It exemplifies the type of player he was.
From the start of his career, Garnett proved to be a role model for not just younger players in the NBA, but for everyone. He showed how the game should be played, and the type of intensity everyone should play with. Because there was never a game when you'd question how hard he worked or how much he cared.
No matter who you root for, you had to at least be a little happy when Garnett won the championship with Boston in 2008. Paul Pierce's long wait with the Celtics finally came to an end and Ray Allen also won his first title. Although, for me at least, seeing Garnett finally reach the top of the mountain, something he was never able to do with Minnesota, was refreshing.
Then, of course, came one of the most famous sayings in NBA history. The simple phrase that continues to be watched to this day, and really showed the type of player Kevin Garnett was throughout his career.
"ANYTHING IS POSSIBLE!"
Three simple words, and the simplicity and scream when he yelled it perfectly describes his career. Anything is possible, Garnett became one of the best all-around players in NBA history after he grew up in Chicago. The simple words, just like his game. He dominated on offense and defense, and never turned into a three-point shooting big. Simple, yet elegant and dominating.
Now, all that is behind us and the memories Kevin Garnett made on the basketball court will be all we have to remember his career. He played 21 years, that's a year longer than I've been alive. I was just eight years old when he won the MVP, and I grew up only knowing the dominant Kevin Garnett, therefore the decline of him was even more heart breaking to watch.
With Allen Iverson getting inducted into the Hall of Fame this summer and now being able to look back on Kevin Garnett's career, it's an amazing trip down memory lane for me. Both influenced my love for basketball so much at a young age and are still, to this day, my favorite players of all time.
There's only one thing to say to Kevin Garnett, Thank You.
Thank you for showing me, and everyone, how to play the game with intensity.
Thank you for making a five year old me beg my parents to move to Minnesota because I wanted to be a Timberwolves' fan, just because you played for them.
Thank you for being a great person.
Thank you for being one of the best power forwards of all-time.
It's fitting that Garnett's career has come to an end after 21 years. He wore #21 with the team he will be inducted into the Hall of Fame as a member of, the Minnesota Timberwolves. As cool as seeing him being inducted into the Hall of Fame with Boston would be, it would be an utter shame if he didn't go in as a member of the Minnesota Timberwolves.
It was a wild ride, KG. One that will not soon be forgotten. 21 years. Thank you, KG. And enjoy your retirement.
More from Hardwood Houdini
This article originally appeared on