Boston Celtics: R.J Hunter Finally Has Breakout Moment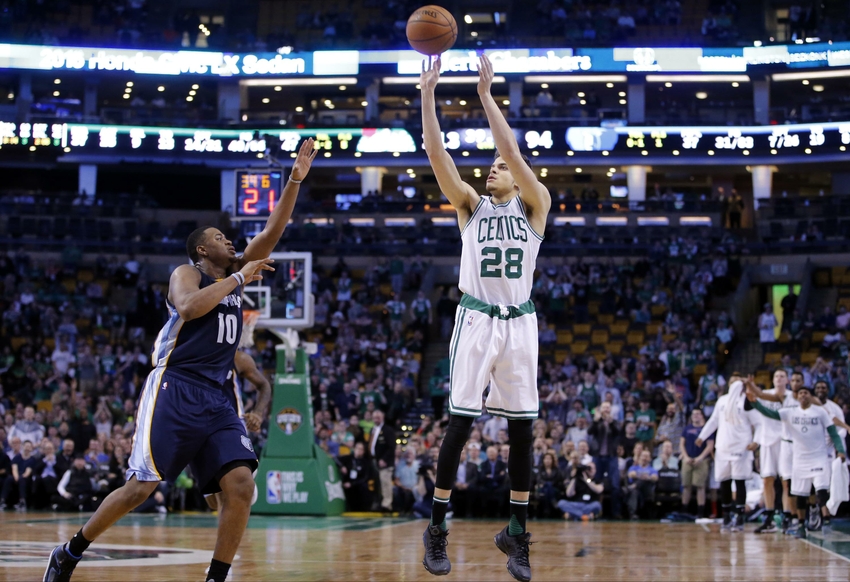 R.J Hunter made his claim for the final roster spot on the Boston Celtics
If Boston Celtics fans were hoping to get a better picture of what the final roster may look like after preseason, they could be out of luck. This is actually a good problem for the Celtics, who have seen multiple players breakout this preseason, making it much more difficult for Brad Stevens to figure out who should hold those final spots.
Most recently, it was R.J Hunter who finally made a real claim to that final roster spot. The second year guard has struggled shooting the ball, and that appeared to be the one edge he had in terms of securing that roster spot. As long as Hunter struggles shooting the ball, it is hard to imagine him being good enough on defense to deserve a roster spot, but his performance against the New York Knicks finally gave a glimpse of that shooting potential.
More from Hardwood Houdini
If hunter manages to make a final roster spot, it is unlikely to be in a significant role.  Hunter has a chance to get minutes, but he will struggle to be featured in the rotation for the duration of the season. What the Celtics want out of Hunter is a scoring boost off the bench to help make up for second unit guards that are likely to struggle shooting as a unit.
That is exactly what Hunter did against the Knicks. He was given the second fewest minutes on the team with just 12, and he exploded for a team high 17 points. Hunter was efficient all over the court, hitting half of his four shots from beyond the arc, and not missing anything inside the three point line.
Hunter also managed to be tied for second most free throw attempts on the team for the game, giving a glimpse into how complete of an offensive player he can be. Three point shooting should be his biggest strength, but Hunter drastically increases his chances of making the roster if Stevens believes he can be a more complete offensive player.
The biggest problem for Hunter is he has to contend with both James Young and Gerald Green who are looking to provide a similar scoring boost off the bench. These three players all have similar size and who gets the edge on the roster could come down to defense.
For now, showing his offensive potential was the most important thing for Hunter, but defense still needs to come. Hunter had his first breakout moment, but that will not be enough to secure him that roster spot.
Hunter has looked comfortable in Stevens' offense and that will be vital. He is starting to instill confidence that he can have a dynamic impact on the offensive end, but the Celtics have trended away from one dimensional players, particularly ones that struggle on defense.
Hunter has an uphill battle ahead of him. Prior to this game it felt as though he was one of the outsiders in terms of making the roster. This recent performance should, at the very least, increase Hunters opportunities for the rest of the preseason. Hunter has struggled to get really consistent minutes this preseason, and this has been the first time he really broke out in any way.
One edge Hunter has over Green and even Young is experience in Stevens' offense. Hunter showed quick adaptability in his rookie season. He was never given consistent minutes, but he never disrupted the offensive flow, and established a quick level of comfort. Green is a new addition who could take longer to adjust and Young has seen even less playing time in the NBA, despite being on the roster for longer.
This game alone will not be enough for Hunter, but it is finally a step in the right direction. Time is running out in the preseason, but Hunter could be a fun player to watch for the remainder games because if he keeps shooting like this, Stevens will have a hard time keeping him off the roster.
This article originally appeared on