Boston Celtics: Not Time to Panic About the Defense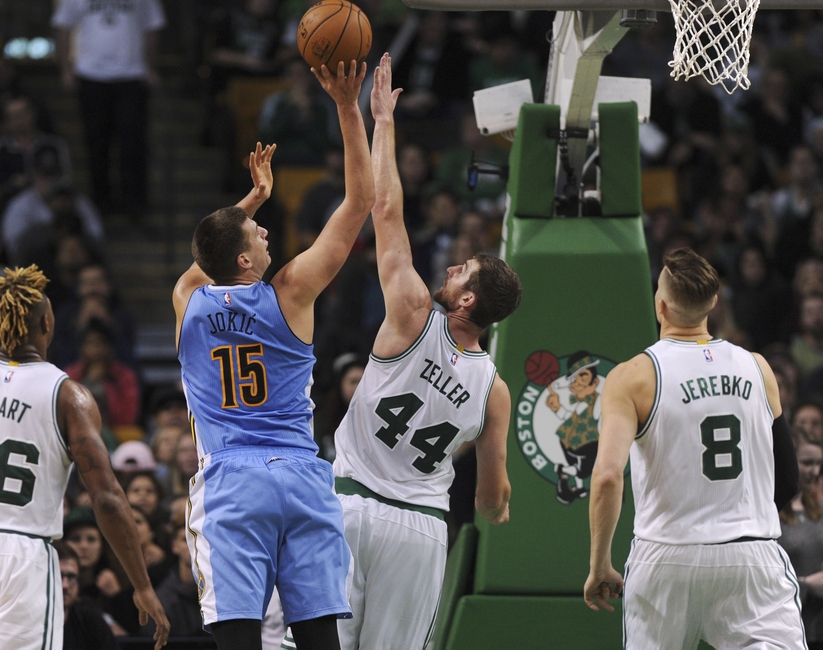 The Boston Celtics realize they can be better across the board on the defensive end
The Boston Celtics entered this season as one of the favourites to be the best defense in the NBA. With the sixth best defensive efficiency in the league last year, the Celtics were already coming in as one of the strongest teams in the league. Adding Al Horford was then supposed to be the missing piece. The Celtics excelled despite good interior defense, and that was supposed to be the area Horford improved the most.
More from Hardwood Houdini
This season, the Celtics have been right around the bottom of the league in defensive efficiency. They have been getting some of the shooting they desperately hoped for last year, but their defense has been no where near as good as anticipated.
The biggest problem is the Celtics are yet to play at full strength, and they have been missing three of their four best defenders on the team. Marcus Smart missed the start of the season, and upon his return Horford suffered a concussion in practice. Then Jae Crowder proceeded to sprain his ankle, completely destroying Boston's interior defense.
There is no doubting that the Celtics cannot be properly evaluated until they finally get at full strength. That being said, these guys they have out there should be playing better. The Celtics have a incredibly young bench, but some of these players have been waiting for this exact kind of opportunity.
Jordan Mickey is yet to prove that he can be a difference maker as a defender. Tyler Zeller has been improved, but teams are still able to attack him on the inside. Amir Johnson has been solid, but he comes in undersized and has little impact on the boards. Johnson is averaging under one block per game and ranks fifth on the team with just four rebounds per game.
Johnson cannot hold an interior together by himself, and there has been no help around him. The Celtics even resorted to a four guard lineup to try and get a spark against the Nuggets. The Celtics had a weak interior last year, but without Horford and Crowder they have far too many liabilities for them to make up in their back court.
Avery Bradley has been arguably the team's best player on both ends. He is having the biggest impact on the boards, and continues to be their best on ball defender. Bradley continually takes the toughest assignment, and there is very little help around him right now.
The Celtics are getting nothing from their front court, and they are not generating steals like they did last year. Losing Crowder takes away their best weapon in that area, but both Bradley and Smart haven't been able to have an impact with their ability to generate turnovers.
The Celtcs do not need to panic about their defense because they will be getting top defenders back, giving them one of the most complete starting units. What these injuries have revealed is that the Celtics do not have the same kind of depth as last year. Jaylen Brown has proven that he is capable of having an impact, but has been inconsistent. Terry Rozier has looked comfortable, but has been not able to replace the impact of Evan Turner on either end.
Last season the second unit leaned almost entirely on Smart, Turner and Olynyk, and Smart has not been able to carry that unit on his own. Rozier has not been able to take on the kind of role that Turner had. He does not play with the ball in his hands as much and has not been able to generate the kind of opportunities that Turner did.
Rozier needs time to grow into that role and with so many injuries he can get a head start with the extra minutes. The Celtics also haven't seen anyone step up and have the kind of offensive impact that Olynyk will have. He is their only forward who gives them great floor spacing, and comes in as the best three point shooter on the team from last year.
Olynyk gives the Celtics that player that can consistently give them offense. Gerald Green has been capable but inconsistent. Olynyk changes the dynamic of that second unit on the offensive end.
The Celtics should be concerned that none of their young second unit players have really taken a big step forward this season, but with the way Bradley and Thomas have been playing, bringing Horford and Crowder back on that unit gives them standout defenders across the board.
Putting those players there takes away any big area the Celtics can be exploited, and they will certainly be a vastly improved team when they get back.
The problem is that the Celtics could be without Crowder for a couple weeks. There has been good news about Horford, but Crowder has been Boston's most important defender since he joined the team. Crowder has been the defensive key to their small ball lineup, putting the Celtics where they are more comfortable.
The Celtics need to look to improve what they have on the court now, because they have to be better than this start of the season. They have not been generating enough steals and that is keeping them out of transition. They have not been contesting shots the way they have in the past and that has lead to a lot of strong shooting displays.
The Celtics know they should be improved, and that improvement needs to come from getting healthy and seeing these younger players develop. These extra opportunities should help them in the long run. These young players have proven to be effective, and that could change the perception of their depth when they are healthy.
The Celtics have held it together at .500 with these injuries, but need to get back to winning. The Raptors are just one game ahead of the Celtics right now, and they have an opportunity to take control of the division. The problem is that they know they will not be able to win enough games with the way the defense has played so far this season.
This article originally appeared on