Boston Celtics Need More Shooting out of Al Horford and Kelly Olynyk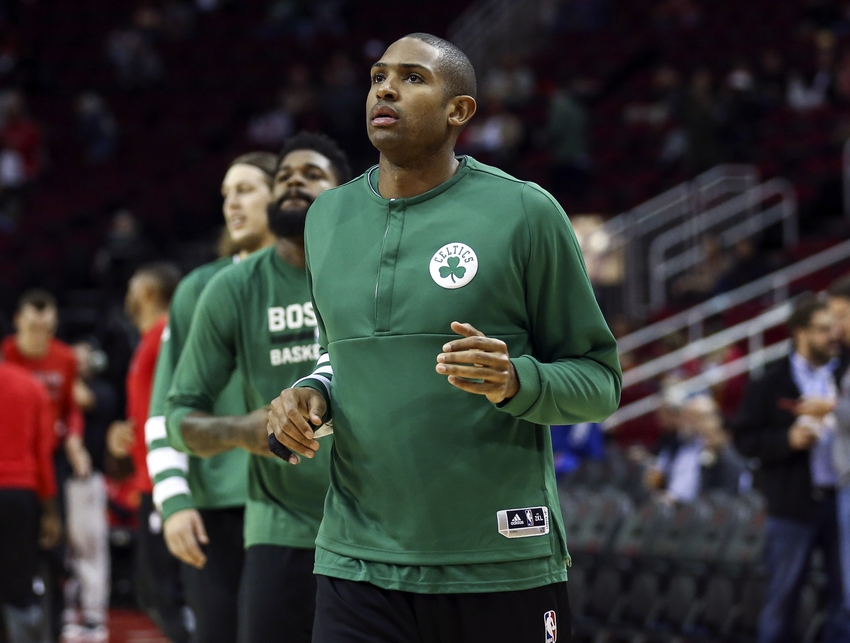 The Boston Celtics need to look at Horford and Olynyk to start taking their offense to the next level
The Boston Celtics have two of the most unique weapons in the league with deadly stretch fives in Al Horford and Kelly Olynyk. They have proven to be arguably the two best three point shooters on the team, and they are a matchup nightmare for any opponent. The Celtics have thrived with an aggressive mentality and many players on the team have embraced that, sometimes too much.
The key for any player on the Celtics is balancing that aggression with smart decision making. The Celtics have fuorished with some of the best ball movement in the league. The Celtics need willing passers and it is remarkable that they have two centers that can also be play makers as distributors on top of their shooting. The problem, however, is that as valuable as their passing can be, it is concerning that Olynyk and Horford appear to be the two least aggressive players on the team when it comes to taking three point shots. That could be something helping their shooting percentage, but it is limiting their overall impact.
The Celtics never want Horford or Olynyk to go too far away from that ball movement and play making ability, but they have not shot with the same kind of aggressiveness that any guard on the team or even Jae Crowder has. The Celtics are seeing their weaker shooters take more shots, while Horford and Olynyk continue to be pass first more often than expected.
In search for that ideal balance that Isaiah Thomas has become a master of, both Olynyk and Horford need to be taking more shots, and make sure that they are having an impact with their three point shooting in every game.
The Celtics know that they need to continue to improve this season, and both Horford and Olynyk have found a way to be great contributors. Neither of them want to sacrifice what they are already doing, but a higher usage rate for either could bring the extra opportunities that they need. The problem is that those extra opportunities will not be given to them. They need to assert themselves on offense and take the responsibility to expand the impact they have on the game.
One of the best things about Horford this season has been his contributions across the board. He is having an impact in every facet of the game and he is making sure he is making a play every opportunity he gets. He is establishing himself as one of the best passing big men in the league while maintaining his status as a top interior defender. The one area that Horford has lagged behind a bit in is the volume of his shots. The Celtics depend on a high volume of shots in their fast offense, and while Horford has done nothing to hurt them on offense, he can still do more to improve them.
Horford has been the most consistently positive player on the team. Even when he is not being used as much as he should and is not asserting himself on the offensive end, he continues to have an impact in any way possible. Right now, the only way for Horford to improve his play with the Celtics is managing to maintain the remarkable amount of ways he contributes, while taking more shots and attacking more on the offensive end.
For Horford, it is not only about the three point shooting. The Celtics never want to see Horford hesitate when he has an open three point shot, but his ability to have an impact as a post player is yet to be fully realized this year. As a passer, Horford has been stupendous in the post. He always keeps his head up and never misses a cutting teammate. When it is all said and done Horford could lead centers in assists this season and the importance of that cannot be understated.
The Celtics do not need Horford to be passing less, they need him to be in more positions to make a play, and he can never be hesitant. The Celtics lack a lot of top shooters and any time Horford gets any kind of opening, he needs to look to take advantage of that. He is still looking for an ideal balance between distributing and attacking and right now the only way he can improve is by increasing the amount of shots he takes in the paint or outside.
The Celtics are still discovering exactly how they can optimize Horford's talents, and there is no doubting that his 15.5 points per game are leaving a bit to be desired. 39 percent from three is blowing away Horford's career average, and he is finishing over 50 percent overall, making him the most efficient player on the Celtics. The Celtics are discovering the multitude of ways that Horford can have an impact, and now it is time for the best parts of his game to start to be optimized. Horford needs to prove that he can keep up his percentages while getting right behind Thomas is three pointers attempted. Reaching the 20 points per game threshold may be unrealistic, but he can certainly see his 12.6 shots per game increase.
At the very least Horford needs to do better than the fourth most three point attempts per game. Horford should continue to improve with the Celtics and the team will follow suit with him. A lot remains unsettled but things will look better and better the more involved Horford is as a scorer.
Kelly Olynyk will never be the playmaker that Horford is, and he will never have the same post presence. Olynyk does not have nearly the offensive arsenal that Horford has, but his three point shooting continues to be under-utilized. Olynyk has continually been one of the best shooters on the team, and once again has a great shot at surpassing 40 percent from range this year.
Olynyk has a case to be the most prolific three point shooter on the team and playing on a second unit with minimal shooting amplifies that importance. The problem, however, is that Olynyk is taking the sixth most three pointers per game on the team.
Olynyk is taking right around the same amount of shots he took last year. He is bringing reliable consistency, but improvement was expected in his contract year, and three point shooting is exactly how he needs to increase his impact.
The Celtics are starting to see their great start from three fizzle a bit. 36 percent is a pleasant sight after last season, but they can still improve. With the strides that Terry Rozier and Marcus Smart have already made with their three point shooting, Olynyk could be the most important player in improving their three point shooting.
Defenses already have to respect Olynyk from three and his shot fake has added to his arsenal. That being said, Olynyk has been tentative at times, and often passes up an open look to continue the ball movement. Olynyk's willingness to be a passer is a great quality, but that is not where he will have his biggest impact.
The Celtics want Horford to continue to be a passer because he is a difference maker in that phase of the game. Olynyk, on the other hand, will only be a difference maker with his three point shooting, and there is no reason to doubt that he can't mantain his averages in higher volume.
Olynyk has never seen his effectiveness decrease with increased volume throughout his career, and it is time to start pushing those limits.
This article originally appeared on