Boston Celtics: Marcus Smart Is Finding His Identity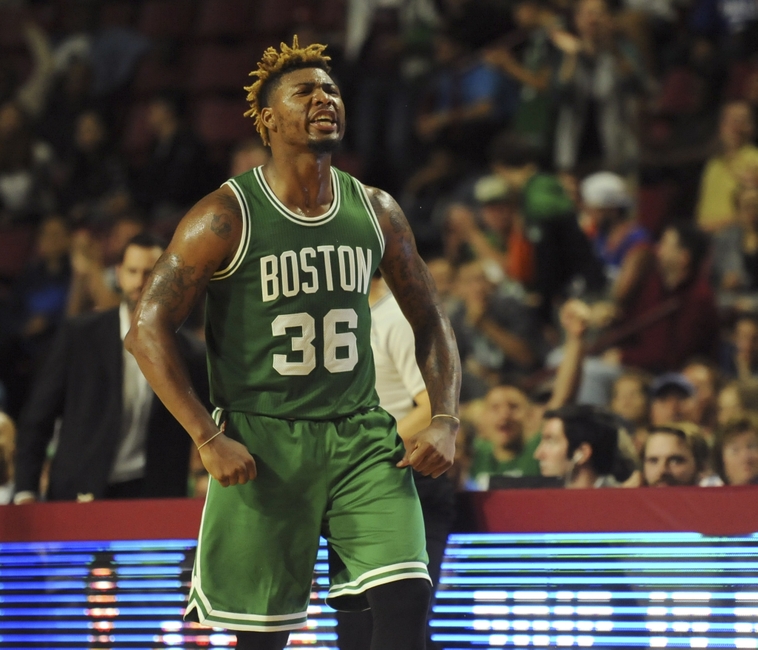 In his third year in the league, it seems like Marcus Smart is starting to find his identity as an NBA player
A player who does everything well, but nothing great. A player who plays tenacious defense that makes Avery Bradley look like an easy matchup. A player with the special knack to be in the right place at the right time.
Drafted with the 6th overall pick out of Oklahoma State in the 2014 Draft, fans have been wondering where this enigma of a player will fit in the grand scheme of Ainge's master plan. At first it seemed like he was being groomed to be the future point guard on the team, but then Isaiah Thomas broke out as a premiere scorer and leader at point.
Then, it would seem Smart would be the shooting guard, but he's not a great outside shooter and Avery Bradley is having the best year of his career at shooting guard.
More from Sir Charles In Charge
We are now 17 games into the 2016-17 season with the Boston Celtics sitting at a respectable 10-7, good for 4th in the East, and it seems like Brad Stevens has finally figured out what to do with Marcus Smart.
He's an every man. He is the most diverse player on the team. Depending on matchups or flow of the game, Stevens has options to use Smart at any position from the 1 to the 4. That's why he's a great tool to have coming off the bench.
Let the starters figure out what direction the game is heading in, then substitute Smart in accordingly.
As I mentioned earlier, Smart doesn't do anything particularly great, but he's not bad at anything either. He's a very competent ball handler and a very good passer who sees the court very well, better than Thomas in fact. He's a solid shooter if he's standing still, but loses a lot of accuracy when he's on the move.
However, he also possesses the ability to drive to the hoop and finish strong, throw up a floater, or pass it to the open man.
His unique physique also makes him a solid rebounder for someone his size (6' 4"), allowing him to D up on any forward in the league and bang the boards with the best of them. Yet, he's quick enough to steal the ball off a guard's dribble.
I believe if Smart continues to play the way he is, he'll be on the same caliber as an Andrei Kirilenko type player. For those of you who might not remember, Kirilenko, aka AK47, was a forward who spend the large majority of his career with the Utah Jazz. He never did anything great, but he always did a little bit of everything to help the team win.
Not everyone can be the All-Star, be the high scorer, and log the most minutes, but I believe Smart can be the man who fills the gaps
Sound familiar?
For reference, one of Kirilenko's standout seasons was in the 2003-04 campaign when he averaged 16.5 points 8.1 rebounds, 3.1 assists, 2.8 blocks, and 1.9 steals. Talk about stuffing a stat sheet. Every season he played with the Jazz he had similar stats, minus an injury ridden 2006-07 season.
Along with filling the stat sheet night in and night out, he was also known as a great defender, having been selected to the NBA All-Defensive First Team in 2006 and the Second Team in 2004 and 2005.
Now, despite Kirilenko being tall and lanky, while Smart is short and stocky, it's hard not to see how alike these two are. I can also see why some people might not be fully on board this comparison, since Kirilenko was never really a "big" name in the NBA and was only selected as an All-Star once in 2004.
And with Smart being the 6th pick, people might expect more from him. But, on a team that already has an emerging scorer in Thomas, All-Star forward in Horford, and a potential breakout All-Star in Bradley, I think a solid across the board player in Smart is just what the Celtics need.
Not everyone can be the All-Star, be the high scorer, and log the most minutes, but I believe Smart can be the man who fills the gaps. Heck, we'd be lucky if he turned into a player like Kirilenko and it would be even better if he turned into something more.
Regardless, despite the importance of players like Horford, Bradley, and Thomas, I think it's Smart who will determine how far the Boston Celtics can really go.
This article originally appeared on