Boston Celtics: Entire Starting Lineup Cracks SI Top 100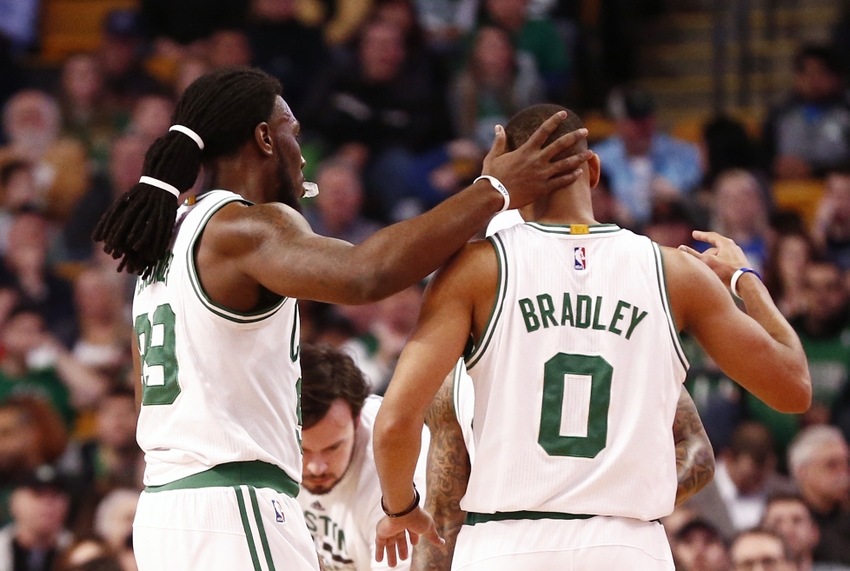 Find out where the Boston Celtics' starters landed in SI's Top 100 Players ranking
Every year Sports Illustrated releases an in-depth list of the top-100 players in the NBA heading into the year. Just like any list, there are snubs and players who seem to be ranked way too high. The exception for this year is the Boston Celtics.
All five starters on the Celtics cracked the top 100. It's a testament to the rebuilding job done by Danny Ainge and Brad Stevens. It's also signifying that Boston Celtics basketball is back. The Celtics are no longer seen as a bottom-dweller in the East.
The notion that Boston is going to flourish this season has been a widespread belief since they were able to ink Al Horford this summer. However, comparing Boston's starting lineup to other team's, then also looking at their depth, it makes sense why there is so much hype surrounding them.
Of course, the ranking is nothing more than mere fun. It doesn't really mean anything in the grand scheme of things, although it should still instill a lot of confidence in Celtics' fans and media to know how others perceive the talent of the Celtics' starting lineup.
Here's a look at where each player fell on the list. I'll also look at a couple of players who could have been ranked higher or lower than the respective player, as well.
No. 86 – Amir Johnson
2015/16 Stats: 7.3 PPG, 6.4 RPG, 1.1 BPG
This ranking surprised me. I didn't think Amir Johnson would crack the list because he's not a huge part of the Celtics' offense and he doesn't put up gaudy numbers. He's a solid rebounder and defender, and playing next to Al Horford should help his game tremendously, but Amir Johnson has never jumped off the sheet at me during his career.
85.2 percent of his shots come from inside 10 feet and he's not a reliable three-point shooter. Johnson only connected on 23.3 percent of his threes. Sure, he was the most reliable scorer in the paint for Boston last season, however he only attempted 5.4 shots per game and was mostly a decoy on offense.
Want your voice heard? Join the Hardwood Houdini team!
Johnson did step up in the postseason, though. His per game averages went up to 8.5 points, 7.2 rebounds and 1.3 blocks. Not to mention he also led the playoffs in field-goal percentage by shooting 71 percent. It's evident that Johnson can adapt to any role given to him, and the ability to put up bigger numbers is there, as well.
Although, that's never been his game. He's a big body in the middle who is an extremely effective scorer in the paint but doesn't space the floor as well as most other big men. Simply put, Johnson is an old-school big man. He's not flashy with highlight dunks and threes, but he does all the little things that go unnoticed, and that's what Boston loves about him.
I can somewhat understand why Johnson made the list. He's not a bad player by any means, he just doesn't put up great numbers in his minimal role. To be fair, he did average a double-double per 36 minutes, showcasing his production. However, I expected him to be a little lower down, in the mid-90s.
Notable Players Behind Johnson: Kenneth Faried (87), Enes Kanter (88), Kent Bazenore (90), Bismack Biyombo (91)
Notable Players Ahead of Johnson: N/A
No. 72 – Avery Bradley
2015/16 Stats: 15.2 PPG, 2.9 RPG, 1.5 SPG
Being named to the NBA All-Defensive First Team helped skyrocket Avery Bradley into the top-100. While some may argue that Bradley should be a little higher due to his defensive abilities, number 72 is about where I expected him to land.
He's a really good defensive player but his offensive game doesn't warrant a higher spot. Sure, he led the team in minutes per game, finished second on the team in points and owned the best three-point percentage in the Celtics' back court, however the Celtics offense was also very inefficient at times.
It's no secret that Boston didn't shoot well from the field or behind the arc in 2015/16. Therefore, while Bradley's 36.1 three-point percentage is a solid mark, it's nothing extraordinary when comparing it around the league — ranked 72nd in the NBA. He did take on a bigger role for the Celtics this past season but it wouldn't be crazy to imagine this being Bradley's plateau.
15.2 points per game and 16.4 per 36 minutes is solid production alongside an All-Star caliber point guard. That being said, there's a reason why the Celtics are still searching for a reliable scoring wing. While Bradley is one of the most smothering defensive players in the NBA, he's not an offensive juggernaut.
Very few players in the NBA are able to match Bradley's defensive importance but he doesn't make a huge impact in many other areas. His inability to be a playmaker, impact the glass, or be a three-point specialist makes him a one-trick pony at times. There's no doubt that Bradley is an integral part to the Celtics' success, but he hasn't shown enough on offense to warrant a higher ranking.
Notable Players Behind Bradley: Victor Oladipo (74), Nikola Vucevic (75)
Notable Players Ahead of Bradley: Ricky Rubio (71), Kyle Korver (70), Marvin Williams (65)
No. 53 – Jae Crowder
2015/16 Stats: 14.2 PPG, 5.1 RPG, 1.7 SPG
Jae Crowder will be one of the most common breakout season candidates this season. During his first full season as a starter, he's proven to be a very good defensive player and also a solid scorer on offense. Even though Crowder didn't put up huge numbers, his potential and impact in multiple areas of the game helped boost him to almost inside the top-50.
The biggest improvement Crowder needs to make is to be more aggressive on offense. He attempted a mere 12.7 shots per 36 minutes last season, ranking sixth on the team. The Celtics believe that Crowder can improve on offense in 2016/17, however he needs to be more assertive on the offensive end to do so.
When it comes down to it, there might not be a more important player on Boston than Jae Crowder. His size and quickness makes him a great small ball power forward option. He played 22 percent of his minutes at power forward last season. It wouldn't be surprising to see him at that position more this season with Evan Turner now in Portland.
Crowder needs to improve on his 33.6 three-point percentage in order to jump into the top 50 or 40 next year. He thrives on getting to the basket but he still attempted five-threes per game, despite his percentage not being extremely impressive.
Right now Jae Crowder isn't a star, but he does have star potential. If he can put everything together and be a bigger factor on the offensive end then he has a chance to be a multiple time All-Star. In an era where power forwards are getting more athletic and smaller, Crowder fits the bill perfectly.
Ranking him at number 53 isn't based solely on what he did last season, rather what he can become. Because if 14.2 points and a team-high 1.7 steals per game is just the beginning, then Crowder has a very long career ahead of him.
Notable Players Behind Crowder: Reggie Jackson (54)
Notable Players Ahead of Crowder: Danilo Gallinari (47)
No. 45 – Isaiah Thomas
2015/16 Stats: 22.2 PPG, 6.2 APG, 1.1 SPG
Sports Illustrated ranked Isaiah Thomas as the 88th best player in the NBA last season, and he took an exception to it.
He went on Twitter, which he has become famous for doing, and said, "Sports Illustrated Rankings are a JOKE lol. Feels like back in HS when those POLITICAL rankings would come out and we would just laugh it off."
Sports illustrated Rankings are a JOKE lol. Feels like back in HS when those POLITICAL rankings would come out & we would just laugh it off

— Isaiah Thomas (@Isaiah_Thomas) August 31, 2015
After getting a major boost to number 45 this year, Isaiah Thomas didn't go on Twitter, but he had good reason to. Despite being the obvious leader and best player of a 48-win team, Thomas barely cracked the top-50. Not to mention that Thomas made the All-Star team this year, as well. While that might not warrant him an automatic spot in the top-25, it should have come out to better than just eight spots ahead of Jae Crowder.
Thomas finished 11th in points per game, 14th in assists per game and still managed to average 1.1 steals per game despite his small stature. Sure, Thomas' height becomes an issue at times late in games on defense, and forces Avery Bradley to obtain more responsibility on that end, however, Thomas is still very scrappy on that end of the floor and is a prolific scorer on the other.
His 42.8 field-goal percentage and 35.9 three-point percentage could have been better. But when looking at his role on the team, and the Celtics need for someone to step up on offense, it paints a better picture of the type of game Thomas had to play. He had to force shots at times because he was the only reliable scoring option on the floor during significant stretches of time.
It's hard to sit here and say he is a sure-fire top-30 player, or where exactly he should be ranked. Although, Kemba Walker came in at number 36 and he has no All-Star appearances to his name. Isaiah Thomas might only be 5-9 but he's proven that hasn't impacted his quality of play. His development as a playmaker and scorer warrants a much higher spot than 45.
Notable Players Behind Thomas: DeMar DeRozan (46), Giannis Antetokounmpo (48),C.J. McCollum (50)
Notable Players Ahead of Thomas: Andre Iguodala (44), Steven Adams (40), Khris Middleton (39), Brook Lopez (38), Kemba Walker (36), Mike Conley (26)
No. 18 – Al Horford
2015/16 Stats: 15.2 PPG, 7.3 RPG, 1.5 BPG
If there was any doubt about how big of a signing Al Horford is for the Boston Celtics, all that should go away after Horford cracked the top-20 in SI's ranking. He's the highest ranking player on the Celtics and once again among the elite players of the NBA. In fact, Horford improved three spots from last year.
Even though it's only three spots, it shows the consistency Horford has had throughout his career. He's only averaged a double-double once in his career and isn't a 20-point per night scorer. However, he's as consistent as they come. Every night you know what you're going to get from him.
More from Hardwood Houdini
He'll give you 15-to-17 points and seven-to-eight boards with solid defense and passing. In an era where big men have become extremely athletic, Horford isn't an elite athlete. That being said, he makes up for it with his ability as a passer. Brad Stevens will surely utilize his amazing passing ability this season by running the offense through him at times.
Plus, in his ninth NBA season, Horford added a three-point shot to his arsenal. After only attempting 65 threes during his firs eight season, Horford attempted an astounding 256 last season, connecting on 34.4 percent of them. He'll seemingly only get better this season with more experience and now that he's in an offense where he'll be one of the main focal points.
On one hand, it's easy to understand why SI ranked Horford number 18. He's consistent and never has an off-year. On the other hand, he's not a championship's team top option and he doesn't put up gaudy numbers like other stars. That being said, his impact in nearly every facet of the game isn't seen in many big men, which makes him so intriguing.
Despite now being 30-years-old, there's no reason to believe Horford will be slowing down anytime soon. If he can stay healthy, he could be in for a career-year with the Celtics. He's going to be the focal point of the offense with Isaiah Thomas, which could lead to huge numbers.
The potential impact Horford will make on the Celtics definitely played a part in his ranking, but it's hard to argue it, nonetheless. He's as complete of a center as you'll find in the NBA today.
Notable Players Behind Horford: Klay Thompson (19), DeAndre Jordan (20), Damian Lillard (21), Carmelo Anthony (24)
Notable Players Ahead of Horford: John Wall (17)
This article originally appeared on