Boris Diaw Quote Perfectly Describes Utah Jazz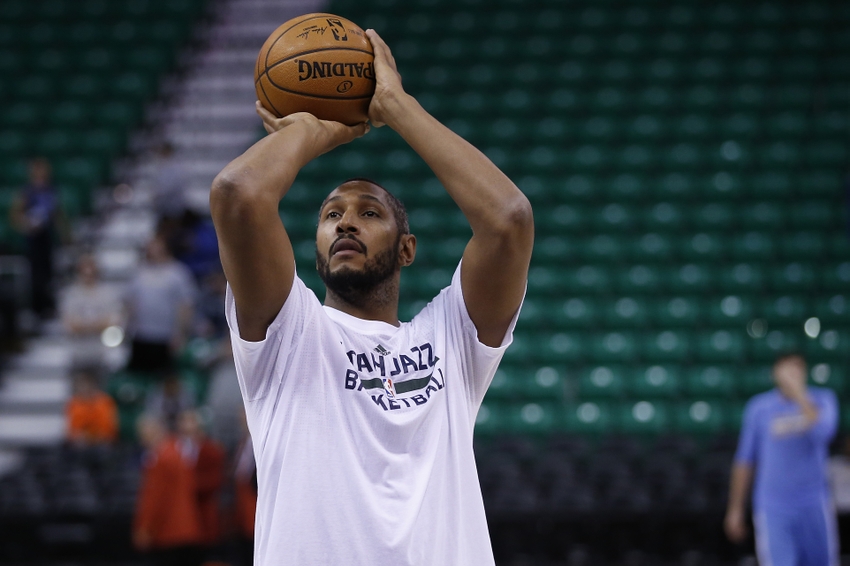 With so much adversity facing the Utah Jazz so far this season, their ability to rely on the team as a whole, much like Boris Diaw described so perfectly in a recent quote, has helped them stay afloat.
The Utah Jazz have had their share of adversity so far this season. Between a heavy road schedule with several games in not many days and a seemingly never-ending onslaught of injuries, it's incredible that the Jazz have managed to stay afloat and currently hold an 11-8 record going into Thursday's contest.
They will be further tested tonight due to the fact that, just as our very own Ryan Aston reported, both Rodney Hood and George Hill will be out with a sore hamstring and sprained toe, respectively.
The mantra of "next man up" has certainly applied to the Jazz time after time this season as they've had to call on several of their reserves such as Shelvin Mack, Dante Exum and Trey Lyles to log big and important minutes all year long. Fortunately, as Purple and Blues contributor Drew Mackay recently published, the Jazz team as a whole is greater than the sum of its parts.
And that is exactly what has made them so dangerous. Any one guy or group of guys is capable of catching fire and leading the Jazz to victory on any given night. Of course Gordon Hayward and George Hill have been the key guys this year and injuries are devastating to performance and cohesion no matter what the case, but all things considered the Jazz have weathered the storm extremely well.
Boris Diaw perhaps said it best when asked about the nature of this team and how they've been able to deal with ongoing injuries as well as managing minutes with a roster so stacked with talent. In a recent Salt Lake Tribune article, he was quoted saying:
"Of course everybody wants to play, and everyone wants to help. But this is the way it is, right now. This is a deep team with a lot of players capable of producing. Sometimes you can find the time for everybody and sometimes you can't. It's not about who is better than who, it's more about who the coach needs at the time. All you can do is do your best when coach calls you."
While guys like Dante Exum, Shelvin Mack and Joe Ingles are perhaps logging more minutes than they would if everyone were healthy, this idea that the team is based on "who the coach needs at the time" perfectly personifies the Jazz.
Anyone who follows Jazz Twitter and Jazz news closely knows that a lot of people have been clamoring for Dante Exum to log more minutes than Shelvin Mack. However, the Jazz have found strength in each player understanding their individual role even if that requires sacrifice.
The team-first mentality has been Utah's lifeblood, particularly when dealing with so many injuries and having to make several adjustments to lineups and playing time. Some guys have logged more minutes than others, but what's been important is that the reserves have been ready whenever their number has been called.
And with Hill and Hood both out, there's no doubting that Exum's number will be called in tonight's match-up against the Heat in a big way.
The Jazz are obviously a much better team when they're healthy, but their tight-knit and unselfish group helps instill confidence in one another that even when key players are missing, they can still get the job done.
More from Purple and Blues
So as the Jazz roll out their 11th starting lineup in just 20 games in tonight's contest against the Heat, Jazz fans should take heart in the fact that, as Diaw stated, "this is a deep team with a lot of players capable of producing." So perhaps it will be Lyles, or Ingles, or Exum that has the big night tonight, but you can bet that whoever Quin Snyder has on the floor, they'll give their best effort to help the Jazz come away with the win.
And as we patiently wait for this team to get healthy, you can count on Utah utilizing their team-first mentality to continue to rack up hard-fought wins and prove that they are among the most feisty and resilient teams in the league.
This article originally appeared on