Blueprint For Rebuilding The Orlando Magic
Simon Smith/FanSided via Hoops Habit

Fansided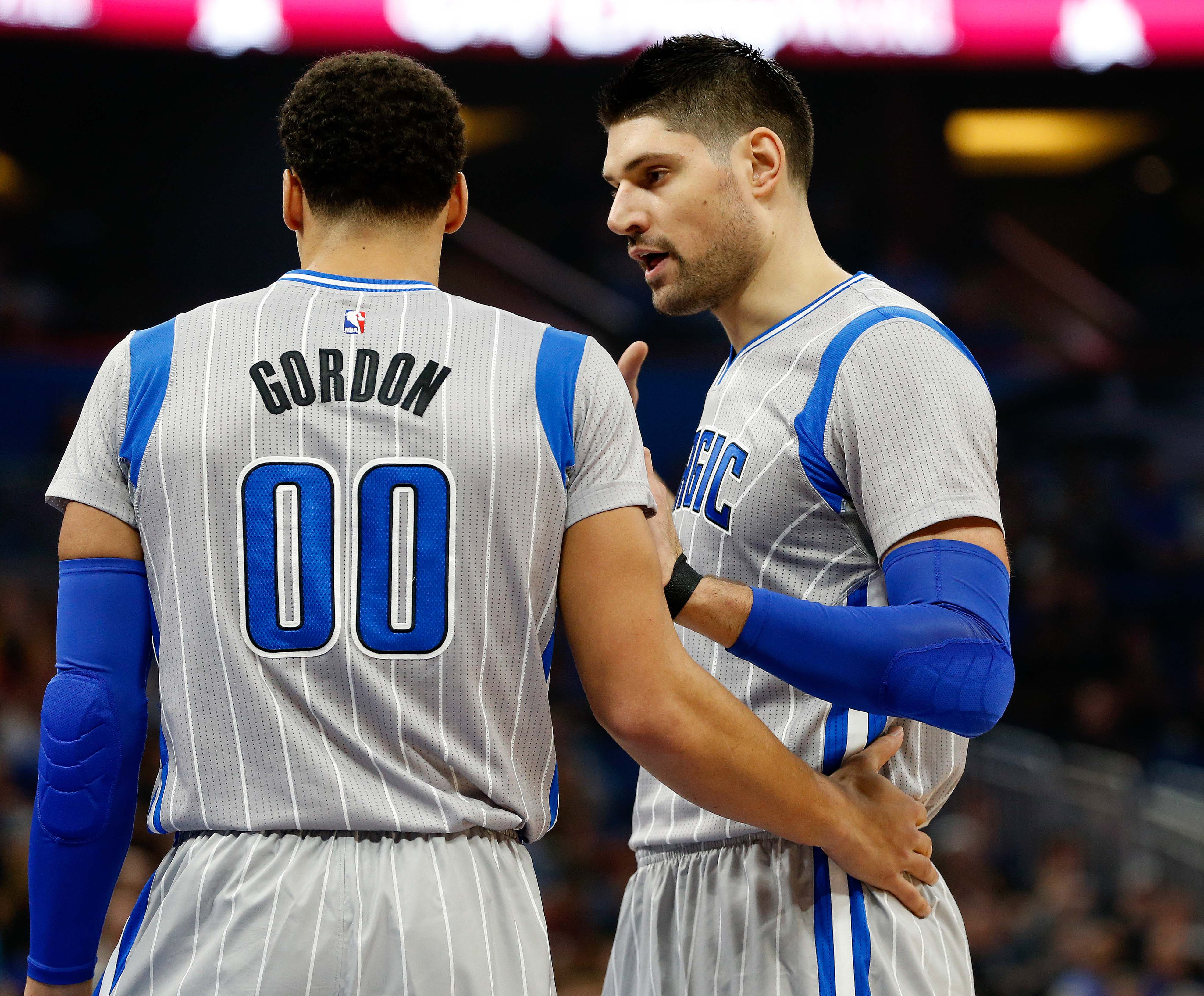 The Orlando Magic are hitting the reset button following a succession of unsuccessful moves. Here's how they should proceed moving forward.
This coming June will mark the five-year anniversary of the partnership between the Orlando Magic and general manager Rob Hennigan. With a 21-37 record, the Magic are on course to miss the playoffs for the fifth consecutive season under Hennigan's watch. Over this time, the Magic have posted a combined 124-262 record.
Orlando is now under its fourth head coach in five seasons with the appointment last offseason of Frank Vogel. And just last week, Hennigan jettisoned Serge Ibaka, his key acquisition of the past summer, to the Toronto Raptors in exchange for a future first round pick and forward Terrence Ross.
Despite the obvious struggles of the Magic this season, just weeks ago during a radio interview on ESPN Orlando with Scott Anez, Hennigan said among other things:
"We're not that far away."
But in making the Ibaka trade just last week, this was clearly not the case. Following his latest move, Hennigan stated:
"As we've watched our team play, clearly, something's amiss… We felt like it was necessary to shake things up somehow, some way and we've been active in our discussions on the trade market. When this opportunity came to the forefront, we felt like it helps our team and it was worth doing."
Hennigan further noted, in reference to acquiring Ibaka just last summer and the current status of the Magic:
"It was a calculated risk and with where we're positioned, we'll continue to make calculated risks if they address needs and push the team forward."
So despite Hennigan earlier stating that "We're not that far away", this was clearly a fanciful assertion. But the trade news hasn't ended there. This past Saturday, ESPN's Marc Stein reported that the Magic have been in talks with the Detroit Pistons. The proposal involved the Magic dealing Jeff Green and D.J. Augustin to the Pistons in exchange for point guard Reggie Jackson.
If this were to go ahead, it'd make little sense for the Magic. Green's $15 million salary comes off the books at the end of the season, and Jackson shouldn't be the player the Magic target as their future at the point.
With that in mind, Hennigan and his team are going to need map out how they are going to return the Magic to the postseason.
Step 1: Acquire Paul George
Head coach Frank Vogel and Paul George had a terrific partnership throughout their six years together with the Indiana Pacers. Vogel took over for Indiana in the midst of George's rookie season, and led the Pacers to the playoffs in five out of his six seasons at the helm. With Pacers' team president Larry Bird looking to take the team in a different direction, Vogel was replaced and promptly scooped up by Hennigan.
The development of George's game in his time under Vogel was phenomenal. Despite being the No.10 overall pick of the 2010 NBA Draft, George was not overly hyped entering the league. He arrived at a time when fellow Pacers' forward Danny Granger was at the peak of his powers. But following George's rookie season, Granger's body started to fail him. George took the opportunity and ran with it.
He is now a four-time All-Star and an Olympic gold medallist. He has responded magnificently following the horrific broken leg he suffered in 2014. This season, both George and the Pacers have been more or less treading water. The Pacers are sixth in the Eastern Conference with a 29-28 record. George has had another All-Star season, without being spectacular.
From Hennigan's perspective, he has some factors on his side. First, George very recently stated that he can't guarantee that he will extend his current contract with the Pacers. Among things, George noted:
"Say what you want; I want to compete for something. It's frustrating just playing the game for stats or for numbers or to showcase yourself. Man, I want a chance to play for a chance to win a championship."
Yes, the Magic are certainly not in a position right now to win a championship. However, they do have a number of pieces they can offset that can head them in the right direction if Hennigan and his staff are on the ball.
Secondly, George is well aware that he's played his best ball under Vogel. He'd also be mindful that there's currently just a few legitimate contenders to the win the title. Still just 26, being traded to a current non-contender still gives George plenty of time to build toward a title. Being traded now to a contender is obviously an extremely difficult assignment.
The Blockbuster Deal
Orlando Receives: Paul George
Indiana Receives: Evan Fournier, Aaron Gordon, 2018 First round Pick
You have to give something to get something, and it certainly applies in this instance.
Fournier has a number of qualities that'd attract other teams. He is just 24 and is improving each year in the league. He has a very friendly contract at $17 million per year, which runs through the end of the 2020-21 season. Currently, he's averaging 16.8 points, 3.4 assists, 3.4 rebounds and 1.0 steals per game.
Meanwhile, Gordon is one of the more intriguing young talents in the league. Now in his third season, Gordon has shown glimpses of combining his skill level with his extraordinary athleticism. Gordon is currently averaging 11.2 points and 4.6 rebounds per game. Playing at both the 3- and 4-spots this year, he is launching a career high 3.4 three-point attempts per game.
The following clip from Jan. 11 this season demonstrates Gordon's full repertoire of skills.
By also throwing in a 2018 first round pick, the Magic can make a very compelling case for the Pacers.
In acquiring George, the Magic will be adding their first legitimate superstar since Dwight Howard. Since Howard's departure in 2012, the Magic have posted a 124-262 record. Fournier and Gordon could potentially become stars in the league. George has already demonstrated what he's capable of, and he still has room to grow.
Step 2: Clear Space
Orlando receives: Taj Gibson, Jerian Grant, Bobby Portis, 2017 First Round Pick
Chicago receives: Nikola Vucevic, Elfrid Payton
With a bumper free-agent class coming this summer, creating cap space should be a priority for Hennigan and the front office. The Chicago Bulls are another team in a need of a boost, currently seventh in the Eastern Conference with a 28-29 record.
Nikola Vucevic is just 26 and a very talented low post scorer. But with the offseason signing of center Bismack Biyombo, Vucevic's numbers have taken a hit this season. His minutes have dropped from 31.3 to 28.5 per game. His points have dipped from 18.2 to 13.9 per game. Furthermore, he has started in just 35 of 55 games, having played just four games off the bench over the previous four seasons combined.
For the Bulls, Vucevic represents a legitimate low-post and midrange threat who is currently averaging a double-double despite the inconsistency of his role on the team.
Keeping both Vucevic and Biyombo seems quite superfluous. Although they are completely different players, paying huge money to have either coming off the bench makes no sense. And Vucevic's shorter, less costly deal makes him the much easier of the two to move. The other part of the equation is point guard Elfrid Payton, the 10th overall pick of the 2014 NBA Draft.
Payton has certainly taken some steps forward, and the Bulls are yet to settle their gaping point guard since the departure of Derrick Rose. Still just 22 and with huge upside, Payton is a worthwhile investment for the Bulls. The gaping hole in Payton's game is his perimeter shot, not a great attribute in today's game. For the season, Payton is hitting at a 26.8 percent clip from behind three.
As part of the transaction, the Magic would receive Taj Gibson and his $8.95 million expiring contract. Furthermore, the Magic receive two young promising players in Jerian Grant and Bobby Portis. Both Grant and Portis still have two years running on their contracts after this season on very cheap deals. Also, the team receives Chicago's first round pick in the loaded 2017 NBA draft.
Step 3: Free Agency Frenzy
Jrue Holiday, New Orleans Pelicans
Having missed 107 games over his first three seasons in New Orleans, this season Holiday has demonstrated some of the best basketball of his career. For the season, Holiday is averaging 16.3 points, 7.5 assists, 4.0 rebounds and 1.6 steals in 32.5 minutes per game. His last 13 games have produced 21.8 points, 8.4 assists, 5.2 rebounds and 2.2 steals per game while shooting 55.6 percent from the field.
Despite being in his eighth season, Holiday is still just 26 and just coming into the prime of his career. A four-year, maximum contract would be the natural offer for the one-time All-Star who has responded magnificently this season following his wife's recent battles with brain surgery.
James Johnson, Miami Heat
Johnson has had an impressive breakout season in Miami, demonstrating his versatility in coming off the bench all season. In the best shape of his life, Johnson has repaid the faith shown in him by head coach Erik Spoelstra. For the season, Johnson is posting 12.2 points, 4.9 rebounds, 3.3 assists and 1.1 blocks in 26.6 minutes per game.
Johnson has had seven games of 20 or more points, with season-highs of 26 coming in recent consecutive games. Heat teammate Goran Dragic recently had high praise for Johnson:
"I don't [know] if there's another guy in the league – maybe LeBron and him – who can play the position one to five. And JJ, he's such a good player. He can handle the ball. He can get us into our offense."
This is a great summation of Johnson on both ends of the court. His combination of size, agility and basketball IQ allows him to cover a vast array of opponents, allowing for tremendous flexibility for the Heat coaching staff.
Change Of Direction
These moves represent a significant change in the playing stock of the Magic. Departing are Nikola Vucevic, Evan Fournier, Aaron Gordon and Elfrid Payton. As much talent as these players possess, it's hard to envisage any of them becoming All-Stars or better.
However, by taking such brave steps, the magic can set themselves up for success in both the short and long-term. Jrue Holiday will require a maximum contract. Paul George will be due for a maximum extension following the 2017-18 season. James Johnson is likely to command in the range of a four-year, $60 million deal.
One issue is dealing with the contracts of point guards D.J. Augustin and C.J. Watson. Watson is signed through till the end of 2019-20 on a $29 million contract. Watson's is shorter, concluding at the end of 2017-18 at $5 million annually. These will need to be either traded somehow or possibly waived and paid out using the NBA's stretch provision.
But the remaining players on the roster have very cap-friendly contracts. Bobby Portis and Jerian Grant's rookie deals don't expire until the end of the 2018-19, as does that of second-year shooting guard Mario Hezonja. Even newly acquired Terrance Ross is $10 million annual deal through 2018-19 is more than reasonable.
If these moves were to come to fruition, it obviously represents a vastly different lineup. A core rotation of George, Holiday, Johnson, Biyombo, Ross, Grant, Portis and Hezonja is a great fit in the modern-day NBA. You have a genuine superstar, an All-Star point guard and a number of pieces that would fit nicely around their talents.
Versatility both offensively and defensively, perimeter shooting and veteran/playoff experience are just some of the attributes the Magic would possess. Furthermore, the age group of this core is such that the Magic would be team ti be reckoned with for many years to come.
Hennigan has clearly stated his intentions with the recent Ibaka trade, and the subsequent speculation regarding the acquisition of Reggie Jackson.
He could do worse than reading through this blueprint and latching on to a few suggestions.
This article originally appeared on