Blazers vs. Bulls: Three Observations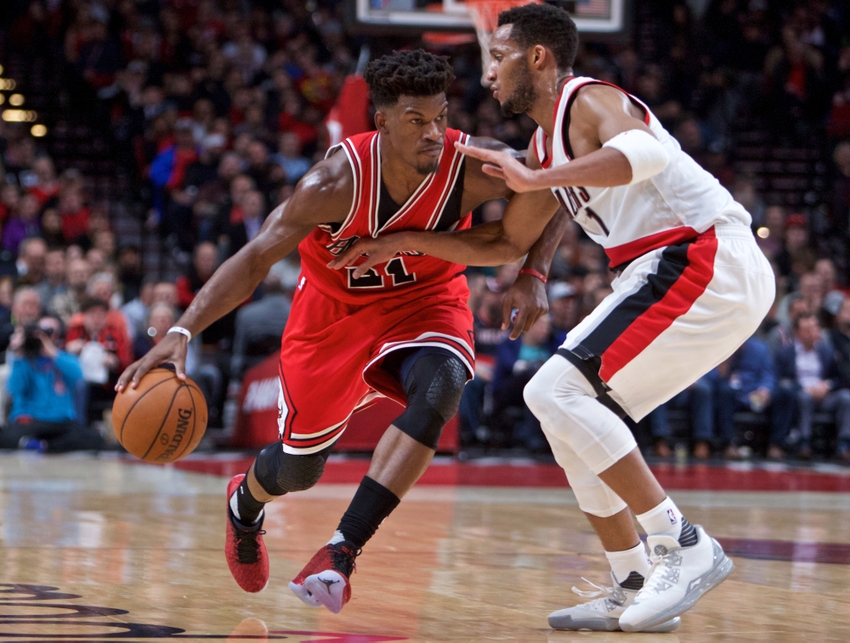 Portland Trail Blazers blown out at home vs. the Chicago Bulls
After two wins against inferior opponents, the Portland Trail Blazers faced another top tier NBA team on Tuesday and found themselves on the wrong end of a blowout loss. Recollecting games against the Warriors and Clippers from earlier in the season, Portland fell behind early to the Bulls and never caught up.
This game felt like a Gregg Popovich loss, as the Bulls played masterfully with the lead all game. Whether it was Jimmy Butler's scoring ability or their overall disruptive defense, the Bulls controlled this game from opening tip and led by 20 for the majority.
Here are three things to take away from a depressing night at the Moda Center.
The Competition is Higher than ever before
While last year proved to be a magical run for Portland, this year has proven that Portland has a long way to go to be considered top-shelf. Of Portland's five losses, four have resulted in blowout fashion to contenders. The Clippers, Warriors and Bulls have unquestioned superstars running their team, and the amount of talent has been the similarity, and has led to some crappy games.
Damian Lillard and C.J. McCollum can score, there's no question about that. However the Bulls took advantage of what plagued the Blazers last year: harassing our guards and making the rest of the team try and beat them.
Chicago was able to build a lead to 20 points and then maintain it for the entirety of the game. It was never close and Portland was left with a tough question about this team's ability to compete with the best. If Portland continues to get manhandled by good teams like this, that payroll begins to look even more expensive than it already is.
Obvious Paint Disadvantage
If you take a look at the box score, you don't have to look far as to where Chicago had the advantage. Chicago's posts (the superstars of tomorrow: Taj Gibson and Robin Lopez) led the effort of a +21 night in rebounding & +16 points in the paint. I know we love our posts Rip City but this team should not be outplaying us down low.
This comes down to our main disadvantage as a team: the lack of a well rounded post player. All of our posts seem to be great at one aspect of the position, but there isn't anyone on the team that could potentially dominate a game like so many posts in this league. Relying on our two guards for offense can get you pretty far in today's NBA, but we need to improve our interior game drastically in order to take that next step towards a title.
Isolation vs. Team Ball
It's easy to dismiss the power of team basketball. When your team is down by 20, I'm sure it is easy to recall a time where you lead a previous team to victory. I'm thinking college or high-school days for these NBA players, as most of them were the best player on a team. I mean, they're in the NBA for a reason: they're the best in the world!
The play tonight had a feeling like, the team game isn't working, so I alone will bring the team back. This led to many tough and contested shots, as well as ill advised three point attempts. Don't get me wrong, I love the three point shot, especially when you can string a quick 9-0 run. What I don't love is forcing your own offense and dismissing the value of an easy two point basket over a three point shot. It gets tough to watch.
Remember, basketball is a team game first. Lillard, McCollum and even Evan Turner have the ball handling ability to make plays and try to find an open man for an easy bucket. However, when the offense stalls and the team obviously looks to our guards for a basket, the frustration from our team usually takes a hold. This combined with a well coached defense has led to some pretty crappy games like this one.
The Blazers start a long road trip this Thursday with a trip to Houston. If we aren't careful and don't start working on some of these issues fast, there's another blowout loss looming for Portland.
More from Rip City Project
This article originally appeared on