Blazers Destroy Cavs in Portland 102-86
Spencer Gordon/FanSided via Rip City Project

Fansided
The Portland Trail Blazers Put Together Their Best Game of the Season on National Television
The Weather in Portland Impeded Rip City Project's Ability to Have Game Photos
For the second year in a row, the Blazers not only spanked the Cleveland Cavaliers, but they blew out a defending champion. In an absolutely stunning (and awesome) result, Portland clocked Cleveland with a 16 point victory.
In a game where Cleveland absolutely shut down Damian Lillard, C.J. McCollum and Allen Crabbe decided to introduce themselves to a national audience. In the first half it was all Crabbe. The four year guard silenced critics with a free shooting clinic for all ages. Hitting from anywhere on the court, Crabbe capitalized on all the open looks Cleveland gave him, on his way to a 24 point game.
The second half was all McCollum. The respect Cleveland had to give to Crabbe allowed McCollum enough room to dominate. Finishing with 27 points, 3J split double teams, knocked down threes and just created anyway he wanted to.
E.T. Is Starting To Get "Rip City"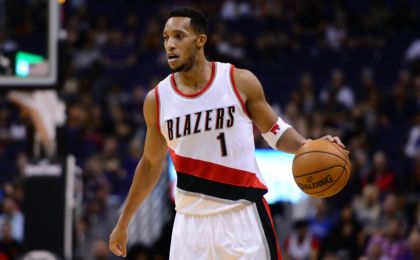 Now with Lillard double teamed seemingly every time he touched the ball, the last guy to step up was Evan Turner. The guy has really come into his own with this team. The synergy he's developing with the players has been fun to watch. Yes his passing was beautiful on his way to eleven assists, and his defense on Lebron James was great. But his underscored eight rebounds were crucial, as he was able to push the ball up the floor and keep Cleveland on their heels.
It was the most complete game all season. The way that the Blazers have played the last few games has Neil Olshey busy. As the trade deadline is a month away, he will have to make the decision to keep the roster or trade for someone new. It's been the theme this whole season, and one that could be a little less obvious then we all thought.
More from Rip City Project
This article originally appeared on