Blazers' Defense Holds Miami Under 100 Points; First Time in a Month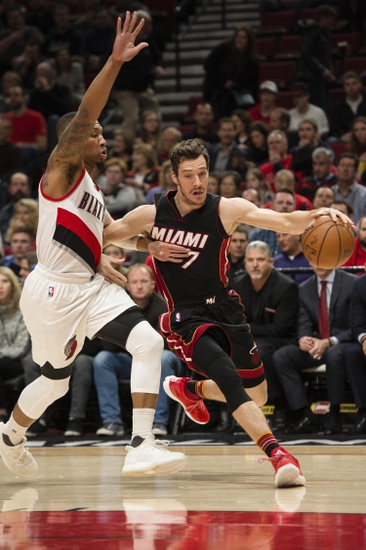 The Blazers held a team under 100 points for only the third time this season.
It pains me to write that this defensive effort comes with an asterisk. The Miami Heat is one of the most injury plagued teams in the NBA. Not only are they playing without Chris Bosh, but other scoring threats Dion Waiters and Derrick Williams are injured as well. So the Blazers holding this team under 100 points isn't too surprising.
However, it was ultimately a good defensive game regardless. The last two games gave us a disciplined and tougher defensive team. Players seem to be fighting through screens and committing harder fouls, things Damian Lillard promised this week after practice. It's a positive step for our team as we continue to get better.
It was obvious from the get go that Hassan Whiteside was the most skilled big man on the floor. He scored 28, grabbed 16 rebounds and blocked five shots very easily. When you have a superstar dominating like that, it's hard to throw a counter punch. Thankfully, ours came from a strong bench. Evan Turner lead the 2nd unit to a +16 scoring advantage, with six assists, six boards and three steals.
Despite the less offensive Miami team, there was another major positive that came from Saturday night. Lillard and C.J. McCollum both scored under 20 points and we still won the game. Credit a great scoring push from Allen Crabbe off the bench, but credit our defense as well for holding Miami back.
Hopefully they can bring this defense into Chicago and avenge one of the early lopsided losses. Maurice Harkless and McCollum will have their hands full with Dwayne Wade and Jimmy Butler. But if they can play some tough, pride-filled defense against their two scorers, it could be a huge confidence boost.
More from Rip City Project
This article originally appeared on