Blake Griffin makes history as LA Clippers destroy Trail Blazers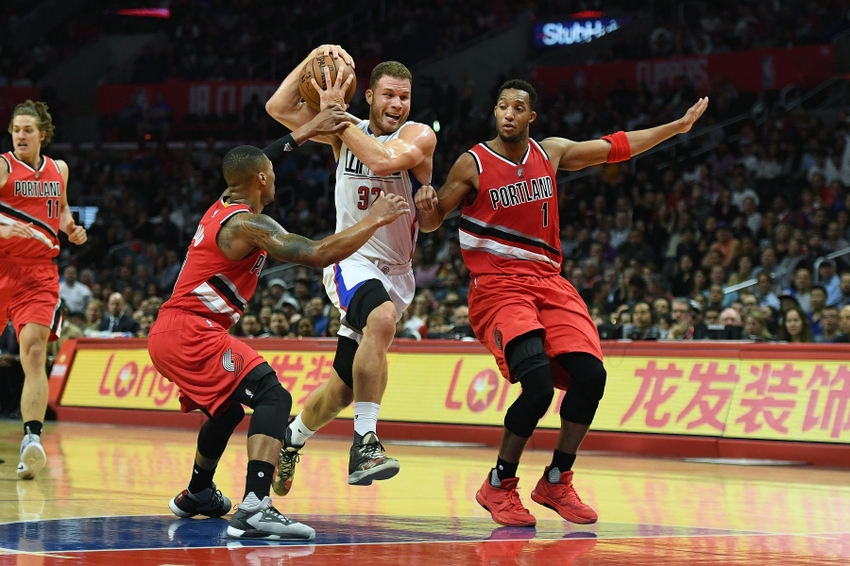 Blake Griffin has looked great during the LA Clippers' 7-1 start to the 2016-17 NBA season, and he's making more history already.
The LA Clippers are enjoying the best star to a season they've ever had. They reached their best start in franchise history at 6-1 after a dominant 114-82 win against the Detroit Pistons on Monday, then improved to 7-1 after dominating yet again, this time winning 111-80 against the Portland Trail Blazers on Wednesday. The Clippers have been in control so far, and a key part of it all, in addition to their league-leading defense, has been the return of a healthy Blake Griffin.
Doc Rivers didn't need to play his starters too long against the Blazers after taking control from the get go, meaning Griffin only had to play 26 minutes, while Chris Paul and DeAndre Jordan both played just 23. Yet, despite being on the court for little over two quarters, Griffin was able to rack up 22 points on 7-of-14 shooting, 13 rebounds, five assists and a block.
That's an elite level of production, and it's what Griffin is capable of on any given night.
Such rapid production applies to his career as well. After grabbing those 13 rebounds, Griffin reached a total of 4,008 for his career, becoming the second-fastest player since 1983-84 to record over 8,500 points, 4,000 rebounds and 1,500 assists.
The only player to achieve this feat faster than Griffin? Chris Webber.
As Griffin continued to crash the boards, he added four at the offensive end on Wednesday night and came away with his 4,000th after this put-back:
Along with some increased defensive intensity to be a part of the Clippers' league-best defense (allowing only 89.3 points per 100 possessions), Griffin has been terrific offensively this season.
He's had a couple of cold shooting spells from mid-range and has only made two of his 11 three-point attempts so far, but he's been aggressive attacking from the post, facing up and driving past opponents from the elbows, and attacking the glass.
After eight games (his playing time has been limited in some of these blowout wins), he's averaging 22.5 points, a career-high 11.6 rebounds, 4.6 assists, 1.4 steals and 0.6 blocks per 36 minutes with 47.1 percent shooting.
The Clippers have got exactly they wanted from Blake Griffin so far this season, and his return gives them another elite playmaker and scorer outside of Chris Paul, not to mention extra size, rebounding, and a one-man fastbreak machine.
Want your voice heard? Join the Clipperholics team!
Griffin making history along the way doesn't hurt, either.
This article originally appeared on