Big men aren't dead in the NBA, they are evolving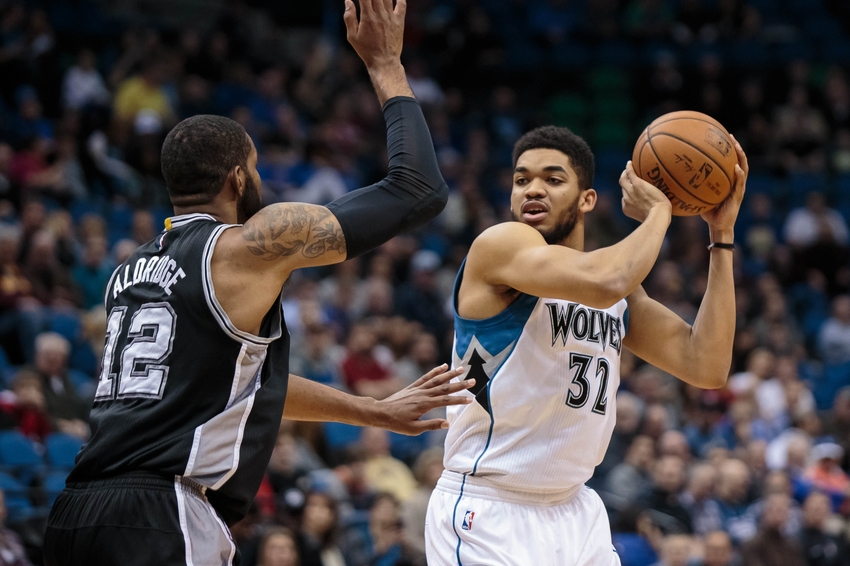 Maybe everyone can blame LeBron James and the Miami Heat for this shift. Maybe the blame can go back to Rashard Lewis, Stan Van Gundy and the Orlando Magic. Or perhaps it goes all the way back to Mike D'Antoni and the Seven Seconds or Less Phoenix Suns.
The Golden State Warriors, though, were the ones to perfect the stretch-4, the death lineup and "going small" as a championship strategy. Aside from the Heat going small with wunderkind James at power forward (or Shane Battier, depending on how you write down the lineups), the Warriors were really the first championship team in the modern era to win without two traditional bigs.
The NBA is a copycat league, though. No approach stays unique for long. With the Warriors taking the NBA by storm, winning the title in 2015, going 73-9 last year and making a return trip to the Finals, it seemed the league was heading in a much smaller, more versatile direction. The days of two big men patrolling the paint felt long over.
Read More: The Indiana Pacers have big problems
If you paid attention this summer it must have felt like the obsession around the league was getting smaller, more versatile. Many teams adjusted their rosters towards flexibility, looking to swap traditional power forwards and bruising big man with mobile and stretchy 4s. But playing the way the Warriors do is not as easy as a shift in philosophy and focus.
"Golden State is an anomaly with the group of players that they have," San Antonio Spurs coach Gregg Popovich said during the preseason. "They are a monster. Definitely the toughest team in the league to guard. The rest of us poor fools are kind of hybrid. Everyone tries to be flexible. No team is going to be all big or all small. In every game, teams are going to play big for a while or small for a while. That is the truth."
Every team will have to deal with the Warriors at some point. They provide a unique set of challenges. But they are the Warriors for that reason. There is no other team like them. As Popovich said, everyone else has to matchup to them. But they can largely use fairly traditional lineups.
"In every game, teams are going to play big for a while or small for a while." — Gregg Popovich
Yes, big men are supposed to have expanded range, even out to the 3-point line. But not every team is going with the flow. Stretch-4s are still only slowly proliferating through the league. There are plenty of holdout teams still who use the traditional two-big lineups. And coaches, again and again, noted the league is not, in fact, getting smaller. Just the way bigs are playing has changed.
"This is like a misconception," Utah Jazz coach Quin Snyder said. "If you look at the league, particularly in the West, the Clippers are not small, San Antonio is not small, Memphis is not small. It's interesting. I think Portland is. If you look at teams that have dominant guards, it makes sense to go small. I think the important thing for us is during stretches we are able to play small. Because if you can't play small at certain times, it can be challenging especially if a team gets it going playing small."
The Jazz are one of those teams that is definitely not small — Derrick Favors and Rudy Gobert anchor the third best defense in the league so far. The Spurs (Pau Gasol and LaMarcus Aldridge) and Clippers (Blake Griffin and DeAndre Jordan) are also decidedly big. The Chicago Bulls play big with Taj Gibson next to Robin Lopez. The Boston Celtics have Amir Johnson and Al Horford — an example of a team that used this summer's free agency to get bigger.
Snyder said it is more difficult to play big in the league these days. The rules favor guards. Ultimately on offense, a post player needs a guard to feed them in the post. But they still have an important role to play. The game is still incredibly simple — create a mismatch and exploit it. That is perhaps what the Warriors have done more than anything.
Pure size is not the important factor in this current wide-open league. Versatility matters. With teams able to go small and super versatile hybrid bigs like Draymond Green and Paul Millsap roaming around — or stretch bigs who are only in to space the floor and pull the traditional 4s away from the paint — mismatches can be found everywhere.
And that is seen in the way some of the newer bigs are playing. These are not just rim-running rim protectors. These are skilled big men who can draw players to the outside, but also do all the dirty work.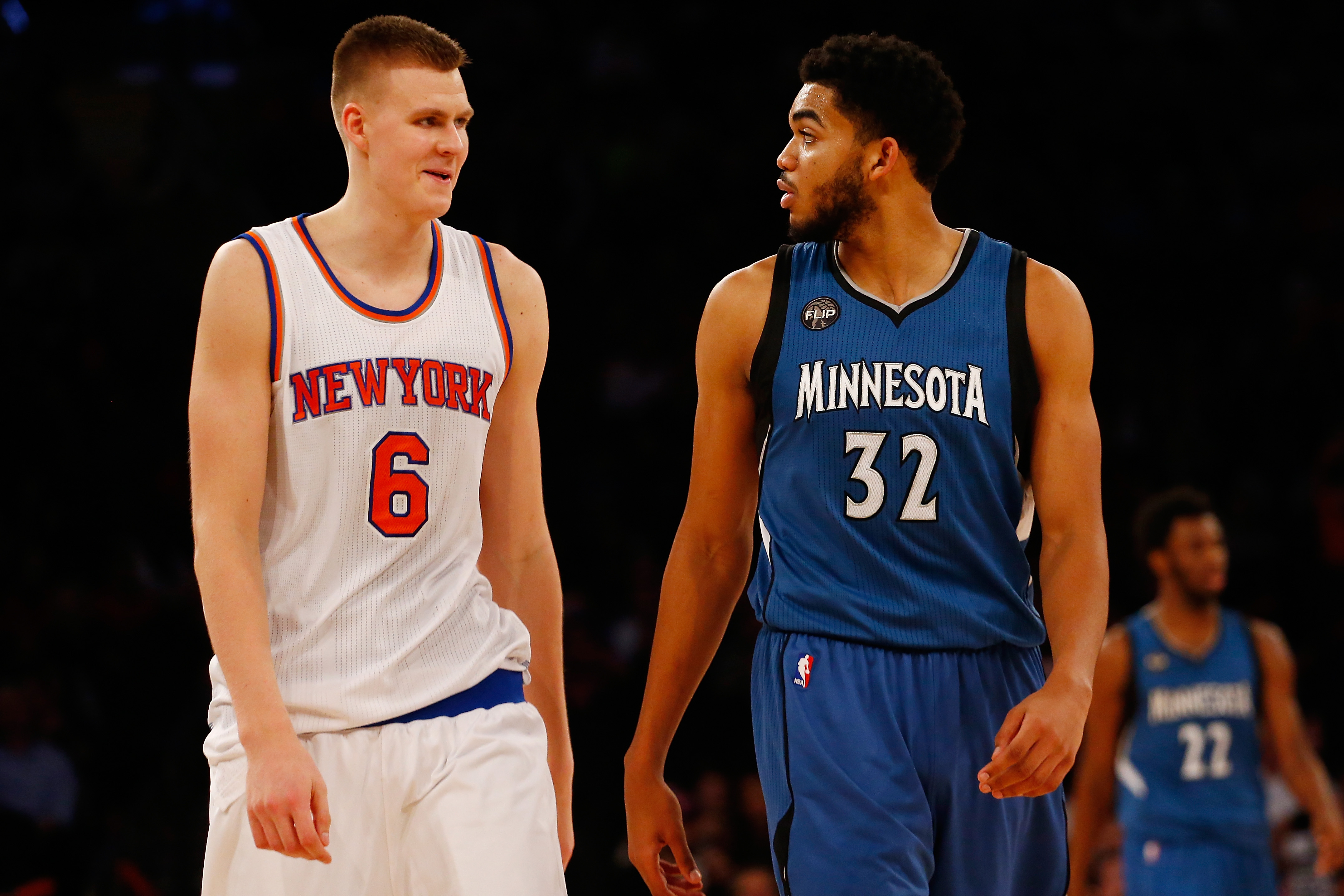 Kristaps Porzingis is nicknamed "the Unicorn" for his length and size along with his ability to shoot from the perimeter. He seems to be the next stage in evolution for the Dirk Nowitzki-type of high-usage power forward. Karl-Anthony Towns too has stretched his game to beyond the arc, but his skill and athleticism around the paint and in pick and rolls harkens back to bigs of the past. He can hang with the best of them. Just like DeMarcus Cousins and Marc Gasol, who have slowly expanded their range to go with their dominant post play. Joel Embiid is in this mold too.
Anthony Davis too is in another realm as a power forward. His athleticism and ability to drive from the perimeter at his size and length makes him a mathcup nightmare. There is a reason he draws a crowd and puts up such gaudy statistics. All these players have unique skill sets and tremendous size. It's not that size itself isn't important anymore, big men just need to do different things.
"I think you have to be able to play it and guard it," Washington Wizards coach Scott Brooks said of small ball. "The 3-point ball is definitely taking over. There are so many teams. When I played, if you shot five, you were a team that shot a lot of 3s. You have to be able to guard it. Small ball is definitely a factor. The bigs that are coming up. A lot of them are not working on back to the basket. They are coming up and shooting the ball from the perimeter from a young age. It's definitely, the 3-point ball is a factor in everyone's development from a young age."
"There are more teams going big than you think. Utah plays big. We play big. It just depends. There are ways to effectively play both ways." — Rick Carlisle
Centers are taking 3-pointers more and more as attempts continue to rise throughout the league. Marc Gasol and Brook Lopez, reliable back-to-the-basket threats throughout their careers, are now taking 3-pointers regularly. It is a veritable part of their esteemed offensive arsenals and their team's offensive strategies. Embiid has shown 3-point range in his early career. Davis can stretch out as can Porzingis. Centers are certainly adapting to this new reality of space and shooting in the NBA. It makes them all the more terrifying for defenses, putting added emphasis on the versatility teams need to defend these players.
At the end of the day, coaches do not see a change in the NBA's composition. They see teams using their personnel to the best effect they can. There is no cookie-cutter team. Coaching staffs and teams have to find a way to get the most out of their personnel and put themselves in positions to win. Having multi-faceted and versatile centers who can still do all the things big men used to on the glass and the boards while extending out to the 3-point line is a natural evolution in an era of spacing and shooting. Going big is not as dead as it might appear.
"It's philosophical," Dallas Mavericks coach Rick Carlisle said. "There are more teams going big than you think. Utah plays big. We play big. It just depends. There are ways to effectively play both ways. You are going to be a better rebounding team and a better defensive team or you have a chance to probably be better defensive rebounding if you play bigger. Frank [Vogel] played effectively bigger. I know that he believes size is important, as do I. You've got to take the personnel that you have and do the best you can with them."
There will always be a place for big players in the NBA. Size is still an advantage. Being able to put that size in different positions, and in different places on the floor has just created more mismatch opportunities.
The Golden State Warriors blew their 3-1 Finals lead, in part, because Andrew Bogut was injured for the final two games of the series. Draymond Green's absence hurt their weak interior defense. If this year's version of the Warriors has a weakness, it is their lack of size inside for when they do have to face the Griffins, Jordans, Aldridges and Gasols in the league. The way that size is used is different now. .
The big man is not dead. He has just evolved.
This article originally appeared on