Big 12: Frank Mason Is The Most Fun Player In College Hoops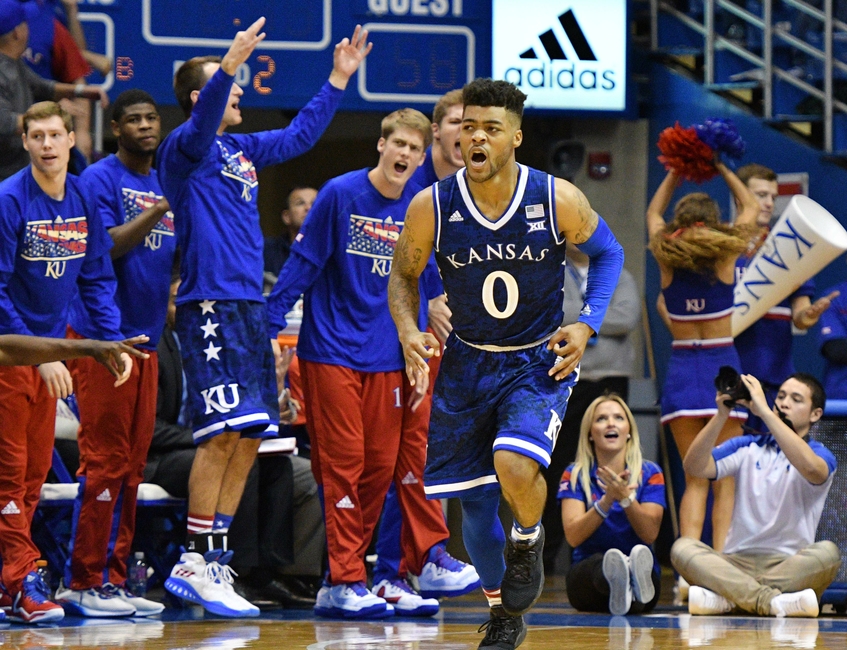 Frank Mason is off to a roaring start and the Kansas Jayhawks look like favorites to win the Big 12.
It seems like Frank Mason III has been at Kansas for eight years. No, he doesn't look middle aged like former Jayhawk Perry Ellis, but the guy has been in Lawrence for awhile. The rest of the Big 12 is definitely sick of seeing him.
Mason is a senior this season, and he looks poised to have the most productive season of his career.
He's been the starting point guard for Bill Self's Jayhawks for three seasons now, but something is different this year. On a team full of five-star recruits, Mason is looking like their "go-to-guy".
Alongside Josh Jackson and Devonte' Graham, Mason helps make up perhaps the best backcourt in the country.
Here's how NBC Sports' Rob Dauster described them in late October.
Jackson is another potential No. 1 pick in the 2017 draft, and when you combine him with the veteran duo of Frank Mason and Devonte' Graham, what you're left with is the best perimeter defensive team in the country.

Mason may be the toughest point guard in the country, Graham is a point guard by trade that has taken well to playing off the ball and Jackson is, well, a monster. If Svi Mylhailiuk, a junior who is four months younger than Jackson, reaches his potential, look out.
Jackson is an exciting and highly touted freshman who has been outstanding, but Mason is still the straw that stirs the drink.
If you don't remember Mason from his on-court play, you might remember him from his 2015 rap song. I can't repeat the lyrics here, but the most noteworthy moment is when he repeatedly reminds the listener that his name is indeed Frank Mason.
The song is the reason for the #BIFM hashtag on Twitter whenever he's playing well. I'll just leave it at that.
Mason is about as fun as college basketball gets. He's little (Mason is listed at 5-foot-11), he's fiery, he's a college basketball player that's actually good defensively (calm down NBA haters, defense is just better in the pros), he's a four-year player, he was an underdog recruit that wound up with one of the blue bloods of college basketball, and he's really darn good.
Through five games Mason is averaging 21.6 points per game on 51.4 percent shooting and 35 percent from outside. Kansas is 4-1 during that span with their only loss coming against Indiana in their first game of the season.
His 26.6 percent usage rate is a career high for him and it leads the team. On a team full of stars  Mason is shining the brightest.
Mason's buzzer beating mid-range jumper to knock off Duke in the Champion's Classic is currently the most memorable moment of the young season. Clock errors notwithstanding.
He finished that game with 21 points, five assists, and three rebounds in 35 minutes.
The victory helped Kansas shake off that early loss to Indiana, and helped remind the college basketball world that despite all the shiny new toys at Allen Fieldhouse this season, Frank Mason is still the captain.
Mason has always been defined as a "scoring point guard." That's an accurate description, but that doesn't mean he's selfish. He's exactly what Kansas needs right now, and if he keeps this up, he might work his way into National Player of the Year consideration.
Will Mason be an NBA player? That's tough to say. DraftExpress currently has him going undrafted. A big senior season, capped off by a run to the NCAA championship, could help him sneak into the second round.
NBA general managers aren't exactly salivating to take players under 6-feet tall, but stranger things have happened. Little guys are having a bit of a renaissance thanks to the recent play of players like Kemba Walker and Isaiah Thomas.
Maybe I love Mason's game because I love players that go out and get buckets. Maybe I love his game because I'm short and he dominates in a world in which nearly every player is taller than him.
Or it could be because it's fun as hell to watch him play basketball. Let's go with all of the above.
If you're a college hoops fanatic make sure you appreciate Mason this season. It may feel like he's been at Kansas for a decade, but when he's gone he'll be missed. Just make sure you don't forget his name.
Thanks to this I don't think that will be a problem (listener discretion is advised).
This article originally appeared on