Better Option: Richaun Holmes or Nerlens Noel?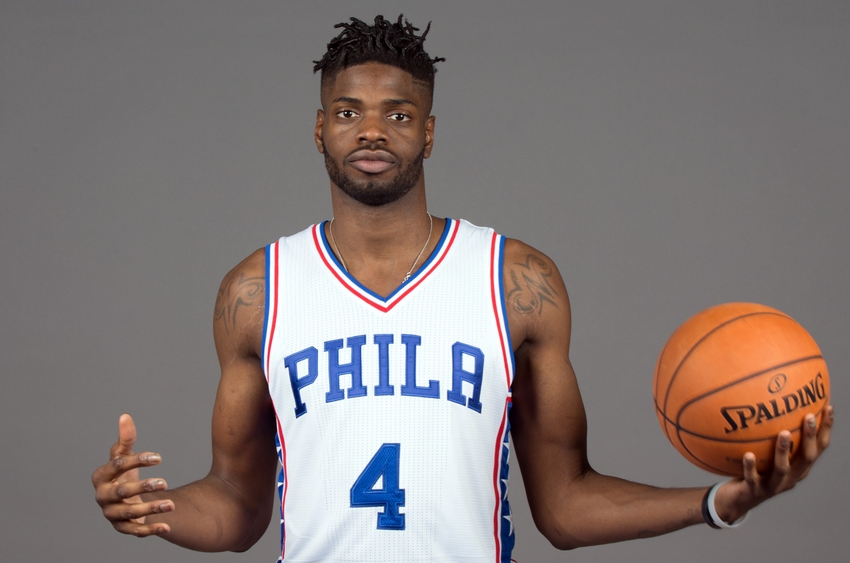 Who should the Philadelphia 76ers keep on the team going forward: Richaun Holmes or Nerlens Noel? Both offer different qualities that make them considerable.
For the whole offseason, Philadelphia 76ers fans have mainly been talking about five names: Ben Simmons, Joel Embiid, Dario Saric, Jahlil Okafor, and Nerlens Noel. One name that needs a lot more recognition is Richaun Holmes. That's something me and General Manager Bryan Colangelo agree on.
Richaun Holmes was another one of former General Manager Sam Hinkie's second round gems. Holmes had a fantastic rookie season that went completely under the radar. In fact, he has shown so much in the past year that I think he has made me question if there's any reason at all to keep Nerlens Noel. Here's why:
Fit
Richaun Holmes is a much better fit for this team than Noel going forward. Noel can play one position only and that is center. If he isn't playing center, then there is no point in having him on the court. He can defend at the power forward position, but his impact defensively at the position is nowhere near as good as when he is playing center.
If you are reading this article, I'm sure you know why Noel is terrible offensively at the power forward position. His handles are terrible even for a big man and he still can't shoot a lick after working on it for the past three or four years.
While Holmes isn't the greatest shooter in the world, he has shown he can hit the occasional three and make defenders respect his shot which helps the spacing issues and allows him to play at either power forward or center.
With Simmons and Saric on the team, Noel is definitely not a starting power forward. With Embiid and Okafor on the team, Noel would have to split minutes three ways with two amazing prospects with the same position.
While Noel was right that the situation is silly, it's silly mostly because he has failed to diversify his game on offense. While Okafor and Embiid are probably better as centers, they would still contribute much more offensively than Noel at that position.
With Okafor at power forward, you have guys like Robert Covington, Jerami Grant, Holmes, and Embiid to make up for his deficiencies. Okafor has put in a lot of work this summer so who knows, maybe he comes in this season able to hold his own defensively. He was only a rookie last season. With Noel at power forward you can't make up for his offensive deficiencies. You can't make the defender respect his shot or guard him closer.
At Noel's best position, the team has two guys who can protect the rim as well as him in Holmes and Embiid. At Noel's best position the team has three guys better than Noel on offense in Holmes, Okafor, and Embiid. Holmes can run the floor just as good as Noel can and can get up just as high on those alley-oops or dunks in general. They all can stretch the floor much better than him.
Contract
Holmes brings a lot of the same things Noel does. Intensity ( even more-so than Noel), rim protection, and high-flying alley-oops. He also does things Noel can't like provide spacing and use the pick and pop. While Noel is a better defender, Holmes is definitely not a slouch whereas Holmes blows Noel out of the water with offensive versatility.
These guys are much closer in overall performance than some may think and I'll get into that shortly. But in a world where Mike Conley got a $150 million, why would anybody who is a fan of this team want to pay Noel? Especially when the team has Holmes who can do the same things and maybe more for much cheaper? Why pay Noel when there's a guy like Embiid ( who plays the same position) with much more potential?
Okafor and Holmes are only going into their second season so Colangelo has two years to decide on them. Both fit the team better going forward with skill-sets that are not redundant and I'd bet on them making more improvements in the next two or three years than Noel.
During games last year Holmes was the most intense guy on the team by far. He always gave 110 percent and only cared about winning. He strikes me as the type of guy who doesn't care if he plays four minutes or 40. Holmes will have no problem playing behind or with any player on the team. Holmes will bring it every night without a diva-ish attitude.
The Stats
This last reason combined with the other two is why Holmes is the better option going forward over Noel. As a disclaimer, stats don't mean everything, nor do they tell everything. The sample size for Noel is larger and he played against starters more than Holmes did. But stats still paint a solid picture and both players will be playing against backups with Embiid, Okafor, Simmons, and Saric on the team anyway.
Holmes when on the floor had a net rating 8.5 points better per 100 possessions than Noel according to NBA.com
Holmes had an offensive rating 12 points better than Noel according to basketball-reference.com while having a defensive rating only 6 points worse.
Holmes had a true shooting percentage two percent higher. While averaging a point more per 36 minutes
Holmes shot nearly 10 percent higher from the free-throw line (68.9 percent to Noel's 59 percent)
Holmes assist to turnover ratio was 1.06/1. Noel's was 0.76/1. Holmes usage percentage was only 0.9 percent lower than Noel's yet his turnover percentage was 7.5 percent lower
Holmes had a block percentage of 4.3 percent. Noel's was 3.9 percent. Noel had a steal percent of 2.9 compared to Holmes' 1.3 percent.
Holmes win shares per 48 minutes was .103 compared to Noel's .074 according to basketball-reference
Noel had the better Player Efficiency Rating (PER) of 16.2 compared to Holmes' 15.9 (only a 0.3 point difference).
Noel bested Holmes in box plus-minus points at 0.7 compared to -0.9 by Holmes ( a 1.6 point difference).
Noel was a much better rebounder averaging three more per 36 minutes
Noel had a higher value over replacement score of 1.3 compared to Holmes' 0.2.
Holmes' opponent counterpart per 48 minutes of production at center had a PER of 21.7 according to 82games.com. Noel's opponent counterpart at center per 48 minutes had a PER of 25.7 according to 82games.com. Holmes held his counter parts at center to a PER four points lower than Noel could hold his counterparts.
Stats can be found here
While both had certain stats that favored them, Holmes bested Noel in a variety of stats and in stats that seemed more important like overall NetRtg and win shares per 48 minutes. But like I said before, Noel did have a larger sample size and played against starters for longer than Holmes. I'm not saying Holmes is better than Noel but that the gap is closer than people think. Lets also not forget that Holmes was a rookie in his first contract year in 2015-16. Noel was in his third contractual season and now going into his fourth.
Conclusion
Holmes has a game that is much more team friendly than Noel's and allows him to fit next to the other big-men on the team. He has the attitude of someone who wants to win no matter how many minutes he plays and will be much more affordable money wise going forward.
The stats show that Noel does not blow Holmes out of the water and that if Noel left right now, Holmes could fill those shoes pretty nicely. With Holmes, Grant, Simmons, Covington, and Embiid the team will more than make up for the steals and blocks gone if Noel isn't in the picture anymore. Money-wise and play-style wise Holmes is the better option going forward.
More from The Sixer Sense
This article originally appeared on