Behind Enemy Lines: Previewing Dallas Mavericks vs Milwaukee Bucks with Adam McGee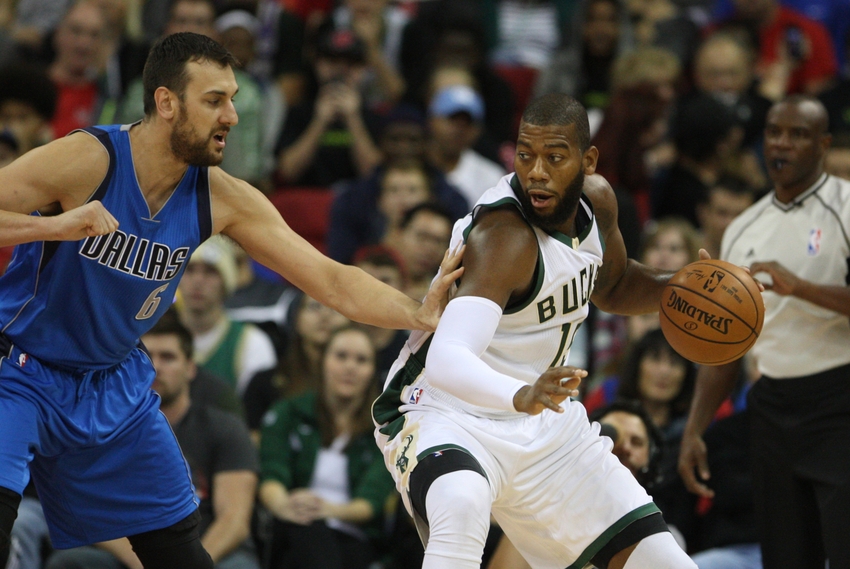 The winless Dallas Mavericks head into Sunday's matchup with the Milwaukee Bucks without their leader in Dirk Nowitzki, and possibly Deron Williams.
After losing to the Portland Trail Blazers on Friday night, the Mavericks received news that Dirk Nowitzki will be out for at least a week due to soreness in his Achilles. With the season already starting out in a depressing manner, Dallas looks to fight through the early season struggles as they search for a winning formula.
With Nowitzki out and a plethora of veterans dealing with injuries (including a "very questionable" Deron Williams for Sunday"), Dallas will need their youngsters to take charge against an athletic Bucks team.
Prior to Sunday's matchup against the Bucks, I chatted with Adam McGee from Behind The Bucks Pass, who covers the Bucks all year round.
You can follow Adam and Behind The Bucks Pass on twitter at: @AdamMcGee11 and @BehindTheBucks.
Here is what he had to say in previewing the game.
Outside Shooting for Milwaukee
Isaac Harris: Is the lack of three point shooting really THAT bad for the Bucks?
Adam McGee: It was, but not any more. With the right kind of summer acquisitions (and departures) the Bucks have managed to improve their spacing considerably from last season. The loss of Middleton would always be a big deal, but where last year the Bucks wouldn't even have been able to function without him, at least this year they have some shooters to help keep the opposing defense honest.
With guys like Matthew Dellavedova, Mirza Teletovic, Tony Snell, Jason Terry, Rashad Vaughn and even the rookies Thon Maker and Malcolm Brogdon, Milwaukee has multiple guys who can make the long ball. Jabari Parker even made four triples against the Pacers on Thursday night!
The Impact of Jason Terry
Isaac Harris: What has and what can Dallas favorite, Jason Terry, bring to the Bucks?
Adam McGee: I think the main reason for the Bucks adding Terry was to bring in a distinctive, veteran voice to help the young guys both on the floor and in the locker room. Obviously with Jason Kidd's close ties to Jet from their time as teammates in Dallas, and then in Kidd's first season as a head coach in Brooklyn, there's a great amount of mutual trust.
What the Bucks may not have expected from Terry at almost 40 years old is the solid production he's delivered in a very small sample so far. He's missed a couple of games for personal reasons, but has shot the ball well so far. With that added to his frequent words of wisdom for Milwaukee's youngsters, Jet will bring a lot to the Bucks.
Giannis Antetokounmpo or Jabari Parker?
Isaac Harris: If you are starting a franchise and can only have one, Giannis or Jabari?
Adam McGee: I really, really love Jabari, but the only logical answer to this question is Giannis. If you've a chance to build a team with one of the most physically and technically unique players who has entered the NBA in recent years, you have to take it.
Jabari's scoring may be a little better, but Giannis is already a genuine two-way stud. Being kind to Jabari, I'd describe his defense as a work in progress, so the Greek Freak has to be the pick in this situation every time.
Advantage Over the Mavs?
Isaac Harris: What is the area that Milwaukee should have the advantage over Dallas on Sunday?
Adam McGee: I think all of the cliches that come to mind when people describe the Bucks will work in their favor in Dallas for this one. The length and athleticism Milwaukee possesses would never make for an easy matchup for a a Mavs team that includes some older players, but on top of that, these youngsters have improved at pushing the pace too.
In the past you could just shut off the lane and the Bucks were beaten, but with good three-point shooting support in the early games of this season, opponents have been forced to give up the lane on occasion and with Giannis and Jabari around that spells trouble. If Milwaukee's shooting is reliable enough to keep Dallas honest; then the long athletic Bucks will look like a team that the Mavs just aren't equipped to deal with.
Outcome Prediction
Isaac Harris: What is your outcome prediction for Sunday's game in Dallas?
Upcoming

Schedule

11/6

Milwaukee Bucks
11/8
at

Los Angeles Lakers
11/9
at

Golden State Warriors
11/14
at

New York Knicks
11/16
at

Boston Celtics
Adam McGee: A bunch of our staff writers at Behind the Buck Pass get together to do this at the start of each week. Last Sunday when I made my original picks, I had this one down as a narrow Dallas win as I fully expected Rick Carlisle to totally out-coach Jason Kidd. In the time since, things have changed.
The Bucks are 3-0 on the week so far and have looked like an absolute juggernaut. They'll arrive in Dallas more confident than they've been in at least 18 months, and with key players having had a chance to rest in the fourth quarter of a blowout win on Saturday. With Dirk out, the Mavs still searching for a first win and the Bucks on form, I'd now have to go for Milwaukee to continue their good form with a win in the 6-10 point range.
*Adam did a similar Q&A with myself on the Mavericks leading up to the game on Sunday where I gave my outcome prediction. The following was my answer:
"At some point the Mavs have to win right? Although the absence of Dirk will be huge offensively, it will allow Dallas to matchup a lot better defensively. Also, the Mavs biggest weakness is opponents three point percentage as they rank 30th in the league. Milwaukee shouldn't pose the same outside threat as Houston, Utah, and Portland has for Dallas. I think Dallas is determined and will earn their first victory at home on Sunday."
For all Milwaukee Bucks coverage make sure to follow Adam and Behind the Bucks Pass on Twitter at @AdamMcGee11 and @BehindTheBucks.
More from The Smoking Cuban
This article originally appeared on