Basketball Experts Picks Challenge: Week 7 Picks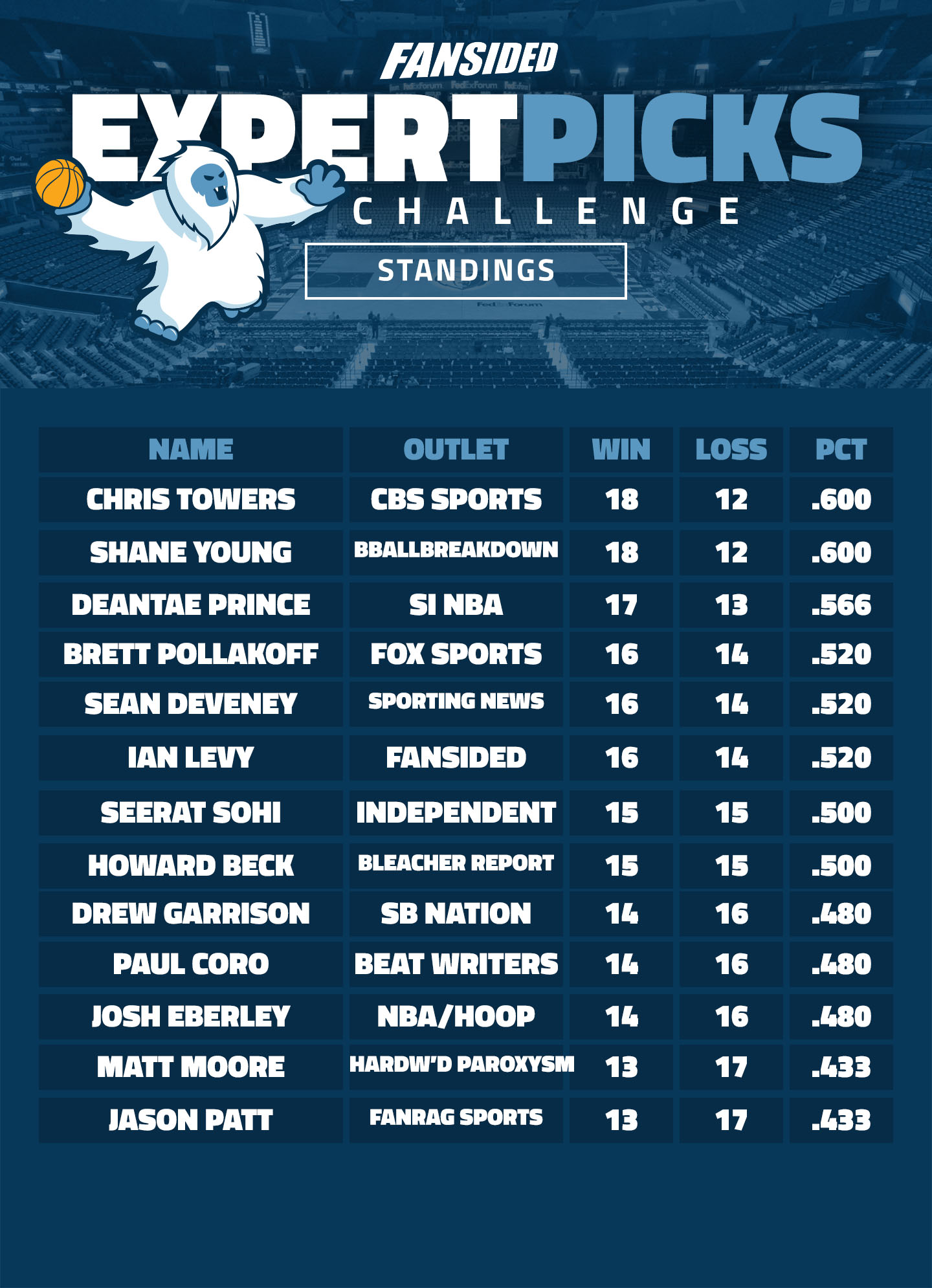 It's Week 7 of our NBA basketball experts picks challenge. We've polled people from all over the NBA landscape to compete, with the winning organization receiving a donation to the charity of their choice.
Five straight triple-doubles for Russell Westbrook and three straight losses for LeBron James and the Cleveland Cavaliers? James Harden and the Houston Rockets winning in Golden State and San Antonio? This season has been anything but predictable.
The experts agreed much more than they ever have in Week 6, and it cost them. There's a little more dissension in Week 7. Let's take a look at the matchups for FanSided's Basketball Experts Picks Challenge!
Week 7 Matchups (total votes in quotes)
12/5 : Utah Jazz (11) at Los Angeles Lakers (2)
The Lakers have one of the best benches in the league, but injuries have forced Luke Walton's hand. Utah is sitting pretty at 12-9, behind a stingy defense that has held opponents to just 94.8 points per game, best in the NBA.
12/6: Chicago Bulls (6) at Detroit Pistons (7)
If you can figure out the Bulls, God bless you. After thumping the defending champion Cleveland Cavaliers, they got roundly worked by the worst team in the association (Dallas). The Pistons are no easier to figure out, though getting Reggie Jackson back will be a huge shot in the arm for this club.
12/7: Golden State Warriors (11) at Los Angeles Clippers (2)
At one point, you could have made me believe that the Clippers were legit competition to the Warriors. Then they lost to Detroit, Brooklyn and Indiana twice. No wonder Doc blew a gasket. The Dubs are humming, scoring 119.1 points per game, best in basketball.
12/8: Portland Trail Blazers (10) at Memphis Grizzlies (3)
The Grizzlies just can't catch a (good) break, as Mike Conley Jr. fractured a vertebrae and is out indefinitely. The Blazers need a few easy wins, after losing six of eight. Side note — did you realize Evan Turner is the oldest Blazer, at just 28 years old?
12/9: Houston Rockets (6) at Oklahoma City Thunder (7)
It's still boggling to think that the Thunder messed up the trio of James Harden, Russell Westbrook and Kevin Durant. Harden and Westbrook will duel here in what will certainly be a high-scoring affair. Could we see dueling triple-doubles? I hope so.
Who Are The Experts (name/outlet/charity):
Shane Young / BBALLBREAKDOWN / Boys & Girls Club of America
Paul Coro / Arizona Republic / Boys & Girls Club of Metro Phoenix
Howard Beck / Bleacher Report / American Cancer Society
Chris Towers / CBS Sports / Women's Fund Miami
Ian Levy / FanSided / National Children's Cancer Society
Brett Pollakoff / Fox Sports / Animal Welfare Institute
Matt Moore / Hardwood Paroxysm / Bags of Fun
Seerat Sohi / Independent / UN Refugee Agency
Josh Eberley / NBA Hoop Mag / World Vision
Drew Garrison / SB Nation / PetSmart Charities
Sean Deveney / Sporting News / Cystic Fibrosis Foundation
DeAntae Prince / Sports Illustrated / Boys & Girls Club of America
Jason Patt / Today's Fastbreak / Make-A-Wish
Our Experts Picked
This article originally appeared on