Basketball Experts Picks Challenge: Week 5 Picks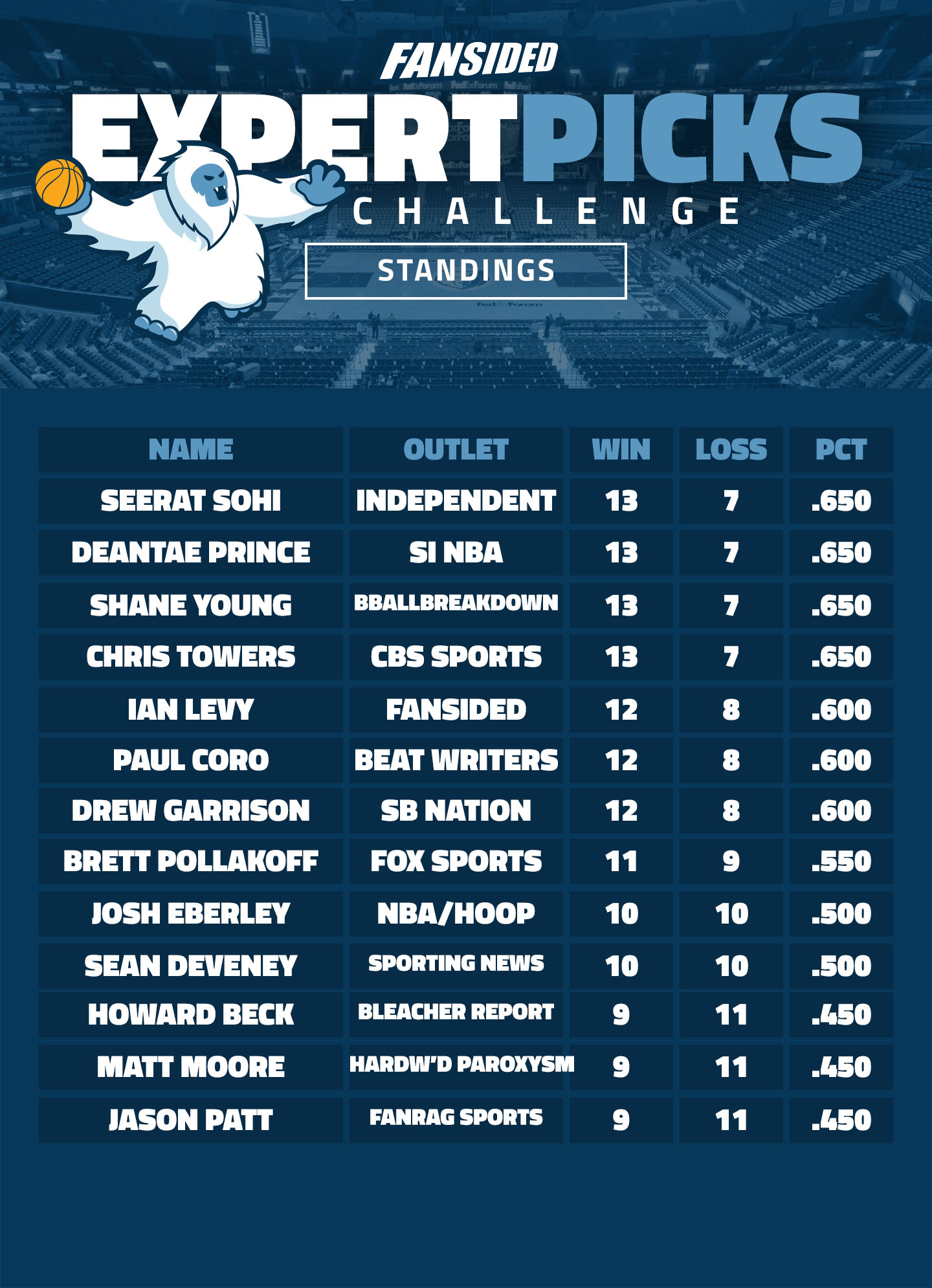 It's Week 5 of our NBA basketball experts picks challenge. We've polled people from all over the NBA landscape to compete, with the winning organization receiving a donation to the charity of their choice.
We're almost a quarter into the 2016-17 NBA season and the numbers being put up are gaudy. We've got DeMar DeRozan looking like Michael Jordan, Hassan Whiteside looking like Dennis Rodman and Anthony Davis looking to lead the league in scoring. And some thought the season was going to be boring?
The experts turned their nose up at the home dogs in our Week 5 slate. Will they regret taking the chalk? Let's take a look at the matchups for FanSided's Basketball Experts Picks Challenge!
Week 5 Matchups (total votes in quotes)
11/21 : Houston Rockets (11) at Detroit Pistons (2)
Only two of our experts believe in the Pistons, but it's worth noting that their 6-8 record is misleading — they're 5-1 at home. The Rockets care not, as they have James Harden averaging a ludicrous 28.7 points, 7.8 rebounds, 12.5 assists and 1.3 steals per game. Oh, and they're a tidy 4-4 on the road.
11/22: Portland Trail Blazers (9) at New York Knicks (4)
The Blazers have come crashing back to earth a bit, getting blown out three straight games before laying a beatdown of their own in Brooklyn. Of their top four scorers, the worst shooting line would be .456/.349/.818.
11/23: San Antonio Spurs (7) at Charlotte Hornets (6)
Wow. The experts have woken up to the Hornets, who are No. 4 in the league in defensive rating. They're in every game, with their four losses coming by 6, 2, 7 and 5 points. The Spurs make the most of the extra points, as they are No. 1 in FT percentage (.846) and No. 2 in 3P (.394).
11/25: Atlanta Hawks (8) at Utah Jazz (5)
It looked like Utah was ready to take off, with a 7-4 record and a healthy Gordon Hayward. Instead, they lost at home to Memphis and Chicago, then dropped games to Houston and Denver on the road. Being without George Hill and Derrick Favors will continue to hurt.
11/27: Sacramento Kings (3) at Brooklyn Nets (10)
The Kings are often the butt of the joke, but let's not overlook the fact their last three losses were by two in Portland, by five at home against the Spurs, and six at home against the Clippers. They aren't good, but they're no pushovers.
Who Are The Experts (name/outlet/charity):
Shane Young / BBALLBREAKDOWN / Boys & Girls Club of America
Paul Coro / Arizona Republic / Boys & Girls Club of Metro Phoenix
Howard Beck / Bleacher Report / American Cancer Society
Chris Towers / CBS Sports / Women's Fund Miami
Ian Levy / FanSided / National Children's Cancer Society
Brett Pollakoff / Fox Sports / Animal Welfare Institute
Matt Moore / Hardwood Paroxysm / Bags of Fun
Seerat Sohi / Independent / UN Refugee Agency
Josh Eberley / NBA Hoop Mag / World Vision
Drew Garrison / SB Nation / PetSmart Charities
Sean Deveney / Sporting News / Cystic Fibrosis Foundation
DeAntae Prince / Sports Illustrated / Boys & Girls Club of America
Jason Patt / Today's Fastbreak / Make-A-Wish
Our Experts Picked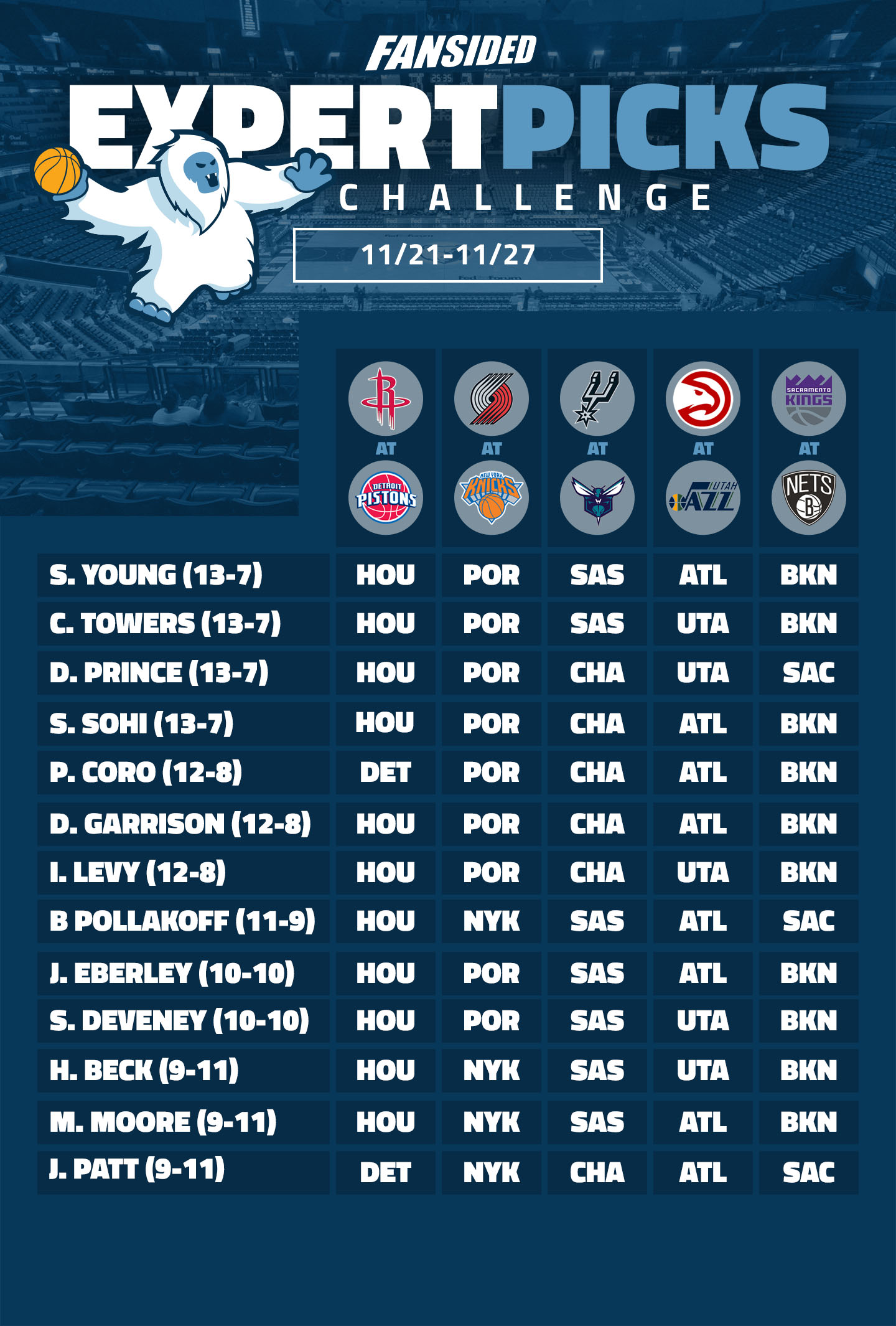 This article originally appeared on