Banged-up Raptors get bench relief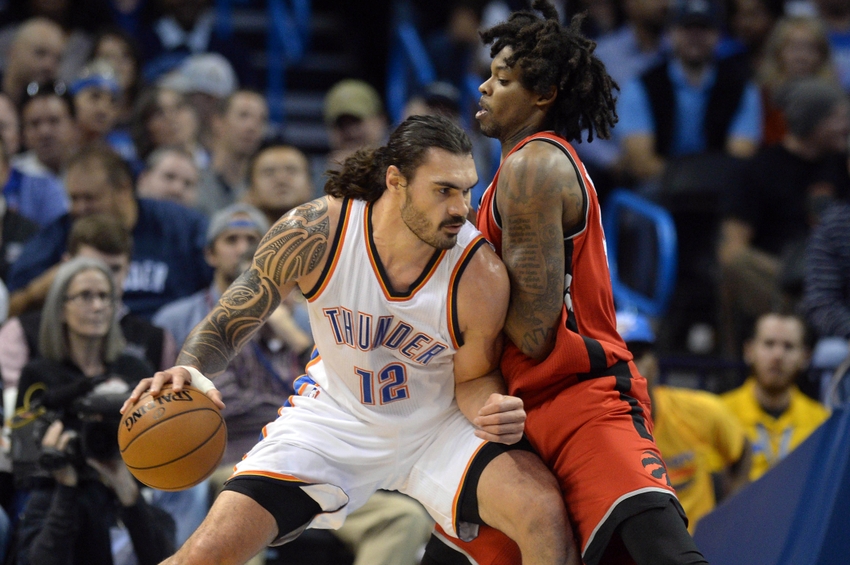 The Raptors didn't let a dreadful start stop them from posting a serious win over OKC. The bench deserves much of the credit.
Terrence Ross was scratched from last night's game against the OKC Thunder due to an irksome injury suffered in practice on Tuesday. [20-second timeout: While missing a game because of a sprained right index finger seems rather feeble, I wouldn't be too quick to condemn. Years ago, Joe Garagiola, a much better baseball broadcaster than catcher, reminded his audience that "to a knuckleball pitcher, a hangnail on his throwing hand is a serious injury." A finger injury to TRoss's left hand might be gauzed over, but he's a right-handed shooter. Best to sit out.]
He's the latest Toronto Raptor to be unable to dress for battle. Jonas Valanciunas was scratched for the second straight game, and I don't expect him to play on Friday night.
Happily for Raptors fans, the small number of players who could hit the floor did so to great effect. Toronto received fine play from Patrick Patterson, who badly needed this game to repair his fraying confidence. DeMarre Carroll wasn't a liability.
Coming up big in the middle
Perhaps the biggest unsung hero was Mr. Crazyhair himself, Lucas Nogueira. Making all five of his shots was pleasant, though most of them were unimpeded dunks. What I liked was his defense. He was mobile and in sound position in the paint, constantly thwarting the Thunder's big men and even Russell Westbrook, a whirling dervish.
My picture is incomplete without shoutouts to Cory Joseph and Norman Powell. CoJo had two each of steals and assists without committing a turnover. Norman had been languishing on the bench, but in Ross's absence was needed. He came through with an aggressive effort which produced four buckets and some tough D.
Obviously the Raptors don't win without the starting backcourt combining for 56 points, but I want to concentrate on the supporting cast. I've been waiting to exhale on the second unit (some members of which have joined the first temporarily), and I was finally able to do so.
Does this mean we're out of the woods? No, one game proves nothing. But the Raptors, despite missing several major contributors, shut down a high-flying team in their own building. Let's enjoy the moment.
More from Raptors Rapture
This article originally appeared on