Ayesha Curry 'won't be silent' about the NBA being 'rigged' after Warriors' Game 6 loss
NBA commissioner Adam Silver has done everything he can to make it very clear that the NBA isn't rigged.
Ayesha Curry apparently does not believe him. As the Cleveland Cavaliers pulled away for a Game 6 win over the Golden State Warriors, Curry took to Twitter to voice her displeasure with the officiating (once again) in a tweet that she later deleted: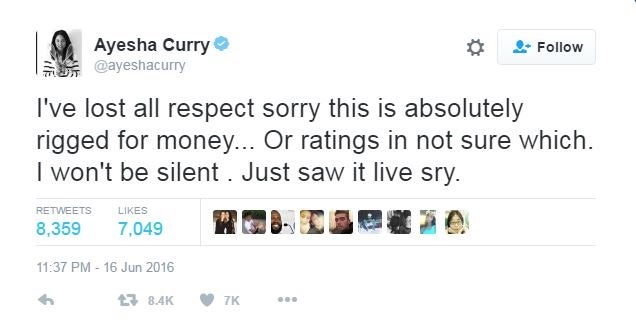 There's no gray area there. Curry was obviously displeased by Stephen Curry fouling out of Thursday's crucial NBA Finals game, but this isn't the way to handle that. On the other hand, we're pretty sure that family members can't be fined for voicing their opinions on the officials, so she should be safe.
Curry later apologized for the tweet and provided a little context for her actions:
tweeted in the heat of the moment because the call was uncalled for.

— Ayesha Curry (@ayeshacurry) June 17, 2016
Police racial profiled my father and told him to remove credentials and tried to arrest him. It's been a long night for me. I apologize:

— Ayesha Curry (@ayeshacurry) June 17, 2016
Between all this and not being able to get into the building on time, Game 6 was a pretty rough night for Ayesha Curry.