Atlanta Hawks: Taurean Prince Flashing His Potential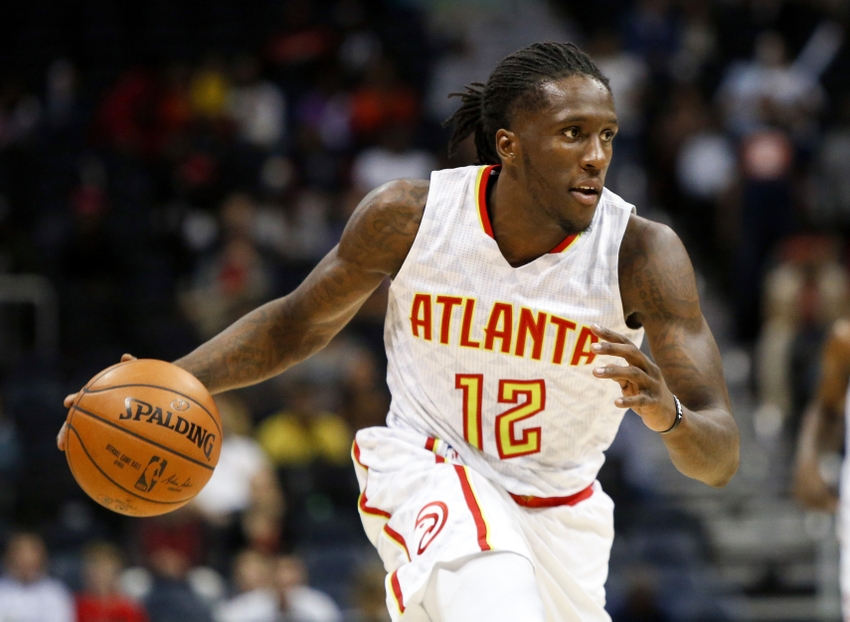 Having been afforded an increased role due to injuries to teammates, rookie Taurean Prince is showing signs of promise with the Atlanta Hawks.
There weren't a whole lot of positives to emerge from Tuesday's blowout loss to the New Orleans Pelicans for the Atlanta Hawks.
In spite of Anthony Davis spending the second and third quarters in the locker room having a right knee contusion assessed, the Pelicans managed to sail by the Hawks to the tune of an 18-point win. Without question, it was Atlanta's worst performance of the season so far.
Having started the season 9-2, the loss to the Pelicans signaled a third straight loss for the Hawks, yet still there was one ray of light to emerge from Tuesday's disappointment.
Taken with the 12th overall pick in the summer's NBA draft, Taurean Prince had the best night of his young career to date.
The Texas native notched a season-high of 10 points in 16 minutes of play, while also ending an 0-for-8 three-point shooting drought to start the season with a 2-for-4 display from deep.
The early signs from Prince have been mostly positive for the Hawks, but it's the fact that he's on the court at all that might speak the loudest.
Hawks head coach Mike Budenholzer has generally shown more than a healthy dose of caution in allocating minutes to his first-year players, but has had his hand forced with Prince in recent games.
After an outstanding start to the season, Thabo Sefolosha missed three straight games with a left knee sprain before returning on Tuesday. In his absence, it was Prince who was asked to pick up much of the slack in Budenholzer's wing rotation.
With that opportunity, the 22-year-old has been able to demonstrate the kind of athleticism and high IQ that made him stand out in college, while also demonstrating a level of defensive proficiency that was always tough to gauge in Baylor's zone defense.
Although his adjustment to NBA shooting range is clearly a work in progress, Prince shows nice poise on offense. Turnovers have certainly been a problem for him in the early running, but they haven't been a result of the kind of panicked and rushed plays that often plague rookies.
If Prince has been guilty of anything, it may be overthinking when the ball comes to him, although that has also led to some impressive passes and solid shot selection.
Of course, Prince will need to find a balance between patience and aggression as he continues to settle into life in the NBA, but his ability to play within himself is evidence of the rare maturity and wisdom that the Texan possesses.
In a Q&A with Slam prior to the start of the season, Prince explained why he felt managing his pace was going to be a key adjustment for him as a professional.
"I think the main thing has been slowing myself down. It's not so much that the game is sped up or faster, or that anyone is doing anything that makes me play a certain way. It's really been me slowing myself down and taking what the defense gives me. It's not always about trying to go and get something on offense. It's about being patient and allowing things to develop and not trying to force things."
Aware of his surroundings and opportunity, Prince also takes care to take it all in and tries to learn at every opportunity afforded to him.
"If I see a successful person on or off the basketball court, I ask questions. My locker is between Paul Millsap's and Kyle Korver's, so every chance I get, if I know they're not busy and we're engaged in conversation, I'm not afraid to ask them certain questions I may have that I'm curious about. With Kyle Korver, even when I'm on the opposite team at practice, he's always talking to me and letting me know the do's and don'ts. Dwight (Howard) is also somebody that I really look up to. Me and him have a good relationship."
Between what he's picking up from others and his own approach to the game, it seems to be a case of so far so good for the rookie.
Having now played 16 minutes or more in four straight games, Prince is demonstrating exactly what he can do in sustained spells and the early numbers are very impressive.
On a low usage of 17.9 percent, the Hawks are currently 19.7 points better per 100 possessions with Prince on the floor. Although a more than solid offensive rating of 103.3 helps to boost that number, it's really Prince's work on the defensive end that should be grabbing people's attention.
Posting a defensive rating of 83.6, Prince is currently second in the NBA in defensive rating among players who are averaging at least ten minutes per game, and first among rookies with that same minutes qualifier.
Prince is also holding his man to 1.3 percent below their average field goal clip with a defensive field goal percentage of 41.2, he's posting a positive defensive box plus/minus of 1.8, and is ranked 82nd in the NBA in terms of defensive real plus/minus with a score of 0.75.
In other words, no matter which metric you like to turn to in measuring defensive contributions; it's clear that Prince is already making his mark on that end of the court.
On a team with a great track record of developing end of rotation wings to become top level contributors, such as DeMarre Carroll, Kent Bazemore and, now possibly even, Tim Hardaway Jr., the early indications Prince has provided should be a source for great optimism in Atlanta.
Prince has his own lofty goals for the type of wing he'd like to resemble too. As he told Slam:
"Kawhi Leonard is someone I definitely pattern my game after. He's a great player. In time, I feel like I can take a similar path as him. I watch a lot of tape on him and I feel like if I can just fine tune myself and gain that experience. I want to enjoy the process so I won't rush things, but I hope to become the type of player he is for the Hawks some day."
Although he has a long way to go to come close to one of the league's very best players, Prince isn't your average prospect.
He has proven that in overcoming a number of challenges, including homelessness, en route to arriving in the league, so it shouldn't be a surprise if his work and determination sees him reach new heights during his professional career.
It may still be very early days, but Taurean Prince is looking good.
This article originally appeared on