The Atlanta Hawks just gave us the best video bomb of the season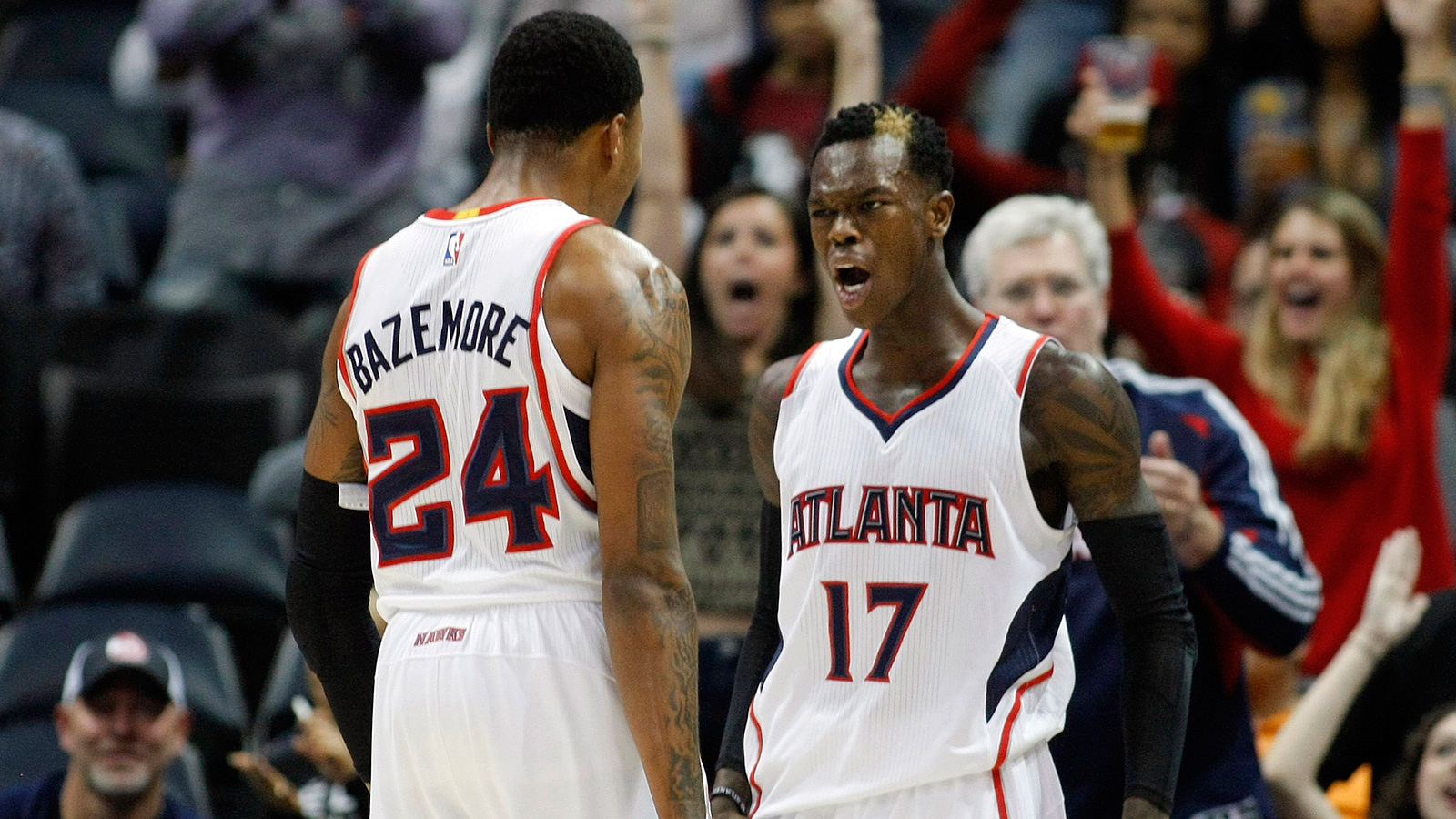 After they took the NBA by storm one year ago, winning 60 games and moonlighting as stiff competition for LeBron James and the Cleveland Cavaliers, the Atlanta Hawks have fallen back to Earth.
If the season ended today, they'd enter the playoffs as a four seed and have to square off against the feisty Boston Celtics. Atlanta's defense is a brick wall, but the Hawks aren't able to score as easily as they did last season.
It's all a little disappointing, especially when you consider their collective age (they're the seventh-oldest team in the league), but having young studs like Kent Bazemore and Dennis Schröder on board tends to keep things as loose as possible. There's no better example of how wide their power stretches than this absolutely legendary video bomb from last night's win over the Detroit Pistons:
Try not to laugh. It's impossible. You can't. The 22-year-old German slides right into the frame like the devil himself. There are definite contenders for greatest videobomb in NBA history, but Schröder alone might be in the top three.
Somehow, it gets better. Bazemore cranks the creep volume to 11 with his own bit of brilliance, sending the entire viewing experience to another level. Apart from "knock down open threes" or "be long enough to guard multiple positions," this is precisely what the 26-year-old was born to do:
Second time in a week Bazemore has done that pic.twitter.com/HhnsiRb9gE

— CJ Fogler (@cjzero) March 17, 2016
Believe it or not, these two are also extremely helpful on the floor. Atlanta's particularly stout defense is never worse than when Schröder is on the bench. He's effective at the point of attack and aggressively stays in passing lanes. The Hawks outscore opponents by 9.1 points per 100 possessions when he's on the court and only 0.6 points when he sits (a team low).
Even though the Hawks still have Jeff Teague — a 27-year-old at the same position who's on a cheap contract and made the All-Star Game — keeping Schröder long-term feels like a smart big-picture play. His rookie deal expires next summer, and right now he's the only player on their roster who's young enough to grow into stardom:
Bazemore is critical in his own way. He'll be a free agent in a few months, and it's unclear whether the Hawks will be able to retain him. Forget about the picture-perfect timing in post-game interviews, Bazemore is a wing who can defend, shoot, handle the ball and finish in transition. All skills are highly coveted in today's NBA.
He's going to get serious, eight-figure offers come July, but the Hawks only have Early Bird Rights on his deal, which essentially means that unless they use cap space to re-sign him, they can only offer a contract that's 175 percent of his current deal (which is $2 million). Bazemore can make way more on the open market.
With Al Horford looking to sign a maximum contract, this is shaping up to be one of the most pivotal offseasons in Atlanta Hawks history.