Atlanta Hawks effectively getting Dwight Howard involved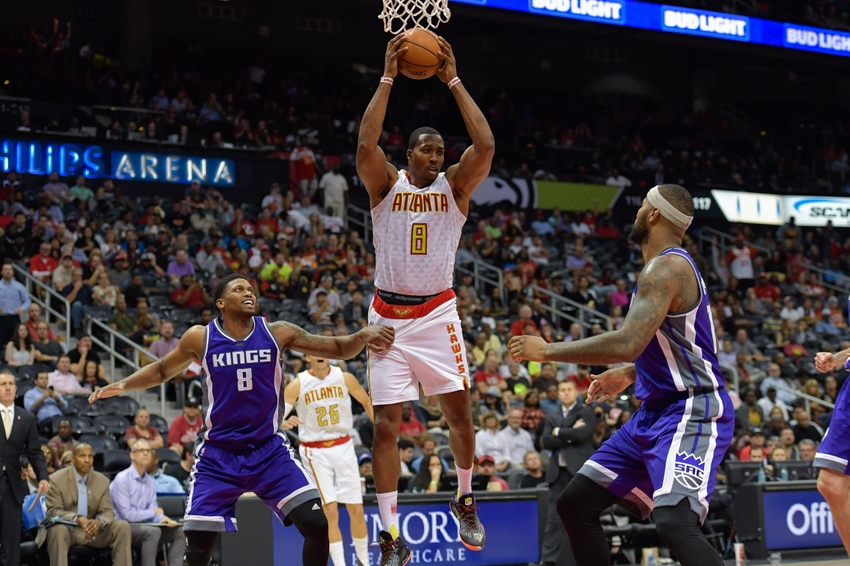 Prior to the season, Dwight Howard's fit in the Atlanta Hawks offense was in question. They've made a concerted effort to involve him this season.
Dwight Howard has never been known as a center who can put the ball on the floor and take his man to the basket when he's 10+ feet out. He is more of the old-school, traditional type of center in that he gets the majority of his touches posting up on the block.
So when the Hawks signed him this summer to a three-year, $70 million deal to replace Al Horford, there were questions of how he would be implemented into head coach Mike Budenholzer's offense.
So far, the Hawks haven't had issues with featuring him within their offensive schemes. It's a much different look from what you may be used seeing in comparison with Hawks teams of the past, but remember, Budenholzer was apart of the San Antonio staff that had to balance Tim Duncan and David Robinson effectively.
Howard is tied for second in the NBA in post touches per game with eight and fourth in paint touches per game with 6.3. To put this in better perspective, Howard averaged 6.8 paint touches per game (2nd)  and 8.4 post touches per game (1st). It's still very early in the season, but seeing Howard's involvement within this new offense on a new team is encouraging.
Last night in the loss against the Los Angeles Lakers, they made it a point to dump it down to Howard as much as possible. Timofey Mozgov was out for the Los Angeles, so the 19-year-old Ivica Zubac got the start and immediately struggled with containing Howard.
Howard finished with a season-high 31 points, pulled down 11 rebounds, and connected on 7-of-10 from the charity stripe.
The good thing is, Budenholzer is getting him involved in a ton of different ways. With the mismatch evident from the get-go, Kent Bazemore finds Howard for an easy dunk after utilizing a back screen that caused Zubac to help Luol Deng.
Howard and point guard Dennis Schroder are beginning to form chemistry on the offensive end. Much of the credit goes to Schroder being able to notice how the defense is reacting throughout the course of a game, but he's also beginning to see plays before they occur. Again from last night's game, Howard did his patented spin-off finishing with a dunk off the lob pass from Schroder:
One difference from last year's Hawks team to this year's is now when players penetrate and force the help defense to commit, they have a big man waiting on the block who knows how to finish.
The few highlights that have been used in this article don't even touch on the impact has in pick-and-rolls. But for this purpose, here's one last highlight where he doesn't even get the ball, but forces the defense to pack the paint, ultimately freeing up Paul Millsap on the perimeter for a triple:
Plays like that will be a common theme for the rest of the season. The defense is going to be forced to respect Howard in rolling situations or else it'll end with a lob and well, you know the rest.
Even though the game last night resulted in a loss, it wasn't because of what the Hawks were doing offensively. It was their perimeter defense and hot shooting from the Lakers backcourt players that helped lift them to victory.
We are beginning to see how well Howard fits in with this offense after all of the critics during the summer was stating how it could be a nightmare. The offense is not perfect by any stretch of the imagination. It's still very much a work in progress, but so far, the Howard experience has been a success.
More from Soaring Down South
This article originally appeared on