Atlanta Hawks: Dennis Schroder Making The Most Of His Chance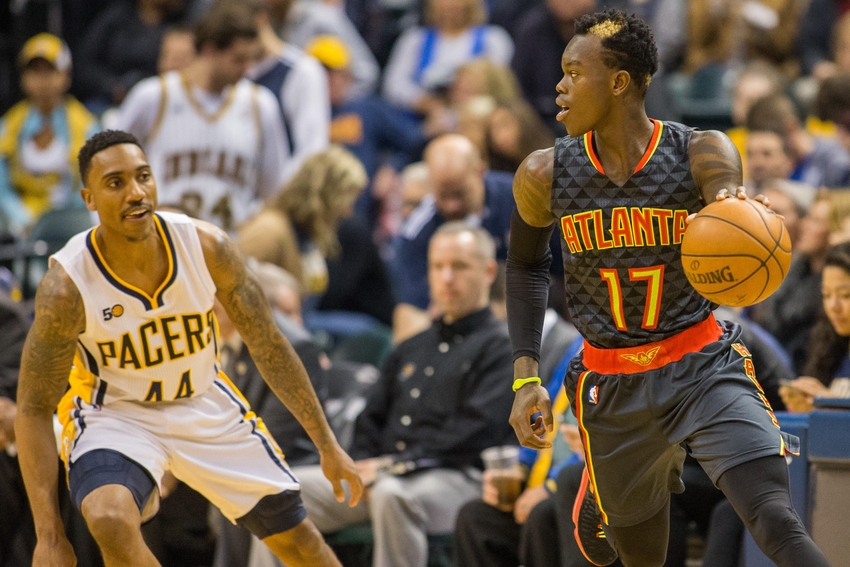 Dennis Schroder was promoted to the starting role for the Atlanta Hawks this season. So far, both player and team have not missed a beat.
Right now the race to top the Eastern Conference looks like an open and shut case with the Cleveland Cavaliers looking as dominant as ever.
When it comes to who will finish second however, there are a couple of teams who are vying for that spot.
Although less fancied coming into the season, the Atlanta Hawks are one such team — this despite losing Al Horford and Jeff Teague during the offseason.
So far however, they've hardly missed a beat, and at 10-6 are right in the thick of the action in the upper echelons of the East.
There are many contributing factors that have the Hawks motoring along as they are, with the arrival of Dwight Howard and newfound acceptance of his role on the basketball court being one.
The continued — and underrated — brilliance of Paul Millsap is another. The stability and pass-first offensive schemes of head coach Mike Budenholzer have played their part as well.
But one guy who deserves just as much praise for their solid start however, is point guard Dennis Schroder.
A backup for the first three years of his career in Atlanta, the 23-year-old was handed the reins once Teague was traded, in a move that not everybody agreed with.
Here was a guy who, as flashy and willing a passer as he has always been, more closely resembled the kind of floor generals who are being phased out of the league.
A shaky jump shooter who could not generate his own shot for the most part, having Schroder start for this team was seen as a risk and likely a step backwards.
Are the Atlanta Hawks Becoming an Elite Franchise?
So far however, he has silenced those doubters and is a sleeper pick for most improved player of the year.
Both his own numbers, and those of the Hawks, would seem to support his case early on in the season.
Given that Schroder is averaging over nine minutes more per game than last year (29.1), it's to be expected that his numbers would be up.
His 14.3 points and 5.3 assists are clearly career highs to date, but what's most exciting is the fact that those numbers will surely continue to rise.
Along with Howard, he forms probably the most unique pick-and-roll partnership in the game with his big man, given how both are kind of throwback players.
Most teams today prepare themselves defensively by having as many mobile guys who can run players off the three-point line as possible.
The Hawks have found success in running these two together because they are far more comfortable executing in the paint.
This explains why Howard has his lowest usage percentage when on the court (excluding last season's shambles in Houston with the Rockets) since his rookie year at 21.9 percent.
But he's scoring just over 14 points a night and coming up with 13 rebounds as well, numbers trending upwards towards his dominant Orlando days.
Dennis Schröder is saving the Hawks right now.

— So Many Birds (@ATLSports404) November 17, 2016
Having a pass-first guard like Schroder who is happy to facilitate his big man has been key to Howard's revival. In fact, you could argue that both players truly need each other to thrive. Certainly pairing Teague with Howard would not have worked as well.
That fact alone is reason enough to have Schroder in the starting lineup, but there's more to his game than reviving a once great big man.
Last year the Hawks averaged 25.6 assists per game, good for second in the league. Of course, much of that had to do with coach Budenholzer's offensive sets.
Schroder had a habit of having the ball stick to him as a bench player, but he has resolved that issue as a starter.
As of now the Hawks are averaging 23.8 assists a night, good for sixth in the league this year (they are also less than one assist away from the Houston Rockets in second place at 24.7).
So while Teague was loved in Atlanta, and his struggles with the Indiana Pacers this season have been well documented, the Hawks have not seen a significant drop-off in the way they move the ball with Schroder running the point.
This is important in and of itself, because the Hawks are an established offensive team. So to have Schroder come in, link well with Howard and not upset the flow of the offense, is a big plus.
He's not going anywhere either, and his four-year, $70 million deal signed last month is a fair contract in today's economic climate in the NBA.
That being said, a Player Efficiency Rating of 12.8 (lowest since his rookie year), and negative offensive (-1.7) and defensive (-1.0) numbers are cause for concern.
But it's worth remembering that Schroder is very much learning how to be a starter on the fly. Already this season he's started all 16 games for his team.
That's the same amount as he totalled in his first three seasons with the Hawks. There were always going to be growing pains.
Another positive associated with the move, however, is the team conceding 98.5 points per contest, the sixth best mark in the league.
Schroder also averages 3.2 free throw attempts per game, good for third on this team and highest among all guards.
That's also a career-high and just what you want to see from somebody who, to date, has done his best work around the rim in the league.
Also, 56.3 percent of his field goals come from within three feet of the basket, right in line with career averages, despite spending much more time on the court.
Clearly then, Schroder has brought his own unique style to the Hawks, while not sacrificing the kind of play that has made them contenders in previous years.
It may only be a pretty small sample size to date, but Dennis Schroder is doing all he can to take advantage of being the starting point guard for the Atlanta Hawks.
Although his game more closely resembles that of a Rajon Rondo or Elfrid Payton, it's also clear he's trying to expand his unique skill set as well (shooting 34.4 precent from three-pointers, above his career average of 32.7 percent).
He's slotted in nicely to the starting unit the Hawks have put together, and along with Dwight Howard forms a potent one-two punch that is easy to plan for, yet difficult to stop.
We may not have even seen his true worth yet, as he will present his own quirks for opponents to plan for in the playoffs too.
Dennis Schroder is here to stay, and he's only going to continue to get better.
This article originally appeared on