Atlanta Hawks: Are The Hawks The Second-Best Team In The Eastern Conference?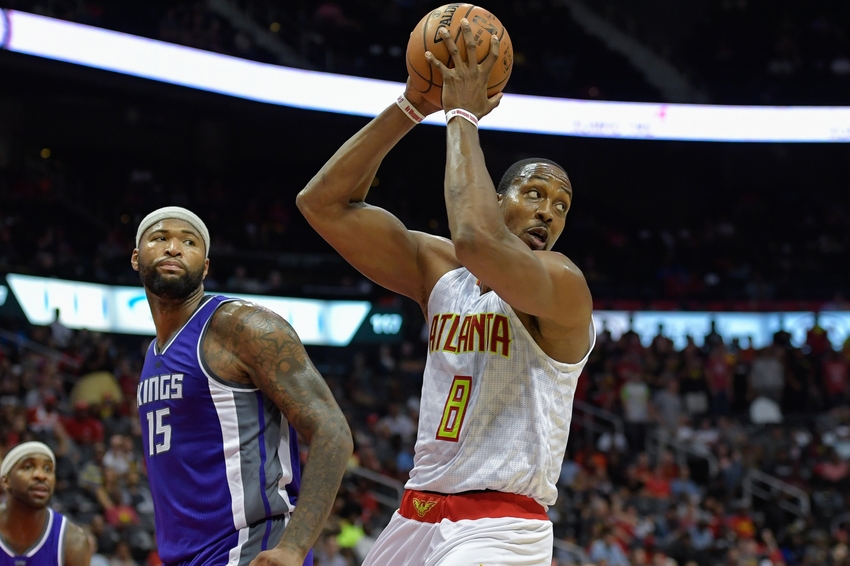 Early returns suggest that the Atlanta Hawks are the second-best team in the Eastern Conference.
The Atlanta Hawks were forgotten in the offseason, and maybe that was a good thing. Cleveland came back from a 3-1 deficit in the NBA Finals against a 72-win team. Boston pillaged the Hawks, snagging Al Horford and was pegged as the second-best team in the Eastern Conference.
Toronto didn't do much, but rather remained Toronto, retaining DeMar DeRozan. 
Now, it's those same Atlanta Hawks, at 7-2 with a plus-10.7 point differential. That's good for second in the league.
I undersold Atlanta's offseason slightly. They traded Jeff Teague for a lottery pick, effectively giving the keys to Dennis Schroder.
As Kent Bazemore looked good as gone for Houston, Atlanta ponied up the money, giving Bazemore a four-year deal worth $70 million and the big move was signing Dwight Howard, ushering Horford out the door.
The expectations for Atlanta were simple: A good team, a potential top-four team in the Eastern Conference, but nothing special.
But the magic lives on in Atlanta. With Boston's injury issues, the Hawks have capitalized early and appear to be a mainstay at the top of the Eastern Conference for the remainder of the season. It starts on the defensive end.
Atlanta is currently second in the league in defensive efficiency, allowing 95.8 points per 100 possessions. Part of this is because of Atlanta's success at stopping opponents around the rim.
The Atlanta Hawks have the third-lowest field goal percentage allowed at the rim at 54.3 percent.
Dwight Howard is a key aspect in Atlanta's defense, but so far, Thabo Sefolosha has been one of the team's biggest defensive influences. The Hawks are 11 points worse with Thabo off the floor and he averages 3.8 steals per 36 minutes.
His ability to defend wings while providing long range shooting (63 True Shooting, 35 percent from 3-point range) has been instrumental for Atlanta's early start.  
And of course, we can't talk about the Hawks and not discuss Paul Millsap. One of the best players in the league, Millsap has started the season with another great all-around run. Offensively, he's averaging 18.7 points per game and knocking down 34 percent of his threes.
Defensively, the Hawks have a 94.4 defensive rating with him on the floor and he's getting 1.9 steals per game. The Hawks considered moving him this offseason but didn't after losing Horford. Now, Millsap is having an All-Star level start. 
Offensively, the Hawks are10th in the league in offensive efficiency, but the offense remains balanced and filled with playmakers. With the second-best assist percentage in the league, Atlanta has six players averaging at least 2.1 assists per game, creating a more balanced offense.
With five players scoring in double figures, Atlanta has several options after MIllsap capable of exploding for a big night and carrying the offense.

The two players who impress after MIllsap? Tim Hardaway Jr. and Schroder.
After years of sitting behind Teague, Schroder has impressed so far as the lead guard. One of the league leaders in drives, Schroder is a key penetrator for Atlanta's offense and one of the key passers and playmakers in their offense.
With other creators in the offense, Schroder isn't completely helpless, knocking down 39 percent of his three-pointers so far on the season.

As for Hardaway Jr, it seems liked he was almost a sunk cost. Last season, his first in an Atlanta uniform, saw him register just one start in 51 games played.
So far this season, it seems like that "rewiring" has worked as Hardaway has jumped off to a great start, averaging 12.3 points and 47 percent shooting  from the floor — both would be career highs if they were to last the entire season.
In New York, he was relied upon a bit too much as time, but in Atlanta, with better players, he's almost placed in a microwave role — come in, knock down some baskets and leave. He's still a poor defender, but with all of the talented defenders, he doesn't have to be worried about that.
The Atlanta Hawks have work to do and it's still early. On their end, they're still figuring out their main lineup. The combination of Schroder, Bazemore, Korver, Millsap and Howard has a net rating of minus-11.6 and a defensive rating of 108.6 in 99 minutes played.
Other lineups have been successful early, but it's that lineup that needs to take a step forward.
The Celtics have been dealing with injuries to Horford and Cleveland has been on cruise control. Many still believe those two teams are No. 1 and No. 2 in the East. Regardless, The Hawks got off to a great start despite their main lineup struggling.
Now, the Hawks have to be more than just another Eastern Conference playoff team, but a legitimate threat to Boston and maybe even a team that could battle with Cleveland as the season continues. 
This article originally appeared on