Atlanta Hawks All-1990's Dream Roster
Nile Goodwyn/FanSided via Soaring Down South

Fansided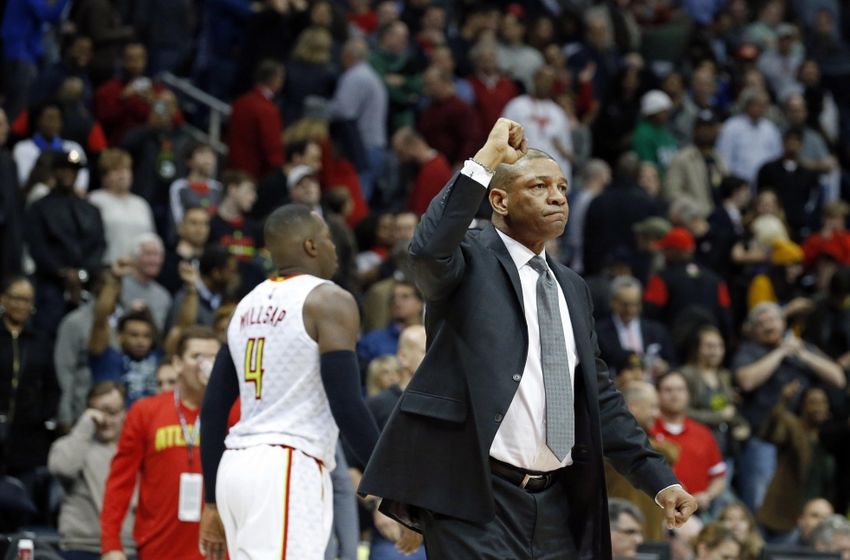 The Atlanta Hawks were an extremely fun, successful franchise during the 1990's. Who were the top players of that exciting decade?
Despite not advancing past the second round during the decade, the Atlanta Hawks of the 1990's leave nothing but pleasing thoughts to fans that remember those times. In order to respect the legendary teams of the 90's, we will take the most elite players from 1990-1999, and place them into an All-Star team of sorts.
Rules for eligibility:
The player must have played at least 82 games in a Hawks uniform
The player must have participated in at least one playoff series during the 1990's, as a member of the Hawks.
1992-1999 Stats: 14.9 PPG 7.3 APG 4.6 RPG 2.6 SPG .413 FG%
Of all the positions, Blaylock's position as the lead guard for the 1990's Hawks was one of the easiest.
Not only did he start for the Hawks at his position for eight seasons, he was one of the best, most consistent players at his position over most of the 1990s.
He played alongside nearly every other player that will be on this list, which makes him almost a barometer of long-lasting success throughout the 1990's for the Hawks.
Blaylock's memorable defense, which included nabbing at least 2.5 steals per game in six of his seven seasons in Atlanta, was what made him great. Other than that, he averaged over 7 assists per game and is still first in franchise history in three-pointers made. His one All-Star appearance, in 1994, could not come close to completely explaining Blaylock's impact on the 1990's Atlanta Hawks.
Starting Shooting Guard: Steve Smith
1995-1999 Stats: 18.6 PPG 3.6 APG 3.8 RPG 0.9 SPG .429 FG%
One of the smoothest players of the 90's, Smith was arguably the best pure scorer the franchise has ever employed.
"Smitty" was dealt to Atlanta after four seasons as a member of the Miami Heat. With the Hawks, he had the opportunity to shoot as much as he needed, and it worked out perfectly. As the main scorer alongside a number of other stars, Smith averaged almost 20 points per game, and was an integral part of multiple successful teams.
He was dealt to Portland before the 2000 season began, and the era of Hawks' success was halted until the late 2000s. In his time as a Hawk, though, he was one of the most consistent, impactful scorers the team has seen.
1990-1994 Stats: 27.2 PPG 7.2 RPG 2.9 APG 1.3 SPG .465 FG%
Though his best numbers came during the 1980's, Wilkins was still one of the league's premier players during the 1990s.
Even while rupturing his Achilles' in 1992, at a time in which the injury was a career-ender, he persevered and made two more All-Star Games as a Hawk.
Wilkins' best 90's season came after his Achilles' injury, as he averaged nearly 30 points per game, while shooting 46.8 percent from the field. He was rewarded by being named an All-Star for the eighth consecutive season.
Unfortunately for Wilkins and Hawks fans worldwide, he was traded to the Los Angeles Clippers during the 1994 season, and an era of Hawks basketball was over.
1990-1994 Stats: 16.2 PPG 11.4 RPG 1.6 APG 0.9 SPG .501 FG%
Likely one the most underrated players in league history, Willis still holds a number of records in the franchise's history books.
Though he only made one All-Star team during his time in Atlanta, his accomplishments add up to much more.
Willis still holds Hawk records for offensive and defensive rebounds, and ranks highly in games played, field goals, and minutes played.
Willis left the Hawks in 1995, and surprisingly returned ten years later, at the age of 42.
1996-1999 Stats: 12.4 PPG 12.3 RPG 1.2 APG 3.3 BPG .536 FG%
Mutombo signed with the Hawks after the 1996 season, and the new face of the Hawks continued to cement himself as one of the best defensive players to ever live.
Mutombo was named to All-Star Games in three of his four seasons in Atlanta, and his offense was not the reason. While he was a decent player on the offensive end, his legend was created on defense.
Mutombo's two Defensive Player of the Year Awards during his Hawks stint ties him with Alonzo Mourning and Hakeem Olajuwon for the honor during the 1990's.
As the 2000's began, and the roster around him changed, his prime was close to being wasted. Fortunately, he was traded to the Philadelphia 76ers and went on a memorable Finals run, alongside MVP Allen Iverson.
Reserve Point Guards: Doc Rivers and Spud Webb
Rivers' 1990-1991 Stats: 14.1 PPG 3.6 RPG 4.8 APG 2.1 SPG .441 FG%
Webb's 1990-1996 Stats: 9.9 PPG 2.1 RPG 5.0 APG 1.2 SPG .461 FG%
This combination of memorable Hawks lead guards would do well in a back-court together. In fact, during the 1990 and 1991 seasons, they did just that, and helped the Hawks win a combined 84 games over the two seasons.
Rivers, who made the All-Star team as a Hawk during the late 80's, was Mookie Blaylock's predecessor as Dominique Wilkins' defensive-minded, distributing lead guard. His 4.8 assists per game rank 3rd in terms of 1990's Hawks.
Meanwhile, Webb possessed more than his memorable other-worldly athleticism. The second-highest Hawk in assists per game during the 90's, only behind Blaylock, Webb's game was much more than dunk contests.
After six years in Atlanta, he went on to prosper in Sacramento, before returning to Atlanta for the 1995-96 season, before being traded to the Minnesota Timberwolves.
Augmon's 1991-1996 Stats: 13.7 PPG 4.5 RPG 2.3 APG 1.5 SPG .488 FG%
Battle's 1990-1991 Stats: 12.5 PPG 1.9 RPG 2.7 APG 0.5 SPG .478 FG%
Eloh's 1993-1996 Stats: 9.4 PPG 3.2 RPG 2.5 APG 1.3 SPG .442 FG%
This trio of wings all brought their varying skills to Atlanta and succeeded. Augmon was drafted with the fifth pick of the 1991 NBA Draft, and was one of the earliest iterations of the "Next Jordan" archetype. While he never lived up to that lofty hype, mostly on the offensive end, he was still the quintessential elite athlete and wing defender the Hawks needed.
Battle was one of the team's greatest sixth men ever. Fans who recall his playing days revere his scoring power, and it was much needed in most games. His best statistical season came in 1990-91, when he averaged 13.6 points and 2.7 assists per game for a 43-win team.
Ehlo is best known for his time with the Cavaliers, but in his 210 games as a Hawk, his 36% shooting from behind the three-point line was essential to success.
Laettner's 1996-1998 Stats: 15.8 PPG 7.8 RPG 2.6 APG 0.9 BPG .486 FG%
Konkak's 1990-1995 Stats: 3.6 PPG 4.3 RPG 1.3 APG 1.0 BPG .443 FG%
Henderson's 1995-1999 Stats: 10.9 PPG 5.8 RPG 0.8 APG 0.7 SPG .463 FG%
Laettner would have likely given Willis a run for his starting spot if not for an Achilles injury during the 1999 lockout. He does have one accolade that Willis does not: an All-Star appearance during the 1990s. He made the game during the 1997 season, where he averaged 18.1 points and 8.8 rebounds per game.
Koncak's placement is not about what he did on the court, but for how long he did it. His 430 games place him second in 1990s' Hawks, only behind Blaylock. His numbers surely do not jump off the page, but his longevity does.
Henderson is remembered for putting the ball in the basket. Nothing else about his numbers are exceptional. His 1998 season, when he averaged 14.3 points per game on a 48.5 shooting percentage, was great.
Was your favorite player snubbed? Who should have made the team? Who shouldn't have? Leave your thoughts in the comments, and discuss it with me on Twitter @ATLPistolPete.
This article originally appeared on