Atlanta Hawks 2016-17 Player Preview: Dennis Schroder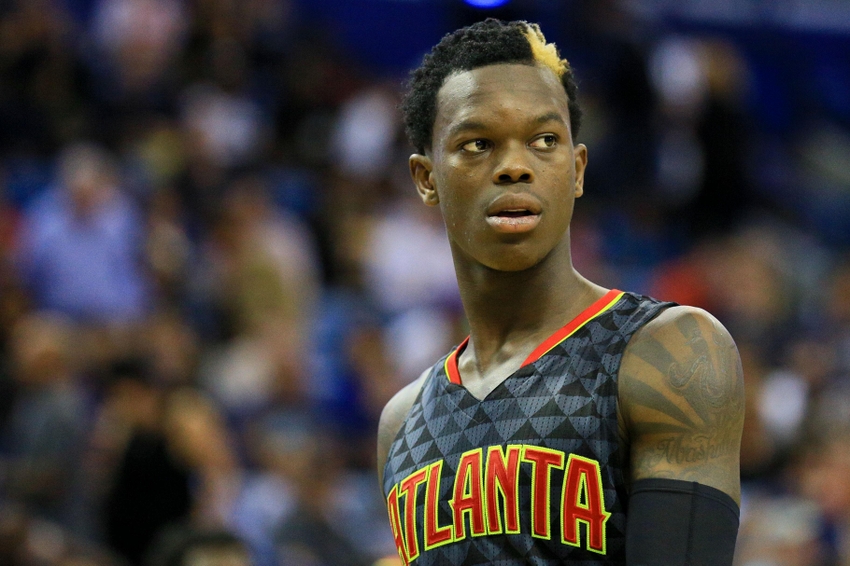 Our Player Preview series, here at SDS, continues today with a look ahead at the upcoming season and, specifically, young point guard Dennis Schroder.
With the season approaching rapidly, we at Soaring Down South are exploring how the players on our roster will perform and today, that brings us the franchise's new starting point guard Dennis Schroder.
There is no missing Schroder on the floor. The point guard maintains a unique and distinctive golden patch in his hair and his game is often both explosive and exciting. The jury is still out on Schroder, though. No one knows how high his ceiling really is or whether he can thrive as a starter.
Here at SDS, we've already looked at Dwight Howard and Kent Bazemore but, in many ways, this is the most eagerly anticipated and most intriguing player on the team. Why? Well, The Hawks parted with long-time starter Jeff Teague to hand the reins to the young German. Having seen Schroder grow from a difficult rookie season to Most Improved Player contention in his sophomore year, fans in Atlanta are excited to see how their number 17 will cope with his new role.
2015-16 Season in Review
2015-16 per game averages: 11 points, 2.6 rebounds, 4.4 assists, 0.9 steals and 2.3 turnovers in 20.3 minutes.
Season shooting percentages: .421/.322/.791
After an incredible improvement between his rookie and sophomore seasons, Dennis Schroder enjoyed a stable third season.
The menace played the most games of his career and he did so with increased minutes. His numbers, though, were perhaps a little disappointing. All three of his shooting percentages dropped and there were only minimal improvements to his per games statistics, scoring one point and assisting 0.3 times more per game.
In fairness, though, the 2014-15 season was a special one and it was never going to be easy to replicate it. In that 60-win campaign, where the Hawks bewildered and dominated any in their path (until the playoffs), it must have been easier for players to score. So, with the offense struggling at times last season, it is no surprise that Schroder's offensive numbers did not make another huge leap forward.
What he did do, though, was improve his defense. As the Hawks, on the whole, found something of a defensive identity towards the end of last season, many players found an extra element to their game on that end. Schroder, Mike Scott, and Tim Hardaway Jr. all became a key part of this new defensive style and Schroder, while not exactly Chris Paul on D, showed remarkable improvements.
And while the 2015-16 season may not have been another breakout for Schroder, it definitely did enough to convince the franchise that he was the future at the one. Although his numbers were similar to the year before, Dennis the Menace showed much better consistency and put up really nice numbers per 36 minutes. His 19.5 points, 7.8 rebounds, and 4.5 rebounds in that timeframe are way ahead of several notable players at this stage of their career, including Reggie Jackson and Kyle Lowry. In fact, the German's per-36 numbers are even better than Stephen Curry's during his third season.
Strengths
Athleticism and Penetration
I've said it before and I'll say it again: Dennis Schroder is an absolute blur on the court.
He is not the biggest point guard, nor is he the strongest, but his pace is staggering. When defenses do not sag off of him and dare him to launch the trey, Schroder can be a devastating penetrator and he has the ball control to match.
And when Schroder can get inside, he can pull of some impressive finishes. Whether it is a circus lay-up:
Or a smooth dunk off the drive:
Teague was never bad in this aspect but, with speed like the Flash, and both ball and body control to match, Dennis Schroder is a nightmare for the defender attacking the basket and that is a valuable weapon.
Playmaking
Anyone who gets labelled as "the German Rajon Rondo" has to be a pretty good passer, right? Yeah.
Schroder is no John Wall, but his passing is really good. He has great vision and a strong understanding of the game, which is very encouraging to see out of a player with just three years' playing experience. His offense and athleticism might catch the eye but his playmaking might be just as strong.
"His intelligence as a player is sometimes overlooked. Freakishly athletic badass players like him are sometimes generalized as being too much brawn and not enough brain. Schroder, however, is quite an intelligent play maker. He's able to time the movements of teammates and the rotation of opposing defenses, and he knows how to make the correct passes," Troy Tauscher said for FanSided's Hoops Habit back in 2015.
That eye for the pass and ability to drive could lead to a devastating partnership with Dwight Howard on the pick-and-roll, which really is a vital play in the modern game.
And, combine that talent for passing with confidence and Schroder produces some memorable flashy passes.
Perimeter Defense
This might be a bit generous but still. One year ago, this would have been laughable but that aforementioned defensive development has left Schroder with another string to his bow.
Again, he is by no means an elite defender but the young German can stifle most matchups. With long arms and an incredible quickness, Schroder can often out-maneuver his man on defense and with an electric energy, he can be relentless too. That is what gave him the edge over Teague on that end.
"Jeff played OK, but I just thought that with Dennis, like I said, we had a little bit better energy, a little bit better defense," coach Mike Budenholzer said after a loss to the Knicks, via Zach Dillard of Fox Sports.
If he can continue to improve here, and focus better, Schroder could be a really good defender on the perimeter.
Weaknesses
Confidence and Mentality
Dennis Schroder has never, ever lacked confidence and confidence is vital to performance.
Now more than ever, Schroder has a reason to be confident in himself. After all, the Hawks were willing to move Teague to give him a starting position, and that is a significant show of support. Knowing the entire team is behind him will give Schroder quite a boost. But how is this a weakness?
Well, Schroder might be too confident.
Having been the best player back in Germany, Schroder's self-confidence is considerable and that can be a bad thing. It can lead him to over-estimate himself against opponents (see above) and it can lead to poor decision-making. Often, the young point guard will try to do too much with the ball and, with that, comes turnovers. In fact, Schroder put up 4.1 of those per 36 minutes.
Schroder has also shown himself to be something of a hot-head. Sure, we all love competitors and that drive is what makes players great. It can go too far, though, and we have seen Schroder involved in a few battles on the court. We have seen him go 'man-to-man' with fellow hot-head DeMarcus Cousins as well as a very memorable confrontation between him and Isaiah Thomas (although he might be rightly aggrieved there).
Even if Schroder wasn't initially in the wrong, he handled it the wrong way and got a technical foul as a result. He wasn't even willing to let it go by the end of the game.
But he is still just 23 years old and has veterans like Jarret Jack and Tiago Splitter around him. That gives Dennis the Menace plenty of time to even out and find that middle-ground.
Three-Point Shooting
Although .322 certainly is not a bad rate from behind the arc, Schroder remains a wildly inconsistent long-range sniper.
It is not as much of a weakness as it is for, say, Rajon Rondo, but the German point guard still needs to improve. After all, three-point shooting is a crucial part of today's NBA, especially for a point guard.
And Schroder's struggles clearly hurt the offense. With his shooting as it is, opponents are not afraid to sag off of him and give him the space to shoot, which harms the spacing of a team that emphasises exactly that.
Sure, he can drive and his pull-up jump shot is improving. Sure, his three-pointers aren't bad and we have often seen him use his freakish athleticism to find the trifecta. But still, Schroder's three-point shooting is a weakness and, when he can improve it, his game will be infinitely better.
2016-17 Season Projections
Projected 2016-17 per game averages: 15.6 points, 6.3 assists, 3.5 rebounds, and 1.2 steals.
Projected 2016-17 shooting percentages: .425/.343/.810
There is no reason to believe that Dennis Schroder cannot mimic the numbers of Jeff Teague.
Although there might be a period of adjustment, Schroder has everything he needs. He has a new-and-improved pick-and-roll option in Dwight Howard and the three-point outlets of Kyle Korver and Kent Bazemore. Millsap will provide support with his wonderful all-around arsenal and, with better depth, the team is much more dangerous.
Behind him, Schroder has the steady head of Jarret Jack, whose presence should not just be there to mentor the young point guard, but should also alleviate some of the pressure on him. And, without the battling with Teague for minutes, Schroder will have the freedom to play his game. He won't have to worry about every mistake resulting in him being hooked off the floor and he won't have to make his game all about one-upping his positional competition.
With that, comes the lift Schroder will have from the front office's support. That, along with everything else, should allow him to succeed as the starting point guard.
So, yeah. Considering all of that support alongside his explosive offensive skill-set, Schroder's scoring and assists could well rise to those levels. With an increased role, though, do not expect his efficiency to shoot up. He might well improve his shooting numbers from last season but, as he will be taking more shots, those percentages should not explode.
Dennis Schroder's role will be key for the Hawks. Without him, the Hawks' offense could well fall apart; that is the risk the organisation took in making him the starter. At the same time, however, this is the next step in his development and that is how Schroder will become something in this league.
It is important not to get carried away with Schroder. He is likely to make improvements to his game and his supporting cast in Atlanta is a very solid one, but temper your expectations. It is highly unlikely that Schroder, despite his many talents, becomes elite this season. Given the extraordinary depth of the point guard position, it is unlikely he will even be an All-Star.
With Dennis Schroder at the point, though, the Hawks should not end up missing Jeff Teague.
This article originally appeared on