Ascending NBA franchises hope to find themselves on the right side of history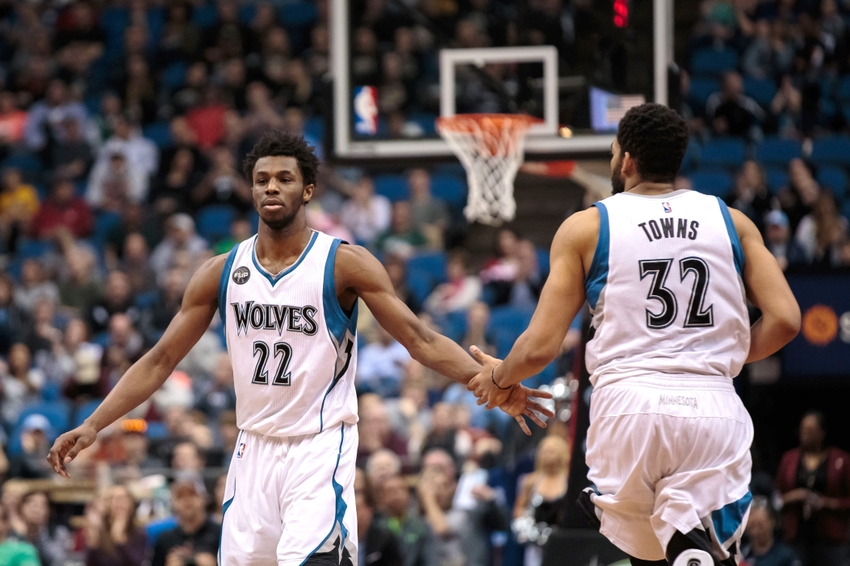 Summer Sixteen has seen an incredible amount of movement when it comes to young players and work-in-progress NBA teams. If 2015-16 was the Year of the Senior in NCAA hoops, it's only fitting that 2016-17 would be the Year of the Youngster in the NBA.
One of the teams that drafted a dynamite senior is the Minnesota Timberwolves, who added Providence's Kris Dunn to an already stellar crop of young talent that includes Karl-Anthony Towns, Andrew Wiggins and Zach LaVine. They will compete for a playoff spot this year with another budding Western Conference powerhouse, the Utah Jazz. The Jazz possess their own impressive nucleus of youngsters with Rudy Gobert, Derrick Favors, Gordon Haywood, Dante Exum and Rodney Hood, to name a few. 
More from Upside and Motor
Further down in the standings, the Los Angeles Lakers look to capitalize on a busy free agency period to make improvements and develop their own core. D'Angelo Russell and Julius Randle are looking to take big steps forward in their respective second season, while rookie Brandon Ingram aims to fill out his body and earn NBA playing time. Their counterparts in team-building out East, the Philadelphia 76ers, have similar aspirations.
By finally seeing years of losing come to fruition with the additions of Ben Simmons, Dario Saric, and Joel Embiid this year, Philly is set to benefit from a huge upswing in talent this season. Their aim is not the postseason, but respectability and competitiveness in the regular season. In their own way, they belong in this conversation.
While each of these teams' situation is slightly different and each will use their youthful depth in different ways, this is an especially important year for a remarkable number of NBA teams. Several others not even mentioned have a lot at stake this year — Denver, Phoenix, and Milwaukee have been less audacious in their approach, but need this year to go well all the same. The Boston Celtics are still young, and will compete for the top seed in the Eastern Conference. The present is bright with a new generation of players ready to unseat their forefathers, but the past is where these new teams will learn their lessons.
Understanding that, I will look at four teams whose prolific achievements and failures were mirrored by their high expectations. These are teams in the middle of their respective ascents or descents; directly after a great season or heading into an unexpected one. They each hold valuable advice that this season's young squads would do well to heed. By avoiding these pitfalls or mimicking these innovations, some young team this year will go out and surprise us.
2001-2002 Boston Celtics
Average Age: 25.75
Rotation: Antoine Walker, Paul Pierce, Kenny Anderson, Tony Battie, Eric Williams, Erick Strickland, Vitaly Potapenko
Tale of the Tape: 49-33 record, 3-seed in the Eastern Conference, Lost 2-4 in Eastern Conference Finals to New Jersey Nets
MVP: Paul Pierce (26.1 PPG/6.9 RPG/3.2 APG on .461/.404/.809)
The place to start with this wildly-overachieving Celtics squad is to get the Super Homer Bill Simmons' pre-season take:
"But if one of the rookies steps up (say Joe Johnson gives them 20-25 minutes per game at the 3-spot, for instance), Battie bounces back, and the underrated Milt Palacio (or as I like to call him, 'The next Eric Snow') can steal Kenny's job as quickly as possible, they're a playoff team. And no, I'm not drunk again."
It's safe to say no one saw this coming; Sports Illustrated had them eleventh in the conference, and the very first sentence of Ian Thomsen's preview mocked Walker's selfishness. Somehow, relying on veterans like Tony Battie and Eric Williams (who shot 37 percent from the field that year) spelled success for the Celtics, who made it to a surprise ECF by overcoming Iverson's Sixers in the first round and Stackhouse's Pistons in the next. Fifteen years later, I'm still puzzled, but at least they made Orlando Magic announcer David Steele (then with SFGate as a writer) look silly: 
"Outlook: There's reason for hope, but not any time soon. What a mess Pitino left. The leprechaun is still crying."
If there's anything to be taken from the success of this squad, it's that a top-heavy team can succeed if things break right. Now, for this Celtics team, "things breaking right" meant a less-talented era of NBA basketball and poor performances by good teams in the playoffs. For some team like the Timberwolves, it could be evidence that breakouts by the duo of Andrew Wiggins and Karl-Anthony Towns might be enough to overachieve if teams around them get worse or are hit by injuries.
2003-2004 Portland Trailblazers
Average Age: 24.13
Rotation: Damon Stoudemire, Zach Randolph, Dale Davis, Ruben Patterson, Qyntel Woods, Derek Anderson, Rasheed Wallace, Darius Miles, Jeff McInnis, Theo Ratliff
Tale of the Tape: 41-41 record, missed playoffs
MVP: Darius Miles (12.6 PPG/ 4.6 RPG/ 2.0 APG on .526/.200/.702 and no criminal charges)
"We're not really going to worry about what the hell (the fans) think about us. They really don't matter to us. They can boo us everyday, but they're still going to ask for our autographs if they see us on the street. That's why they're fans, and we're NBA players." – Bonzi Wells, 2003
That is the everlasting legacy of the infamous Portland Jailblazers, who have gone down in history with other pseudonymed teams like the Chicago Black Sox or the Big Red Machine. Bonzi Wells gave us what is the most simple memory by which we can remember him and his teammates with that statement. After four consecutive seasons of 49 wins or more and with many holdovers from the teams at the turn of the century who made it to consecutive Conference Finals, Portland fell back to a hemp-covered Earth in 2004. The team knocked nine wins off of its record and missed the postseason for the first time in 22 years. 
Adding to the outrageous statistics, during the months leading up to the 2003 season, Blazers players accounted for four marijuana possession-related arrests in 13 months, the last of which arose with the cloud of smoke that escaped Zach Randolph's Cadillac and alerted authorities of his usage. Instead of adding players to a successful core and building a long-term contender, things got so bad that 'Sheed was traded and the team didn't return to the playoffs until 2009.
That, more than purple haze, apathy toward fans, or Rasheed Wallace on MTV Cribs, is what this team will be remembered by. Fortunately, none of this year's teams have the same sort of twisted lightning in a bottle that those Portland squads miffed their way into. Utah, Minnesota and Philadelphia have built cores equal parts talented and upstanding. The Lakers might be the closest thing, but comparing D'Angelo Russell's Snapchat escapades to something like Qyntel Woods' dogfighting charges is ridiculous.
No team for a while will come close to the level of disappointment that this team brought to PDX. The NBA has moved away from a culture of youth and hip-hop by buttoning its players up on the sidelines and instituting an age limit. These Jazz and Wolves squads should make David Stern proud.
2010-2011 Oklahoma City Thunder
Average Age: 25.06
Rotation: Russell Westbrook, James Harden, Kevin Durant, Jeff Green, Serge Ibaka, Thabo Sefolosha, Nick Collison, Eric Maynor, Nenad Krstic
Tale of the Tape: 55-27 record, 4-seed in Western Conference, lost 1-4 to Dallas Mavericks in Western Conference Finals
MVP: Kevin Durant (27.7 PPG/ 6.8 RPG/ 2.7 APG on .462/.350/.880)
I'm sorry to bring it up so soon, Thunder fans. It seems like yesterday for all of us; these scrappy guys jumped from a competitive series against the last of Kobe's great Lakers teams to the Western Conference Finals in just one year. They grew up before our eyes, but never quite achieved what we all knew they were capable of. We're not yet far enough removed to exclude nostalgia from this equation, but here's the lesson to be learned — measure a dynasty or era not by wins or losses, but by blinks of an eye. This Thunder ride lasted just one.
Say Ricky Rubio leaves Minnesota after this year, Andrew Wiggins struggles to stay healthy, and Kris Dunn has to be traded to avoid financial stress; the Wolves never make it past the Conference Finals. There are infinite imaginations of failed team-building stunts, no matter how foolproof having two of the league's best five players seems. Towns and Wiggins aren't sure things, because nothing is sure in a game where bodies and dollars dictate everything.
Countless gallons of ink have been spilled touching on the finer points of why it fell apart in Oklahoma City, but the point here is those points aren't life or death. They're merely facts of doing business in the NBA, and they can rip your favorite young team apart. So appreciate it while you still can, because it can all disappear in five or so minutes:
2011-2012 Indiana Pacers
Average Age: 26.13
Rotation: Paul George, David West, Roy Hibbert, Darren Collison, Danny Granger, Tyler Hansbrough, Dahntay Jones, Lou Amundson, George Hill, Lance Stephenson
Tale of the Tape: 42-24 record in lockout shortened season, 3-seed in the Eastern Conference, lost 2-4 to Miami Heat in Eastern Conference Semifinals
MVP: Roy Hibbert (12.8 PPG/8.8 RPG/2.0 BPG with a 2.4 Defensive Box Plus-Minus)
Any team that can make an opponent that frustrated in a second-round playoff series is doing something right. More than any team featured here, this Pacers squad provided signature moments that can help us document their ascension. There was the come up against the Bulls in 2011, this series against the Heat in 2012 (which basically turned Miami into the small, swarming hellfire they became), or the Eastern Conference Finals from the following two seasons that became classics as we watched them (anyone still think about why Hibbert wasn't on the court to close Game One?).
Watching a team that young fuel itself with defense and wing athleticism was interesting and new. It is also interesting to go back and check the blueprint now as the Jazz attempt to make a run with a similar sort of team. They will rely on Gordon Hayward and Rodney Hood quite a bit, just as Paul George, Danny Granger, and Lance Stephenson led those Pacers to the promised land. And of course both teams were made more boring and competitive by George Hill.
Another important lesson to be learned by the sustained and dominant success of the early-2010s Pacers is the value of veterans. I joke about Hill being the missing piece, but you can clock the Pacers ascension clearly before and after the acquisition of West. He was the focal point on offense for a team full of wandering developmental trajectories on that end and a communicator that helped an era-defining defense more than he hurt it.
Every young team we've discussed has added veterans this summer; the Jazz got Boris Diaw and Joe Johnson, the Sixers nabbed Gerald Henderson and Jerryd Bayless, the Wolves have KG, and the Lakers stole Luol Deng. If any of these teams make a leap in the coming seasons, all of these veterans will be an integral (and likely underrated) reason.
Utah, Philly, Los Angeles and Minnesota will add their own layers to these patterns this year, and trends will emerge based on how these players perform. That's the joy of history — it writes itself in real time. But history is indeed important in analyzing success and failure, and because this is a sport, success is measured by victories and championships. In five years, when one of these teams has blown us away or we are mourning what could have been for another, these truisms will still ring clear.
This article originally appeared on