Are Wiggins and KAT's big numbers bad for the Timberwolves?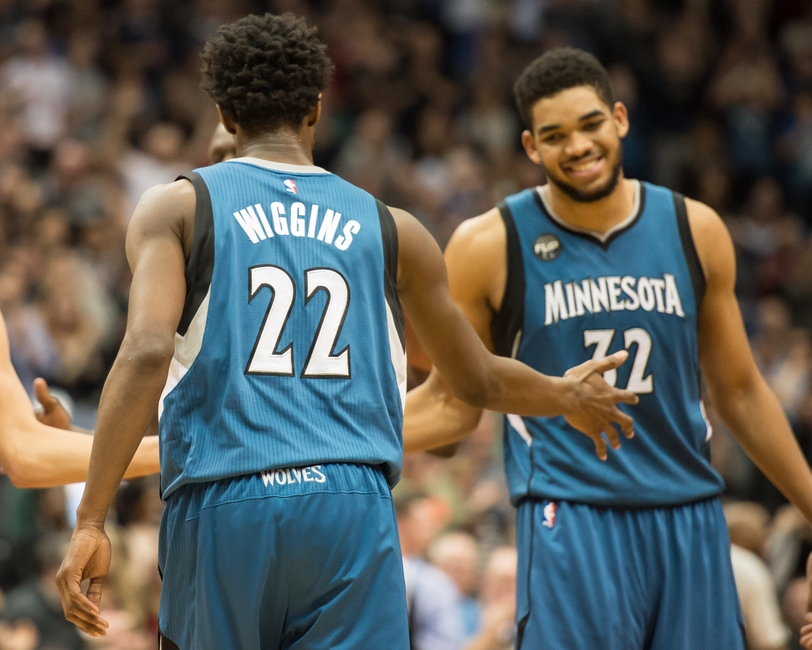 Andrew Wiggins and Karl-Anthony Towns have put up impressive numbers to start off the 2016-17 campaign for the Timberwolves, but why haven't they translated to wins?
In Andrew Wiggins and Karl-Anthony Towns, it appears as though the Timberwolves may have once again found a pair of scorers they can rely on.
Teams, coaches, and fans such as myself have been impressed with their output, especially since they've been doing it on such a consistent basis. Unfortunately, those performances haven't translated to wins — at least not yet.
Minnesota is off to a disappointing 4-9 start, including an extremely rough loss to the Boston Celtics on Monday night after a blown fourth quarter lead.
The start is disappointing in large part because the Wolves have had the lead or at least been within a possession or two in nearly every single one of the nine losses. It's no secret that the second half — and particularly the third quarter, at least until Monday — has been the Achilles' heel of the young roster.
The Timberwolves have been outscored by 8.5 points in the third quarter on average, and 12.1 points in the third quarter in games in which they lose, not including Monday. You may be asking yourself, "Why does this keep happening, and what does this have to do with Wiggins and Towns?"
Well, I have a theory.
Wiggins currently accounts for 24.8 points per game, while Towns averages 22.2 points per contest. Minnesota averages 104.1 points per game, which means the pair account for just over 45 percent of the team's scoring output.
When a team relies so heavily upon two players to score, it makes it easy for opposing defenses to key in on those two guys, especially coming out of the half. This could, at least in part, explain the huge third quarter deficit.
Not sold yet? In three of the four Timberwolves victories, the team had a 20-point scorer not named Wiggins or Towns.
Still don't buy it?
In those three games in which they had that different 20-point scorer, the Timberwolves recorded their first, second, and fourth-highest point totals of the season.
I see a trend here — a trend that leads me to believe that Wiggins and Towns may actually need to score less in order for the Timberwolves to win more.
Don't get me wrong, they'll still need to score, and score in bunches in order for Minnesota to be successful.
Minnesota will also run into problems if Wiggins comes back to Earth with his long-range game, too. (It already has, as Wiggins has shot a combined 0-for-8 from beyond arc over the losses to the Grizzlies and Celtics, lowering his three-point percentage to 44.2 percent on the season.)
Hopefully, he can stay right around that 45-percent-mark, but something tells me that his percentage will eventually make its way back down closer to 40 percent.
Even though Towns has been shooting more from that distance this season, most of his shots come from more high percentage areas of the court. Unlike Towns, Wiggins' scoring total is much more prone to variance from night to night. Either way, someone needs to step up and pick-up some of the slack in case the scoring isn't there or a team is really shutting them down at any point in the game.
Zach LaVine has been that guy so far, but he hasn't necessarily been a surprise. He's averaging 19.1 points per game and is responsible for two of those non-Towns, non-Wiggins 20-point performances in wins. LaVine has carried his load and is doing exactly what he is supposed to, so he may not be the answer here. So, who is?
First, let's discuss Nemanja Bjelica. Believe it or not, Bjelica is the other 20-point man, with his breakout performance occurring during the Wolves' win over the Lakers, as he scored 24 points in 40 minutes.
Bjelica shot 9-for-15 from the field, including 5-of-8 from three-point range. Bjelly started that night in place of, you guessed it, Zach LaVine, and did a great job filling his role. The Lakers had just come off a huge win against the Warriors, and without his night, they may have come into the Target Center and led the Wolves to the same fate.
For the season, Bjelica is only averaging 6.3 points in 17 minutes off the bench, but perhaps a larger role would suit him well.
Another more obvious option may lie in the hands of Shabazz Muhammad. Although he doesn't have any huge scoring performances this season, he has come pretty darn close.
Much like Bjelica, Shabazz is averaging 7.4 points in 17 minutes per game off the bench. Before going down with a knee injury, he had games of 15 points and 13 points, and has averaged double-digits each of the last two seasons.
Perhaps the answer isn't yet on the roster? According to ESPN's Zach Lowe in a report from about a month ago, the Wolves have expressed interest in Iman Shumpert. While that's intriguing, I don't really see a fit there. And even if there was a fit, he's only averaging seven points per game in Cleveland right now, and I don't know how much more of a workload he would be able to take on in the scoring department.
There is the whole Jimmy Butler scenario, but the biggest question is if Butler worth the price that the Wolves would no doubt have to pay? Minnesota would likely have to give up Zach LaVine and Ricky Rubio, along with a pick. I don't love having to choose between moving a not-great shooter in Butler to the two or taking Wiggins from where he seems to be comfortable.
Could veteran leadership be the answer? Luol Deng has also been rumored among potential trade candidates as well. Although he is inthe latter half of his career, he is a former Bull that would be familiar with Tom Thibodeau's offense.
One way or another, it is vital that the Timberwolves find other sources of offense on a regular basis. A balanced scoring attack will be key going forward if Minnesota expects to contend at the end of the season. As the year gets deeper, opponents will get better and better at eliminating at least one of the pair of young stars, and Thibodeau will need to develop a contingency plan.
Although Andrew Wiggins and Karl-Anthony Towns are having All-Star-consideration-worthy individual seasons, it does not appear to be the answer to the woes of the Wolves over the past several seasons.
I know it's early, but I'm becoming convinced that in order for Minnesota to find success as a team, they will have to spread the love a bit. Their individual numbers may suffer, but the team will prosper, which will suit them (and the Timberwolves faithful) just as well.
More from Dunking with Wolves
This article originally appeared on