Are the Nets Playing Too Freely?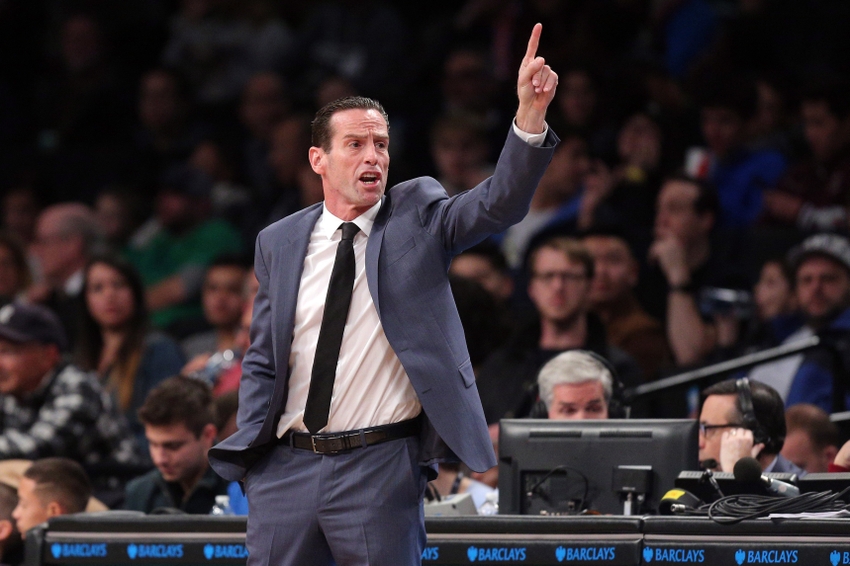 The Brooklyn Nets stand at 5-15 on the season under new head coach Kenny Atkinson. Expectations were low coming into the season with a new coaching style, but is the coaching style hurting Brooklyn at times?
The Brooklyn Nets have a new coach and a bunch of new players. The main free agent acquisition, Jeremy Lin, has been injured for nearly a month now with a hamstring. The team's best player and new leader not being on the floor does hurt the Nets at times.
Want your voice heard? Join the Nothin' But Nets team!
While Lin's injury is detrimental to the team, Coach Kenny Atkinson praises a 'play free' approach to the game. The Nets players can pretty much do as they please on the floor, and there are minimal drawn up plays. The motion offense requires the ball to move and the players to move around, but, other than that, there is not much more to it.
The 'play free' approach can be seen by the obscene amount of three-pointers Brooklyn has attempted this year. Anyone that have ever played basketball, whether it be organized or pick-up, knows that the open three-point shot is always tempting to take. One must resist that temptation at times, though, and look for a better shot.
More from Nothin' But Nets
Brooklyn, as a team, is averaging 35.2 attempts from behind the arc per game making, on average, a mere 11.5 of them per game. That equates to a dismal 32.6 percent, near the bottom of the league. Anytime you are top three in the league in three-point attempts and the bottom ten in makes, you have an issue. The issue is called poor shooters.
As a result of all of this long range shooting, especially by Brook Lopez, you have a lack of rebounding. When your tallest player is not down low to rebound you will have rebounding troubles. On top of it, when Lopez is down there, he is not the world's greatest rebounder by any means. Long range shots are effecting the rebounding numbers and the scoring inside the paint.
You also have times, like in the double overtime victory against the Los Angeles Clippers, where players can do as they please. Sean Kilpatrick had the hot hand and the players kept feeding it to him. Whilst Kilpatrick had the hot hand, he did miss a good amount of shots. Kilpatrick finished the night shooting 14-of-34 and 4-of-12 from deep. Those are not the best percentages, and it is rough to see someone on a team take that many shots. You want to see more ball movement and a wider spread of shots attempted.
With Jeremy Lin on the floor there will be better floor control. Lin will know when to pass it and who to pass it to and when to call certain plays. Even then, Brooklyn still has free reign as a team to do as they desire and that desire seems to be taking a lot of long range shots. This team does fight hard and even wins games at times. Until there is more control, there will be a good amount of streaks where Brooklyn cannot win a game.
Brooklyn needs to play more organized and take better shots. The better the shot and the closer the shot, the better your percentages are and the higher chances you have for a rebound; there will simply be more players near the rim to bring it down.
Monday night against the Washington Wizards, Brooklyn finally shot under 30 three-pointers. They barely shot any at all in the first half and scored 66 points, leading by 15. The third quarter woes struck them hard and the threes started to rain down.
As a whole, Brooklyn did shoot 40 percent on the night and attempted only 27 total three's, which is an improvement. Brooklyn also dominated the glass and points in the paint, but still lost. Brooklyn has made a bit of progress, but clearly the Nets still have a ways to go.
Look for things to change just a little bit when Lin comes back into action, as he will disperse the ball as necessary and will hopefully control the long range shooting from Brooklyn by setting players up closer to the basket with his play and passing skills.
Overall, this is not a terrible start from Coach Atkinson with a team that really had no expectations coming into the season. He is still learning and a lot of the players are still learning, as well. Change will come with due time, but, for now, there needs to be a meeting in which Atkinson tells his players to calm it down from long range because it is clearly not working and it effects all of the other numbers on the stat line.
This article originally appeared on