Are the Indiana Pacers Lineups Just Average? Or More Than the Sum of Their Parts?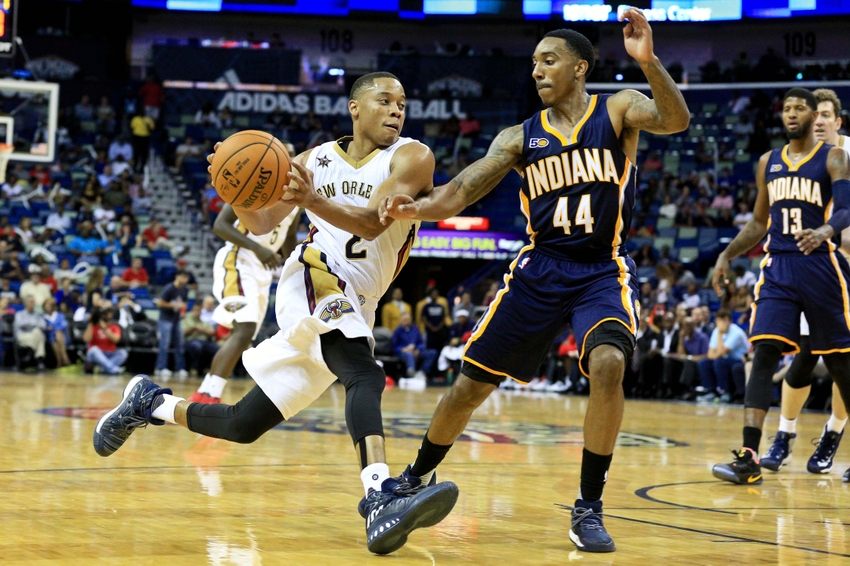 The CBS Sports staff sees the Indiana Pacers starting lineup and bench as average at best, but they may be overly pessimistic.
They may wear the same blue and gold, but this year's Indiana Pacers team looks nothing like the ones we've gotten to know over the past few seasons.
All of the change naturally created excitement, but in returning to a theme we've hit on all summer, there are still plenty of questions about this team.
Those questions breed a lack of confidence in some analysts' eyes, an uncertainty was reflected when CBS Sports ranked all the starting lineups and bench units in the NBA.
The Indiana Pacers starting lineup was ranked 19th while the bench took 15th place among all 30 of the NBA's teams.
Here is their explanation of the starters' ranking.
19. Indiana Pacers

PROJECTED LINEUP: Jeff Teague, Monta Ellis, Paul George, Thaddeus Young, Myles Turner

The Pacers made some significant changes in the offseason, getting rid of Frank Vogel and George Hill and replacing them with Nate McMillian and Jeff Teague. It is unclear if those substitutions will actually lead to an improvement but the Pacers do have a superstar in Paul George, who will be returning for his second full season back from that awful broken leg. Couple that with the expected growth of Myles Turner, and the Pacers should be fine in the East. They're a middle-of-the-road team that could possibly make some noise in the playoffs like they did last season, pushing second-seeded Toronto to seven games.
And here is their rundown for the bench.
15. Indiana Pacers

PROJECTED BENCH: Aaron Brooks, Rodney Stuckey, C.J. Miles, Lavoy Allen, Al Jefferson

The additions of Aaron Brooks and Al Jefferson will help provide the Pacers with some scoring off the bench. Defensively though, this unit is not the best. Yet there is enough depth for the Pacers to at least remain in the top eight in the East.
So is that fair? Or like Donald Drumpf can Indiana blame all of its problems on the media?
While I understand the logic they are using, I respectfully disagree with the CBS Sports Staff, and that was before seeing the Pacers in the preseason so far.
Back Court Balancing Act
For starters (pun intended), even though there are fears about the fit of Jeff Teague and Monta Ellis in the backcourt, I'm giving Nate McMillan and Dan Burke the benefit of the doubt when it comes to the defense.
There will be a drop off with the departure of George Hill, but we saw improvement by Monta on the defensive end last season, and he's appeared to have accepted a new role (or at least transitioning into one) since joining Indiana.
Roles mean everything, and with Paul George on the floor and the Pacers defensive scheme, Teague should be a closer to an average defender.
Offensively, too, it comes back to their roles.
More from 8 Points, 9 Seconds
There are two options for the Pacers this season in regards to their back court.
The first would be Monta Ellis recognizing that Teauge needs the ball in his hands. This is the only way that Teague can have room to be the point guard who has averaged around 16 points a game the past few season. Ellis will need to find his spots to take over, but he needs to take a step back to Teague.
The good news on this front is that Ellis already made a major in that direction last season, even playing alongside the relatively passive George Hill. Monta's 21.2% usage rate was near a career low and huge drop from his final two years in Dallas, where his usage was 26.0% in 2013-14 and 27.9% in 2014-15. Ellis' 13.4 field-goal attempts per 36 minutes for Indiana was also a vast fall from the 18.1 FGA per-36 he posted in his final year in Dallas.
The second option — and the one I like less — is Teague takes the back seat to Ellis. This really doesn't make as much sense because the whole idea of bringing Teague in is to have a "pure" point guard who can distribute the ball and run the offense in a way that George Hill never could. But if that's what happens, and Monta dominates the ball more, then Teague will need to fill a role like Hill did last season and knock down 3-pointers steadily.
The first one makes more sense and should be the main form of attack for the Pacers. But that doesn't mean it has to be the only way the backcourt operates. Let Teague take control, but I'd like to see Indiana switch gears from time to time and let Monta be Monta. He'll have to take the back seat to Teague 75% of the time, but let Monta have it all the other 25%.
Using Ellis as the sixth man would be also a fun experiment, but that isn't something McMillan has thrown out as a possibility.
Front Court Foundation
As far as the front court goes, I see fewer issues — thanks to the fact Paul George is a superstar. PG will continue to dominate and build on his 23.1 points per a game average from last season. With more consistency over last season, when he was still working his way back from missing a full year, this seems likely to be the best overall season we've ever seen from Paul George.
How Myles Turner and Thaddeus Young work out is a bit more intriguing.
There are certain aspects of their styles of play that almost seem more suited for the player in the other position. Myles, though the center, has more range as a shooter (though Young has knocked down a few 3-pointers in his career). Thad, the forward, takes more shots near the rim. And Turner takes plenty of shots from mid-range while Young generally avoids them.
This is more a curiosity than an issue, but I'm curious to watch the two in action.
If the starters can adjust their roles properly, this can be a top-10 unit. They have to learn to work together, but if they do, they have the talent to be something special.
Bench Questions
The bench, on the other hand, is something else entirely.
If the starters are supposed to be some form of a free flowing, 3-point shooting, ball-movement offense, the backups are more of a cornucopia of guys who need the ball in their hands to be at their best.
Rodney Stuckey had a rough season in 2015-16, but there is hope that his 3-pointer can at least return closer to his career average around 30% — not the 24.1% like he did in 2015-16. Are the days of Godney gone? We'll have to wait and see. Most important of all will be his health. He has struggled to stay fully fit for more than a month at a time since arriving in Indiana, and his bulldog rim-rushing and free-throw-drawing are useless skills if he cannot take the court.
Aaron Brooks might be a more traditional point guard, but in a situation like the starters, does him having the ball in his hands stop Rodney from being Godney? Moreover, Brooks is a bit of a score-first player himself. Will he reliably be able to get Al Jefferson the ball in good spots? Would the second unit be better off with a less dynamic but more care-taker-ish point guard in the mold of a Steve Blake or Jose Calderon? Someone who could play the role Earl Watson did a few years back for Indiana might be the better fit than yet another undersized scorer.
C.J. Miles can survive in almost any environment, so there are fewer issues about the ball being in his hands as long as he gets back to hitting knock-down jumpers and 3-pointers more often. And, as with Rodney, health is the concern here. He got banged up last season while playing small-ball power forward and struggled to re-find the early magic he displayed in November.
It is still a bit of a mystery who will backup Young at the power forward, but at least we know Al Jefferson has things locked down at the backup center. Naturally, Al Jefferson is the biggest strength off the bench. Very few teams can bring such a capable, proven talent off their bench. (Although, yet again, health concerns loom.)
Ultimately, a rank of 15th sounds reasonable for the backups. But they can be more than that if Miles and Stuckey find their old form or Al Jefferson has a throwback season in which he becomes unstoppable on the block.
This article originally appeared on