Anthony Davis Sticks Up For New Orleans Pelicans Teammates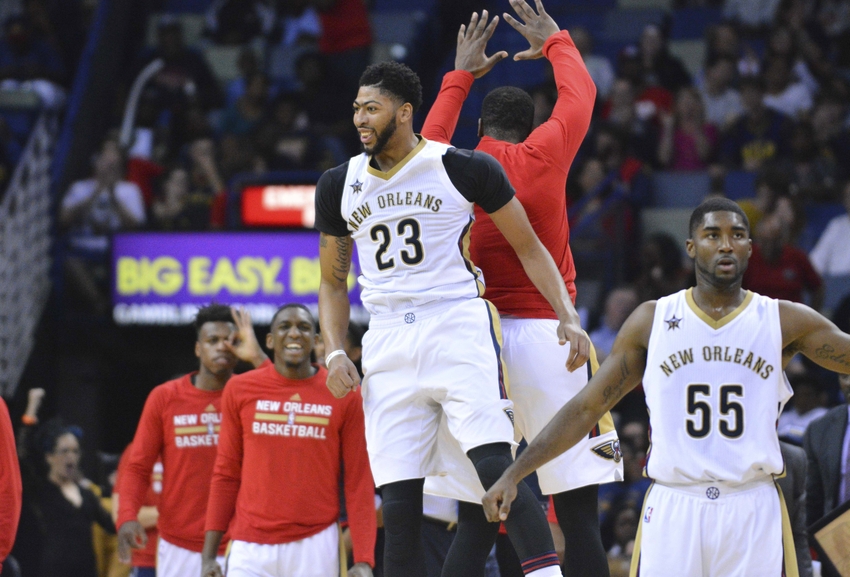 Anthony Davis hears all the negativity about the New Orleans Pelicans and his teammates but he doesn't let it throw him off his game.
Anthony Davis is an all-world talent. He shows on a nightly basis why he was the No. 1 overall pick in 2012. He already has numerous accolades and isn't even near his prime at only 23 years old.
Davis earned the big-money extension that he signed in July 2015 and is only getting better on the court.
Davis is in the midst of another outstanding season. He is averaging career-highs in minutes played, points, rebounds and steals at 37.2, 31.6, 11 and 1.8 per game, respectively. He has the most field goals made in the NBA and leads the league with 2.8 blocks per game.
But, the New Orleans Pelicans are not winning many games.
Despite all the production and heroics of Davis thus far this season the Pelicans are one of the worst teams in the NBA thus far with a record of 6-12. Part of the reason is because of injuries, as the Pelicans have been bit by the injury bug.
People have begun calling out the Pelicans lack of talent around Davis. Davis is one of the best players in the NBA but has very little help. Davis hears it and is tired of hearing about it.
He discussed it on Marc Stein's TrueHoops: Conversations podcast and stood up for his teammates.
"I hear it. I see it. I'm on social media, so I see it all the time," Davis told Stein. "But I think, for me, it's just about the guys in that locker room. I know they come out here every day in practice and every night in the game and fight and leave everything on the floor. It's nothing that I try to pay attention to as much. But you see it. You have to pay attention to it.

"For me, that's not my M.O. to get into all the media and all that stuff. I just worry about what's going on in that locker room and on the floor with the guys I have in the locker room."
There is not much in that locker room in terms of talent right now. Tyreke Evans has yet to take the court this season, along with Quincy Pondexter. Jrue Holiday's debut was delayed as he took care of his ailing wife and newborn baby.
The Pelicans are thin on talent with so many key players injured and have got off to a slow start as a result.
But, the Pelicans have begun to look better with Holiday in the fold. The Pelicans went on a four-game winning streak once he returned to the court, but have lost their last two games on the road to the Portland Trail Blazers and Dallas Mavericks.
The results have improved recently, but the Pelicans dug themselves a big hole at the beginning of the season when they went 0-8. Davis admits the early results were perilous.
"We were very worried," Davis told Stein. "We didn't envision ourselves being in that situation. But we dug ourselves a hole. We're slowly climbing out of it, and we just have to keep fighting. Nobody wants to start 0-8. Nobody wants to start off on the wrong foot. But it happens.

"Some teams have whoever on their team where they're able to do whatever they want on the floor. For us, we have to be blue-collar guys who are coming in, work, being scrappy, first to the floor, rebounding the ball, sharing the ball. That's how we have to be. That's how we've been the past couple weeks, and that's how we've been able to get wins."
Davis' description of his teammates is spot on. Outside of him, and maybe Holiday, the Pelicans aren't exactly loaded with All-Stars. Look no further than their free-agent signings. They aren't in the running for players such as Kevin Durant, LaMarcus Aldridge, or any top-flight free agents.
Instead, they are signing role players such as Solomon Hill, Terrence Jones, E'Twaun Moore, Tim Frazier, and Langston Galloway. Those are nice players but won't push the needle much for the Pelicans.
While Davis sticks up for his teammates, proving his leadership, the Pelicans have failed him in some ways of putting talent around him.
Injuries aren't predictable, but the Pelicans sped up their rebuilding process by acquiring veterans such as Holiday and Evans, who have both missed extended time. They also missed with the No.10 overall pick the year they selected Davis, picking Austin Rivers.
Davis showed his commitment to the organization when he signed that maximum extension last offseason. He has done everything right and gives the Pelicans a legitimate building block.
He will never call out his teammates or the front office, but it is time they step up around their superstar and get him some real help so the team can take that next step.
This article originally appeared on