All-NBA team snub means Anthony Davis misses out on $24 million
All-NBA teams were officially announced on Thursday, and though it's always interesting to see which players were voted to each of the three teams, this year's results will be remembered for one particular player who missed the cut.
Anthony Davis would have earned an extra $24 million on the max contract extension he signed last summer had he made the All-NBA team this season. A provision in the collective bargaining agreement known as the "Derrick Rose rule" states that a player on a rookie contract who is voted an All-Star starter twice, voted to any of the three All-NBA teams twice or wins a regular-season MVP award is eligible to make 30 percent of the league's cap amount instead of 25 percent.
For Davis, that's a difference of approximately $24 million over the life of the five-year deal he signed in the summer of 2015, one that's now set to be worth a little more than $120 million.
Davis was shut down for the final 14 games of the regular season with a shoulder injury, and considering his averages of 24.3 points, 10.3 rebounds and 2.0 blocked shots were right in line with what he posted the previous season, the missed time was likely the key factor that cost him this year's All-NBA selection.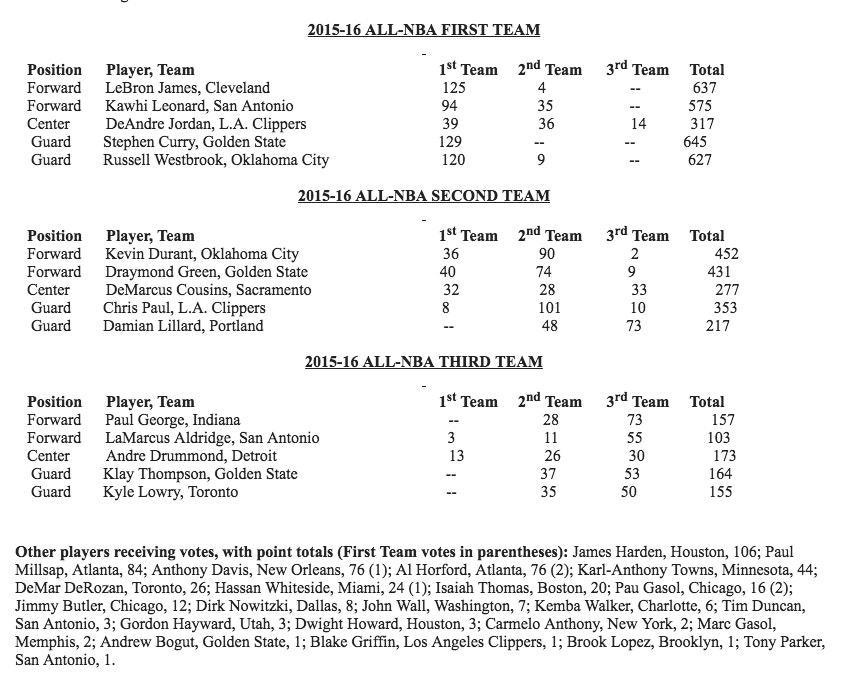 Stephen Curry, LeBron James, Russell Westbrook, Kawhi Leonard and DeAndre Jordan were the first-team All-NBA selections.
The media voted for All-NBA first, second and third teams by position with points awarded on a 5-3-1 basis. Voters were asked to select two guards, two forwards and one center for each team, choosing players at the position they regularly play. Players who received votes at multiple positions were slotted at the spot at which they received the most votes.
In case you're interested in who cast votes for some of the more random players listed (like Blake Griffin or Brook Lopez), the NBA published the complete results.