Anthony Davis finishes eighth in Sports Illustrated player rankings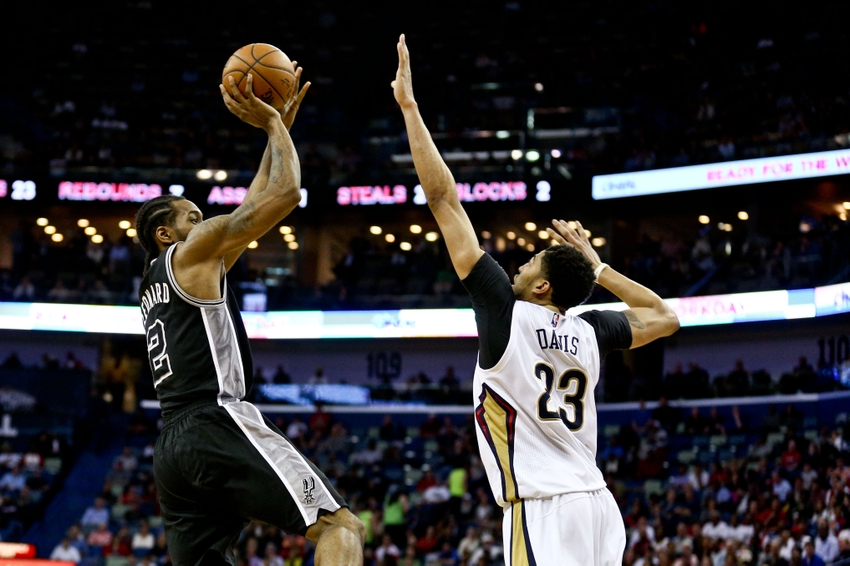 In Sports Illustrated's annual Top 100 Players, Anthony Davis fell five spots from last season's ranking to land at number eight.
Each year, Sports Illustrated ranks the top 100 NBA players heading into the regular season. Going into the 2015 season, New Orleans Pelicans superstar Anthony Davis ranked sixth on this list, and in 2016 he ranked third, behind only Stephen Curry and LeBron James. The Brow has long been treated well by these power rankings, which recognize him as he is: a stuffed casserole of not-quite-fulfilled talent that still maximizes his production every season.
Of course, that number three ranking going into last season would go undefended, as injuries and inefficiency from Davis and the rest of the Pelicans' roster would mar what initially had the makings of a continued build from first round exit to greater achievement. His contemporaries morphed from the game's greatest players into the guys in the Operation board game. Nothing gold can stay. 
More from Pelican Debrief
On Thursday afternoon, Ben Golliver and Rob Mahoney released the latest chapter of their Top 100. Navigating the murky waters of separating unfulfilled roster potential and a coaching change from Davis' down season, the Sports Illustrated guys settled on the number eight spot for AD. Ahead of him are James Harden, Kawhi Leonard, Russell Westbrook, Chris Paul, Stephen Curry, Kevin Durant, and LeBron James.
What's striking immediately about the types of players on this list is the way that they have fully realized their own value on the basketball court. It's like when you're playing as Luigi in Super Mario Bros and realize exactly how to use that mega-jump to your advantage, except that the characters are these players' own bodies, and the mega-jump is actually just talent itself. Anthony Davis has not yet gotten to that video game stage of his own development; as Mahoney notes, AD has failed to live up to his considerable defensive potential four years into his prolific career.
Even after an historic 2014-15 season and a reprise last year that ranks among the greatest "down" years that I can remember, it's no surprise to see Davis fall down this list. Kawhi and Westbrook had career-redefining seasons, Kevin Durant came back from injury looking as efficient and miraculous as ever, and Curry and James just finished part two of their NBA Finals battle royale. That he's even as high as eight feels speculative and hopeful; the players around him have accolades and wins that dwarf Davis's.
Alas, pre-season power rankings like these can never truly be a complete forecast of the future. While some amount of predicting goes into these, it's largely a judgment of how close to prior performance a player will be, in the positive or negative direction. If the production is trending upward, the player will be rewarded; those losing steam will see their ranking suffer.
Anthony Davis has as much to prove as any player heading into this season after failing to pull a struggling team as high up the standings as any truly transcendent talent ought to be able to do. An eighth place finish in this player power poll demonstrates exactly that.
This article originally appeared on